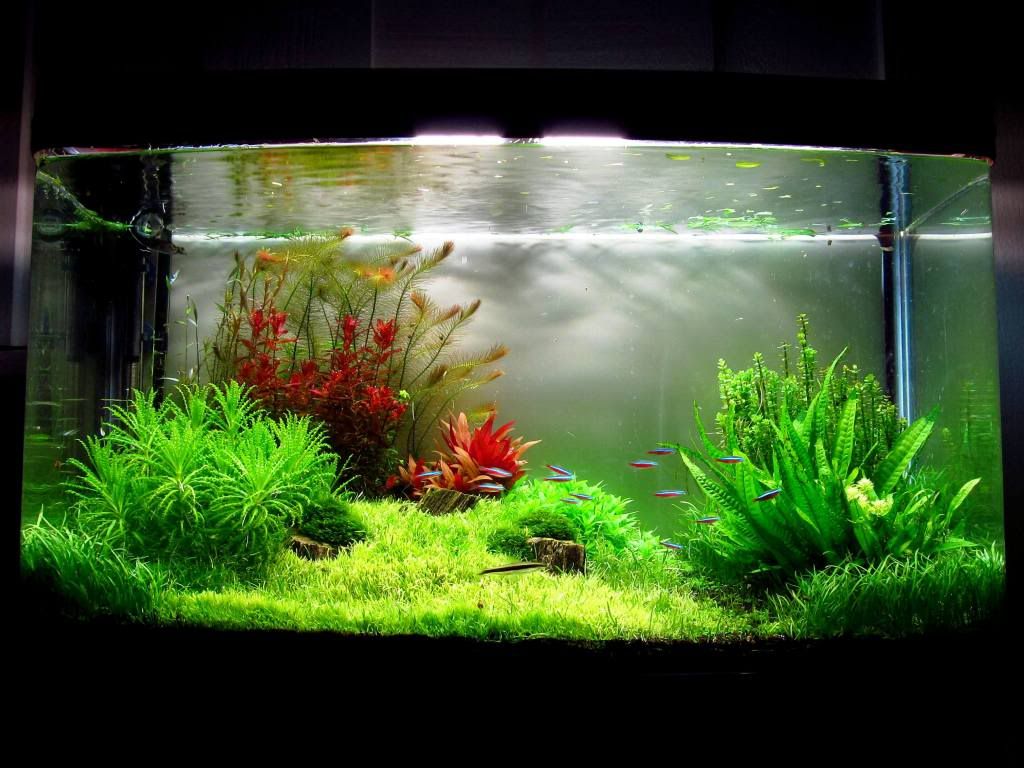 Aquarium description:

Volume: 54 Gallons
Months since established: little less than 6 months
Dimension: 35X20X18 inches

Video 6-Month Evolution:

Foreground:
Blyxa japonica
Fissidens
Hemianthus calichitroides
Liliaopsis mauritania
Ranalisma rostrata
Staurogyne sp
Utricularia graminifolia
Midground:
Pogostemon helferi
Blyxa japonica
Cryptocorine Nurii Pahang
Microsorum pteropus
Hottania palustris
Background:
Poaceae sp. "Purple Bamboo"
Alternanthera reineckii
Rotala macrandra
Rotala indica
Rotala wallichii
Tonina sp "Belem"
Light: 2 PLL 840 55W and 2 T5 HO 6700K 39W
Light Time: 10 hours per day - 10 horas por día.
Fish:
Crossocheilus siamensis
Paracheirodon axelrodi
Boraras Brigittae
Otocinclus sp.
Shrimp:
Taiwan red fire (Neocaridina Heteropoda)
CRS (Caridina cantonensis)
Amano shrimp (Caridina multidentata)
Substrate: ADA "new amazonia" - Powersand.
Weekly Fertilization (ppm) : NO3 26 - K 17 - PO4 2 - Fe 0.57
CO2: Milwauke Co2 Regulator MA957 -- 4 bubble per second with light on.
Water Change: Once per week, 30 to 40% of the tank volume.
Thanks:
http://sfbaaps.org/home.html
http://www.croa.com.ar/ipb2/
75 comments on
"Evolution Planted Tank - 54 G - 35x20x18"
Post Reply