Just finished up with the move from old rental property to new home. Life sure has been hectic lately!

So, the Journal starts over, and as much as I hated to tear down the tank from this: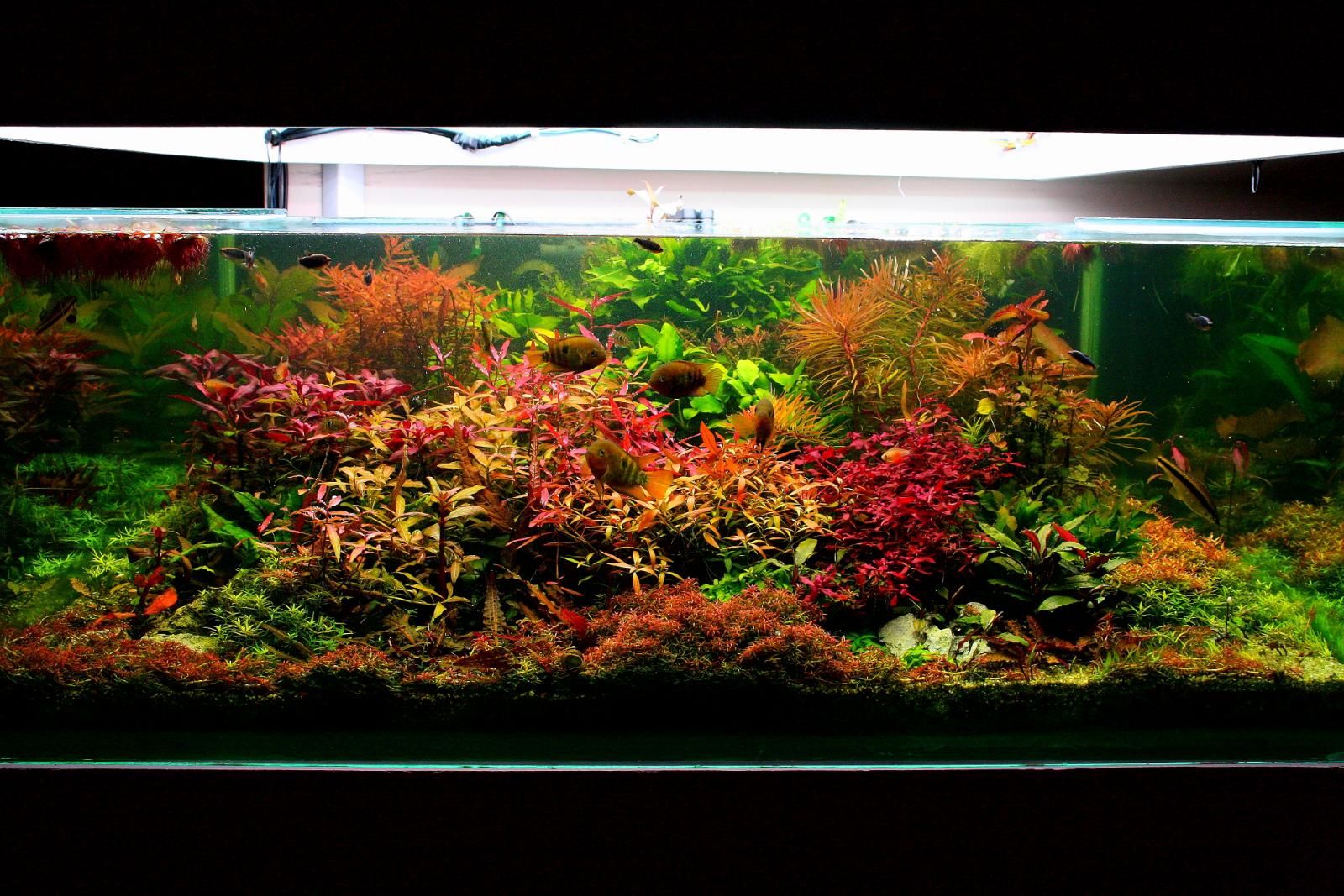 and this: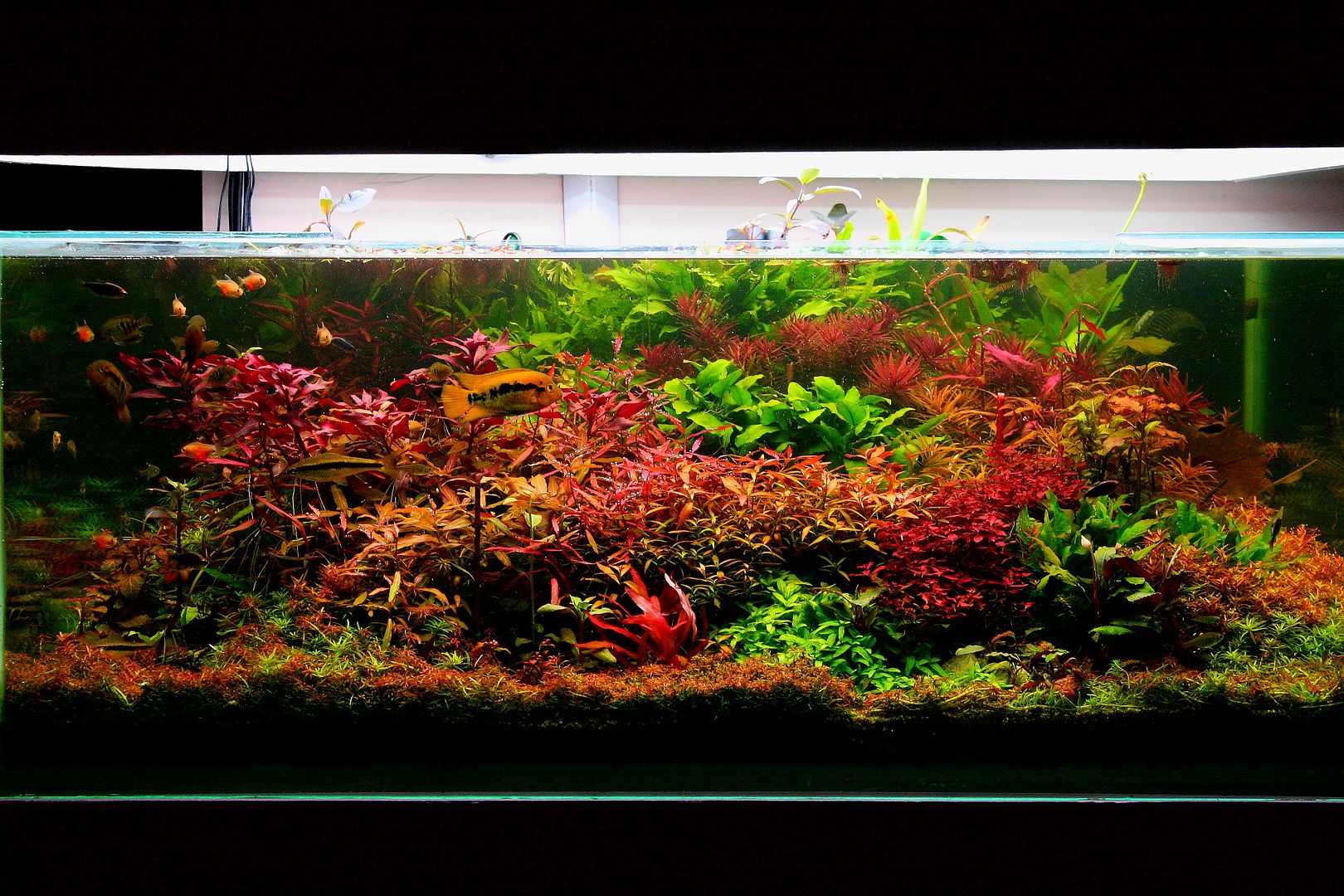 To THIS: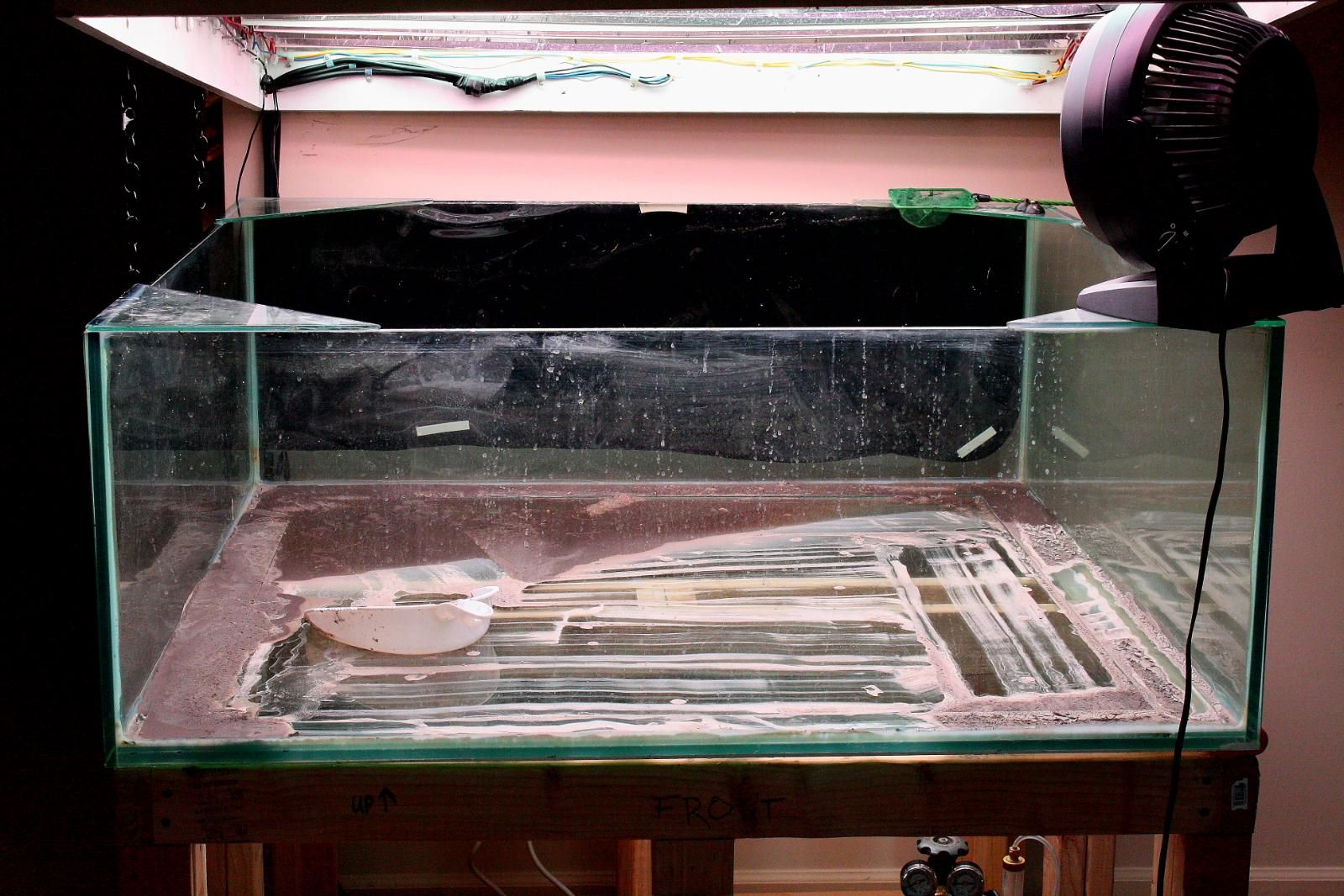 and this: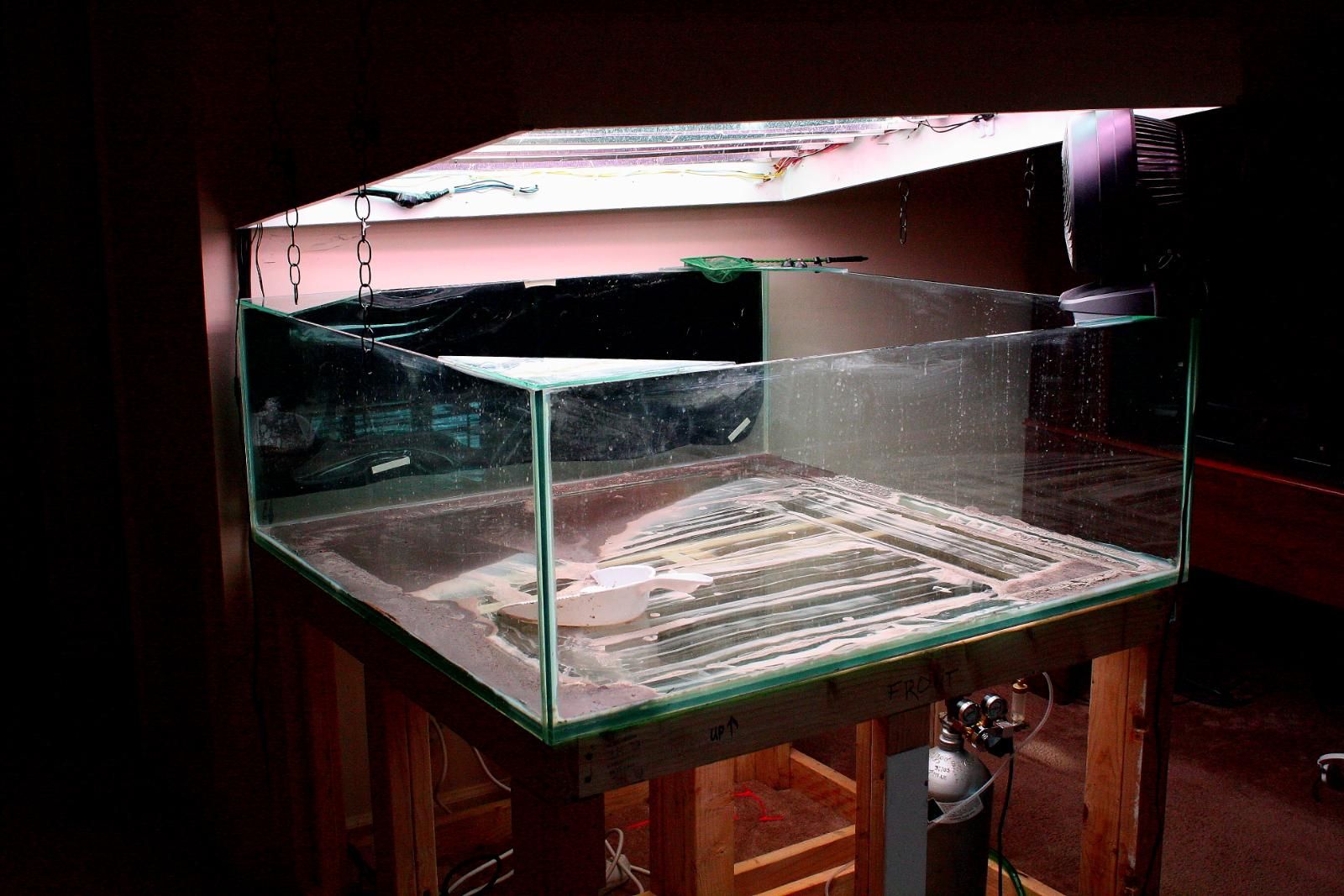 .....but it had to be done. To re-set and try to go with the same aesthetic would have been uncreative and boorish. Everything was sold or given away. Many thanks to Tlyons01 who spent a "fun" afternoon tearing the tank down with me. It only took about 7 hours.


Prior to that, the outside of the stand/pedestal was removed. It was made of 2x4's: very solid construction, but the outside was made of pressboard. A terrible choice, in retrospect, for obvious reasons. It had been warped and bubbled, and was a total eyesore. So, I stripped it down and threw it out.

Here are a few pics of the new pedestal: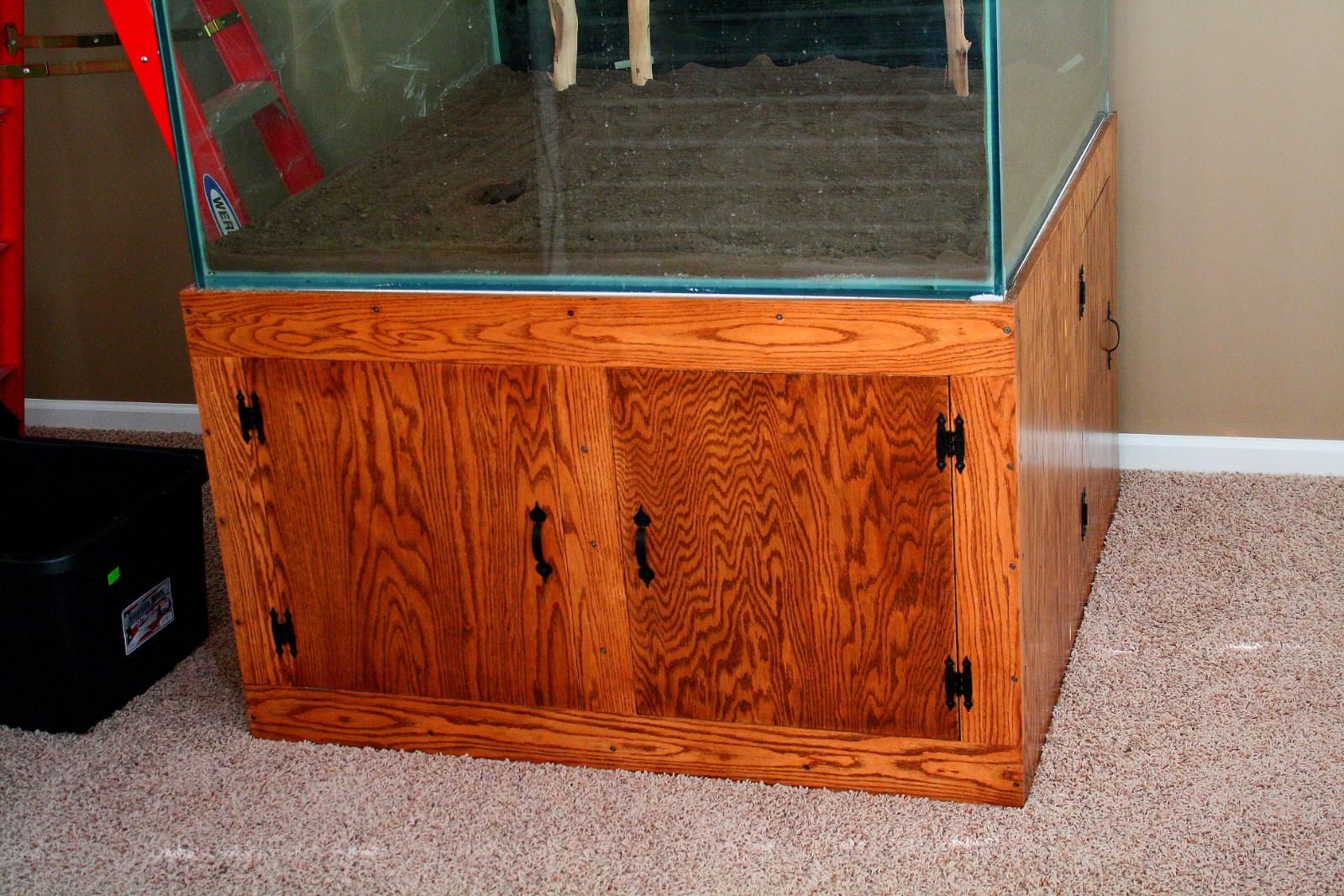 That is red oak stained with walnut with iron hinges and knobs. We're going for more of a "rustic" old-fashioned look for the sitting room, and I thought that this would look nice. Eventually, the pendant above the tank will be redone either in black, or it will be done to match the pedestal. Probably happen in January. In the new design, I added side doors in order to make accessing the equipment in the back easier to do. It has been triple coated in poly on all sides to ensure water resistance, and almost "water proofing."

The day following the drain and dis-assembly, we moved the tank, lighting, and new pedestal to the new house. This was all done within two hours, which was faster than I had anticipated. The move went flawlessly, and I was ready to re-start the scape. So....

IN went custom made Manzanita branches that came from hydrophyte (from TPT), plain kitty litter (about 30lbs), and that was topped by MTS made by DogFish2.0. The Manzy branches are semi-poseable that will allow me to move the "joints" as needed in order to access equipment with relative ease, or to alter the hardscape as desired. You will notice screws in some of the future pictures; these are the "joints" I refer to....just a simple screw and nut assembly. Hydrophyte did do a marvelous job cutting the ends of the branches into simple fittings through which the screw passes through and is held on the other side by the nut.

DogFish sent six large Flat Rate boxes of MTS to me months ago, and makes about a two inch layer in my tank. Wonderful stuff!: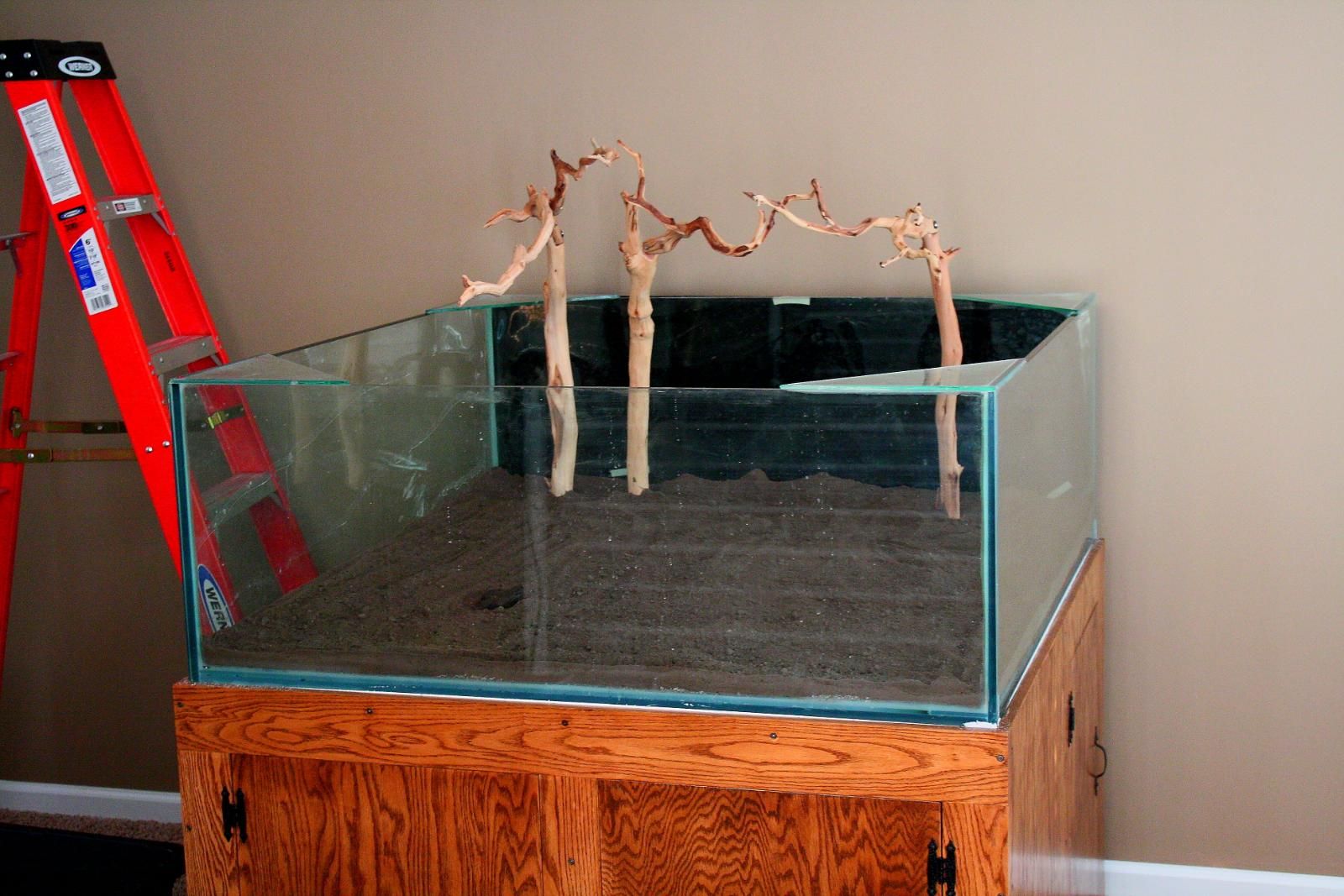 Sprinkled on the potash, pressed it into the MTS, and then topped that with some of my old tank's substrate. Added the Seriyu stone and other stone into the tank, and now this is how it looked: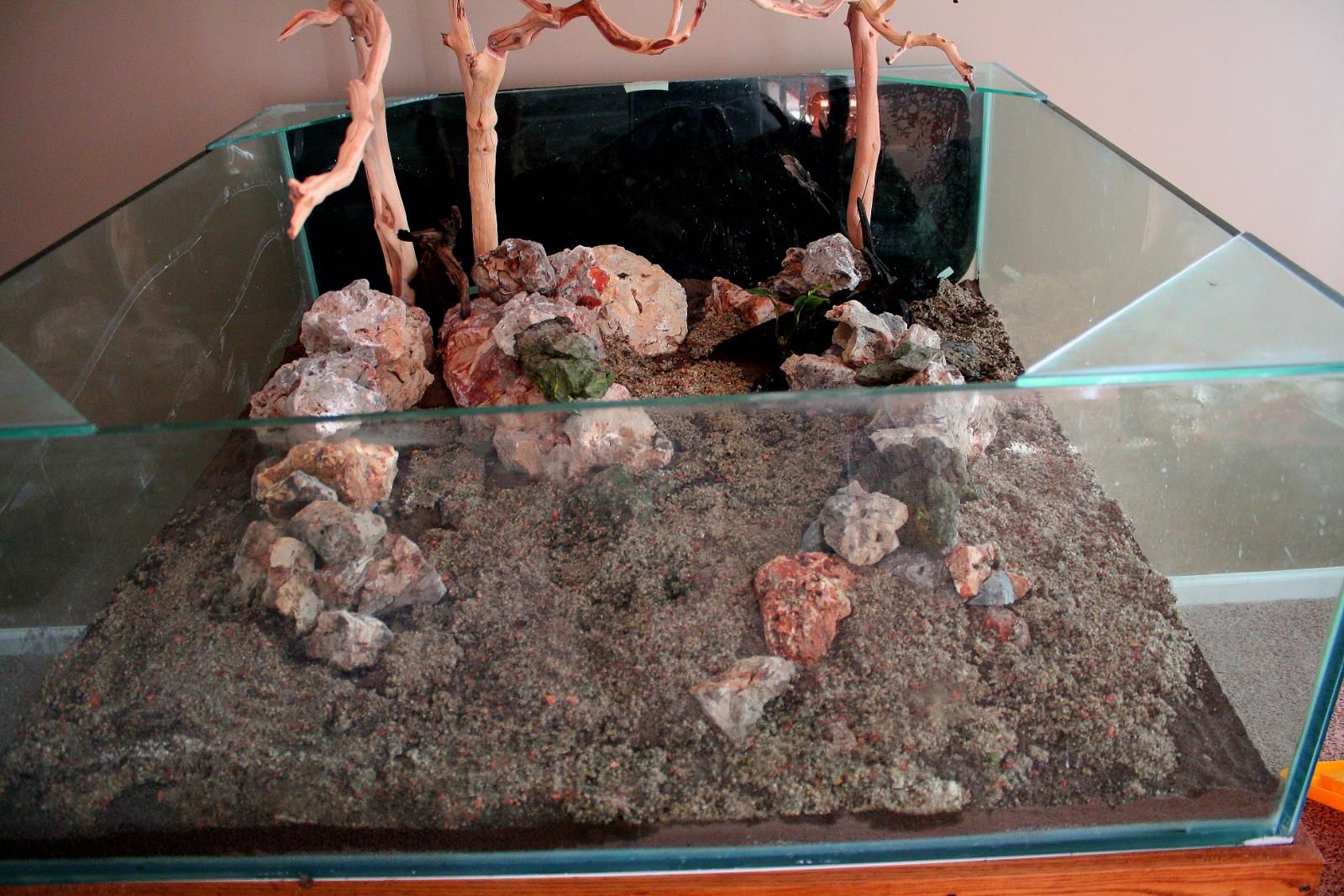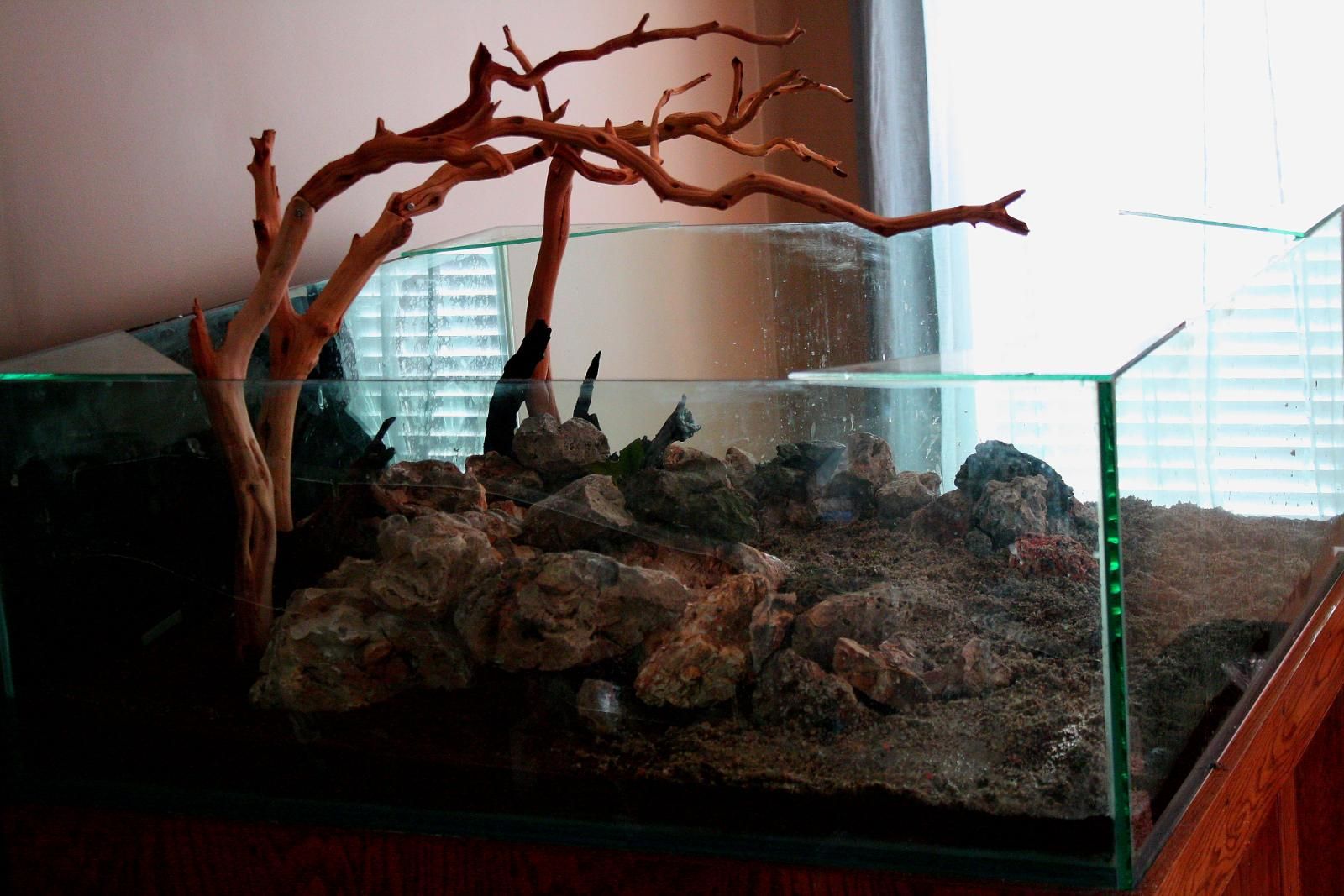 Three rock "peninsulas" are featured in this set up for bucephelandra, anubia, and java fern species; the substrate will feature mostly crypts.

More pictures tomorrow!!
233 comments on
"Don's Square 200 Gallon--Part Thrice!"
Bruce_S



Lookin' good so far!

I love the depth and dimension afforded by this waterbox, so I'm looking forward to seeing where it goes!

~Bruce

DonaldmBoyer



Hey, thank you Bruce!! I, too, love the depth of this tank! It has made it a lot of fun working with over the past year!!

So, we left off here yesterday......the rough set up with the position of the rock peninsulas:


and this:


The time-frame is still the same day of the physical move of the tank and stand, in the afternoon.

The rest of the stone went in, following the "lines" in the above picture. At least, the rest of the rock that I had at the time. Following that, I added about 75lbs of pre-washed pool sand as the cap. It was still a bit too light for my liking, but I suspect that it will dull out over the coming weeks and months. Started filling the tank, slowly, as I refuse to wash sand or substrate. It's a waste of time....you're going to get some cloudiness regardless. Added CLODS of anubia species...Tlyons01 can speak to that. I gave her at least a third of my anubias, and still probably had at least a few hundreds dollars worth that I used in this set up. Started dividing and adding my crypts, bucephelandra, java fern species, and a few slow growing stems.

Not my favorite photo, but it does show the light height above the tank. It is about 28" from the bulb to the surface of the water.


Filling up.....took about an hour to fill slowly:


Left side....you can see the XP5 filter under the cabinet churning away. You cannot see it "well," though! What do you expect? I have a mini-Sun over my tank, so it makes it a little difficult to capture items in the shade:


Front:


Finally, the water level was full.....and in went a massive amount of MTS (Malaysian Trumpet Snails).....

Right Oblique:


Left Oblique:


Close up of the front trying to capture the three rock peninsulas:


Close up of the front right side of the tank....if you click on the pic, you get a better idea of the amount plants in there. I was able to keep a stem of the Alternanthera sp. "variegated":


Close up of the front left side of the tank....again, if you click on the pic, you can see a crazy amount of crypts and bucephelandra through the haze.


So ended the first day in the new home! More pictures tomorrow, starting Day 2. There's plenty to show....

Remember, a Journal is about the process, or the creation of an aquascape. This is certainly NOT even remotely close to being "finished", and it will be several months before the plants can begin to fill in the holes and spaces. It takes foresight to see a final "product," so don't judge based solely on these initial photos. i'm not an "instant Aquascaper."

houseofcards



Nice re-start Donald. Most great scapes are always rearranged as they progress so I'm with you on that. You did a great job with the old scape, but I think you'll enjoy 'getting off stems' for the most part. It's much easier to incorporate aquascaping in your life and enjoy it, especially with a family. Good luck.

D9Vin



Looks like a nice start, looking forward to watching it progress.

DonaldmBoyer



Thanks House!! I'm looking forward to spending more time "looking" and less time "doing"!

Thanks D9vin!!


Though still a bit hazy, the tank did a great job of clearing up overnight, as you would expect. The MTS's don't seem to be a fan of the substrate yet, but I would imagine that as time goes on, and the substrate comes a bit more mixed together (whether I want it to or not), they retreat back under. Kinda stinks that they are running around on top of the substrate, but that's life.

As I had indicated in my last Journal, I did end up keeping my slow growing stems, such as the Ludwigia alata, Amnannia latifolia, and some Alternanthera sp. "Variegated." These stems are out in the open, and NOT in their "final" placement. Likely won't be for a little while yet. I know that they look a little out of place growing up in the middle of the tank, but they'll be moved.

I also kept a bunch of faster growing stems, mostly floaters and hygros, to help with excessive nutrient loads. My last tank became algae ridden for a good two months simply because I "under-plated" the set up. Eventually the hygros will go as well as the RRF. I will keep the Hygroriza aristata as it is a bit more "authentic" to the theme of the tank.

I also kept a stem of Nesaea crassicaulis to give me a good indication of the water conditions. Yes....it looks strange just sitting there out in the middle of the scape....but it's serving a good purpose right now. That, too, will be "offed" once I'm a little more certain of the conditions of the scape and that the tank has settled and matured.

Will have another set of pictures tomorrow!

Left side...you can see the haziness still, but you are also looking through four feet of water, too:


From the left side, looking "into" the tank, you can see that it is clearing up fairly well:


Left Oblique:


Same angle, just zoomed out so you can see the stand and lighting. Again, it is about 28" from the bulbs to the water's surface. It's quite nice to be able to include the stand now, and not be embarrassed by the warping or bubbling:


Front shot, head on:


A bit further out:


All the way zoomed out to view the full set up:


Right oblique shot:


Shot of the right Front side of the tank...I added Thread-leaved Java fern that day:


....and some Orange shrimp too:


One of my favorite shots! I had no idea that I had so much bullosa "Bario" until I had to dig it up! I separated it into all of this.....I have about 7 separate plants growing nicely. From left to right on the substrate in this pic....it's all bullosa "Bario"!


More pics tomorrow! Thanks for looking!

DonaldmBoyer



Next set of pictures were taken October 1st. I added 25lbs of Seriyu stone, mostly to the left-side peninsula. I think that I'm finally starting to achieve the look that I was going for. Still, I need probably another 50lbs more to finish it. The height that I would like is nearly there...just need to "fortify" it a bit, and add some additional height to the other two peninsulas in the tank. This was a blue-colored Seriyu which contrasts with the brown stone that I received from CraigThor....still, it looks nice, and in a few months, any visible rock work will either have enough patina for it to all blend together nicely, or it will be covered by anubia, java fern, or bucephelandra species.

In addition, taking pics of this tank has become unexpectedly tricky, simply due to the height of the lighting....it casts light onto me taking the picture as well. Slight annoyance, and I'll have to figure something out.

At this point, I could already start seeing new leaves forming on the crypts and buces....the coffeefolia quickly grew a nice new leaf, too. The growth is amazing, and I'm not even running CO2 yet! I'm excited to look at the growth after I can get my CO2 up again!

Here is right side of the tank, if you click on the picture you can see a "hinge" on the manzy branch sticking out of the water:


Close up of the right side toward the front....the buces are getting ready to flower in the midground:


A look at the Keei "Jambusan" patch:


Here is a look at the forming crypt "field" between the right side peninsula and the two left side peninsulas...and my hand in the upper-left part of the photo:


This is the same area, just looking towards the left side of the tank...and you can see my camera and hand in this shot as well:


Nice shot of the Left side of the tank with the extra Seriyu stone:


Another shot of the left side...you can see the "hinge" joint on the manzy branches in this picture as well:


Left Oblique:


Same angle, but further away....potential problem is that the walls in this room are painted brown, so it is difficult to get a good shot that really stands out. I may have to re-paint the room:


To make matters more interesting, this is really heavy on the peat right now...so it's basically going to be blackwater for a little while. It's neat to look at in person, but it doesn't really photograph well. Especially against a brown wall.



Thanks for looking!

AaronT



nice reboot Don. You coming to the AGA this year?

DonaldmBoyer



Thanks Aaron! I wish I was...I have a wedding in Michigan that weekend that I'm in. I'm pretty PO'd about it. I will have to go to the one next year. Any idea where it will be?

DonaldmBoyer



10/6/12:
Just got the CO2 system up and running, as I said yesterday. It was a pain in the butt, however I was successful. New needle wheel pump, tubing, spraybar. The whole 9 yards! If anyone wants me to make one, just let me know! It's even better than my old one! Even without it, I've gotten some really good growth on everything, even my Nasaea crassicaulis and Ammannia latifolia put on some healthy growth without the CO2.

But, I was in there and kicked some dust up, so I'll have to post more pictures tomorrow of the tank. For now, here are a few pics, mainly looking at the new riparium plants from a buddy of mine. This should add a REALLY nice element to the tank over the next month or so.

Front:


Top looking down:




Right side of the tank:


Left side of the tank:


Still pretty hazy:


More pics tomorrow! Thanks for looking.

DonaldmBoyer



Will start backing off the updates, though there will be some major changes coming soon (additions). I'll try to post those changes before heading up to Michigan this weekend for my nephew's baptism. FINALLY, I'M going to be a Godfather! Muahh hah hah ha....

The water is clear, but tannin-stained....first three are of the front of the tank:






You can see the challenge of taking pics of this tank....if you look closely, you will see the photographer's knobby knees:


Left oblique:


Right Oblique:


Devin's riparium plants! Love these guys!! I will need to get some more to properly fill out the tank the way I want:


Top down.....gives you a better idea of the layout, and how it's coming along:

Post Reply