I thought these graphs would help you>
As you can see in the gif below photosynthesis drops off at ~460nm. Why use 460nm actinic bulbs?
This is the scale of light humans can see. Approx 400nanometers (nm) to 700nm.
Its a scale in wavelengths of light (electromagnetic energy).
Here is the kelvin (K) line drawn on a chromiticity map of all the colors: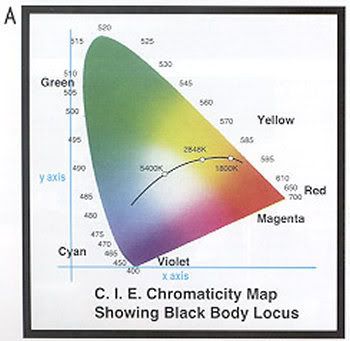 This is the color representation of the kelvin temperature scale. It is taken from the black line on the gif above. Do not confuse this with nanometers in the visible spectrum of colors (a wave length of light). The kelvin color is derived by the temperature of a black body (iron) being heated. It starts at red to orange to yellow ---colder to warmer---to white to blue to lavendar to purple.

I think its more about the light on the nanometer scale and not the kelvin color temp of a bulb that causes issues. I still use GroLux WS and GroLux Standard bulbs for dawn/dusk lighting and to hi-lite the color of my Cardinals. The WS is 3400K and the Std is not given but based on the color the bulb burns I'd have to guess 18,000 to 22,000K as it is lavendar/purple. I dont have algae issues other than a light amount of GSA on slow growers and minimal GDA on the glass that I scrape about every 2 weeks.
This is a gif of the light in the visible spectrum the GroLux Std puts out: