I have a 30gal already set up and running. I'm unhappy with my current aquascape, which is too crowded and symmetrical. I think I was trying to do too much with my first attempt, so I'm going to start over. I want more swimming room for my fish and less clutter. I want to stick with smaller-leaved plants this time, especially moss, which I've been tying to smooth river stones to create a carpeting effect. This is my first draft of a plan: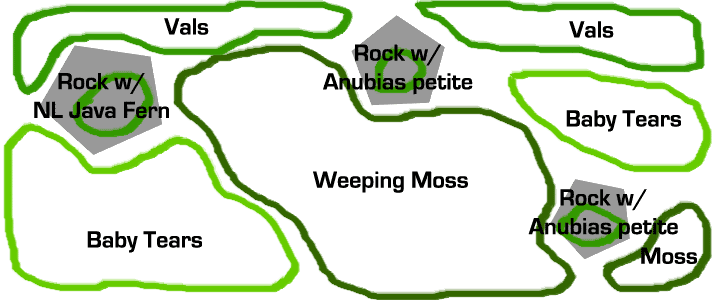 Any and all suggestions are welcome, as I'm not really sure what I'm doing yet. I'd love to add some red somewhere but I'm not sure what/where. Also, I plan on leaving some of the rock work visible--those aren't necessarily three large rocks, but three groupings of some sort.
I dunno...help please! Oh, and my tank specs are in my signature. Thanks!