Another spathe opened last night. I got this plant from another plant trade also without a name. I've long suspected it's the same plant as the one above, this flower pretty much confirms those suspicions. It looks like a Wendtii flower too.
My DSLR had a flat battery so I snapped some shots with my pocket sized camera. I'll take some more photo's when the battery is charged. This is from my emersed tank, it's the only one growing semi-emersed. The top of the pot stays around 2cm underwater, you can see the fine roots reaching up out of the pot, time for some more substrate ferts and possibly a thin out and re-pot;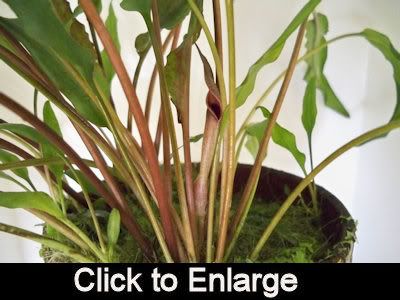 The guy who traded this plant with me was such a generous fellow I had the opportunity to plant some outside in a 60L tub. I only planted 2 crypts outside, both just to see if they would survive the winters here in Australia. The other one flowered, now this one has been even more surprising. There are 6 spathes developing in the same pot. I've been watching these for what seems an eternity wondering weather they would fully develop. This morning the oldest and largest of the spathes seems to have some discolouration on the outside that wasn't there yesterday. I fear these may melt as they are not quite reaching the surface. If the first one melts off I will place some stones under the pot so the flowers can get out of the water. I'm hoping at least one opens, 2 at once would be even better, fingers crossed.
The first 2 pictures show the closest 2 plants have 2 spathes each;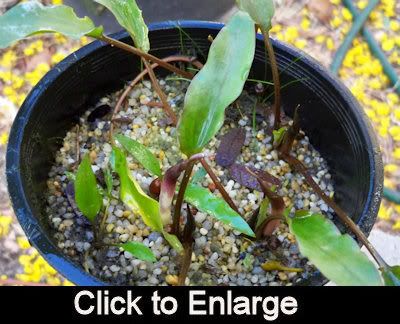 The 2 at the back of the pot have a single spathe each, also looks like some sort of hairgrass has piggy backed it's way in here;