Components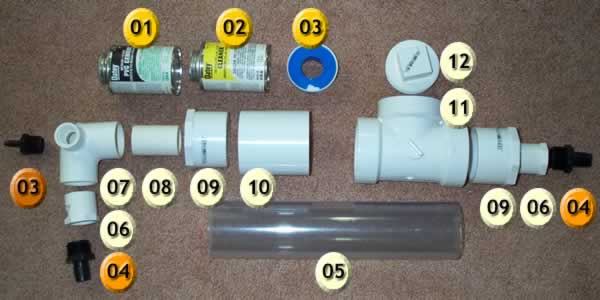 01-CLEAR PVC CEMENT
02-CELAR PVC CLEANER/PRIMER
03-TEFLON TAPE
03-1/4"BARBx1/2"NPT
04-5/8"BARBX3/4"NPT
05-2"x(6-12") CLEAR PVC
06-3/4"NPTx1" PVC
07-1"x1"x1/2"NPT REDUCER TEE
08-1"x2" PVC
09-1"X2" REDUCER BUSHING
10-2"X2" COUPLER
11-2"x2"x2"NPT TEST TEE
12-2"NPT PLUG
Loosely assembled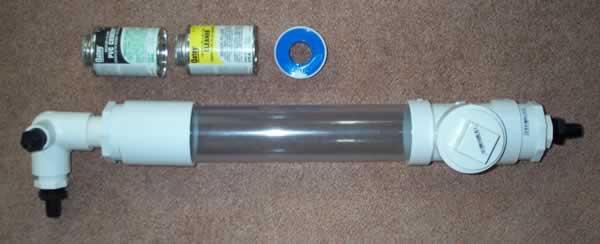 Other than cutting twp pieces of PVC this reactor requires no tools and no custom modification. It is just assembled from off the shelf pieces.
The clear PVC can be replaced with regular white PVC, but you will not be able to see what might be going on inside.
The test tee allows you to open up the rector for cleaning, etc. without disassembly.
THe length of (05-2"PVC) can be debated with some people requiring 24". I have been able to run a 100g with 275gph with this part being only 6" long.
NOTE: I forgot the bioballs in the picture. Jut put 3-6 bioballs int he tube before final assembly.
NOTE: When hanging the reactor it will work best if oriented -20deg from vertical.
James Hoftiezer

Tank Journal - Aquascape ( Latest / Archive )
Tank Journal - Parts and Construction ( Latest / Archive )