ok, i finally got rid of that hideous light over my 1.5 gallon, so i decided to make a new hideous light for it
desk lamps just seem too easy i guess
so, i purchased 18 white 5mm led's, some 100ohm resistors and a sodering iron. i have never soldered in my life, but to my suprise, it wasn't that bad.
here is the parts list, though i urge nobody to copy this design until it proves to grow plants well, it was very costly to make and is high risk for failure and/or not growing plants
i started with 18 of these probably overrated white 5mm led's:
http://www.goldmine-elec-products.co...?number=G16402
then i got a pack of 100 ohm resistors:
http://www.goldmine-elec-products.co...p?number=G433R
i used this for my power, since these led's are only 20ma each, i was able to get this cheap ac/dc converter:
http://www.goldmine-elec-products.co...p?number=G9596
i also purchased a soldering iron, some solder, and some plexyglass and some alligator clips.
i screwed 2 alligator clips to the side of my workbench so that they were sticking out above the top of the bench. i put them on snug but loose enough that i could adjust their width to accomidate different lengths of wire.
http://led.linear1.org/led.wiz
the above link is free to use, but honestly i would have paid for it. it is just about all you need to know. you find what led's you want to use, you then put their specs into the calculator, and then it tells you how to arrange them and also how large of a power source you need. i used 100 ohm resistors, but resistors vary with the number of leds you use and the power source.
since i had never soldered or even worked with resistors or led's before, it took me about 2.5 hours to make this array. someone with experience could do it much faster i would imagine.
i purchased a 5mm drill bit and cut holes in a 6"x6" piece of plexyglass. i then wired up the leds testing each strand as i went.
i will certainly help anyone who asks, but for now i won't get into soldering techniques or any more design.
so, here are the pics! it's not that great, but then again, it works like i planned and since it was my first attempt, i am very proud of it.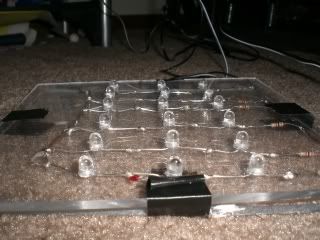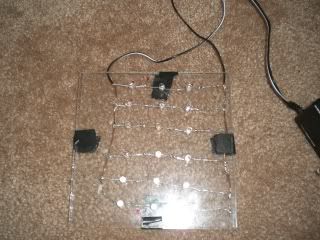 an image for scale, it's about the size of a pen length and width:
i didn't take the time to measure out the holes plus i couldn't find my measuring tape, so i just eyeballed it, it's close at least:
illuminating my bookshelf from about 1.5 feet away:
illuminating some super glue from about 1 foot above:
so, that's it. i will definately give a followup on this one. as for the electrical tape, i just used it temporarily to hold the led's in. i will secure them, then i am installing a 3" fan above them. i will then mount it to a rod of some sort that attaches to the back of the aquarium.
my only concern right now is securing the led's and waterproofing. i am thinking of epoxy but i don't know if the led's will melt it. any help would be appreciated.
thanks,
russell