I originally posted this on the SFBAPPS forum in Jan of '09. The tank has been running a little over a year an a half now.
****************
At the beginning of November 2009 I won a 30 gallon AGA aquarium as a raffle prize at the SVAS meeting. The last thing I needed was another tank. At the same time, I just couldn't bring myself to sell it. I debated doing a Mbuna tank or other non-plant friendly Africans. Or maybe, cross the line and set up a reef. As appealing as those sounded, I decided to upon setting up a Paludarium to replace the 10 gallon Guppy tank that was in my Son's room.
I was able to get down to a local pond during the Holidays, and do a little fishing. That is where I found the inspiration for the tank I was getting ready to build.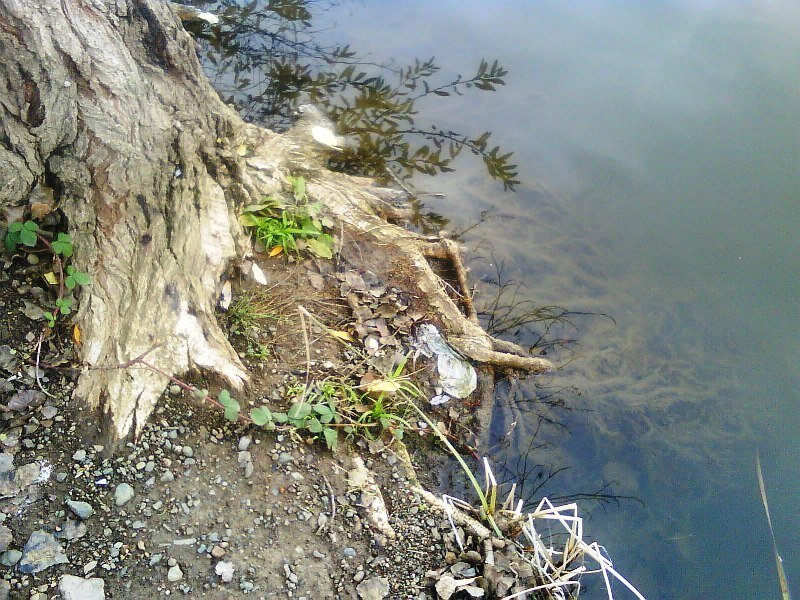 I went to Tap plastics and got a couple sheets of plexy from their scrap bin, and a tube of black silicone. On the same trip I stopped by Pet Club and bought some "lace rock", and in their wood bin I found a bunch of small scraps that I got for very cheap.
First I used the silicone to seal in the plexy sheet: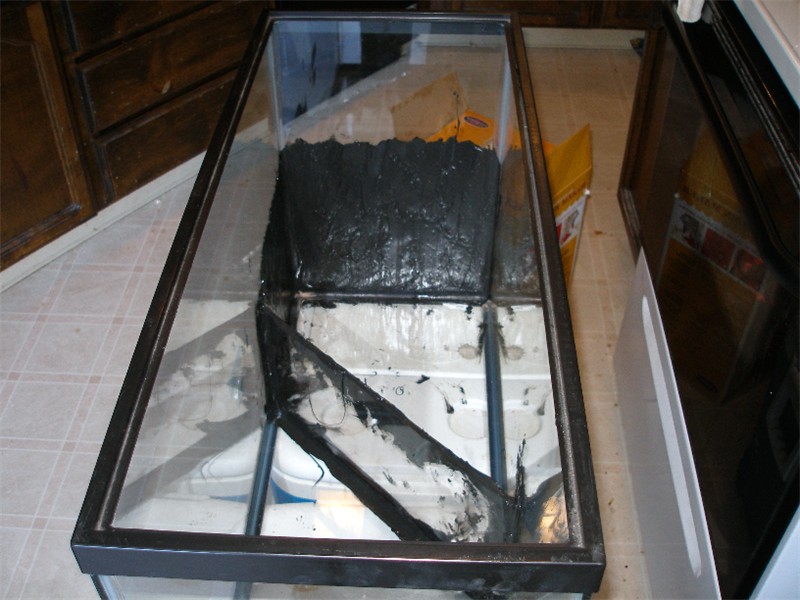 Then after waiting for it to cure for a couple days, I realized it was the wrong stuff. It was a roof sealant that never hardens. I had to scrape out all of it.... bleh. I went to Home Depot and bought the right stuff in Black and in Brown, they had several colors to choose from. I also bought some expanding foam "Great Stuff".
I built up a berm of foam, and when it had hardened, put some rocks on top and foamed them in place.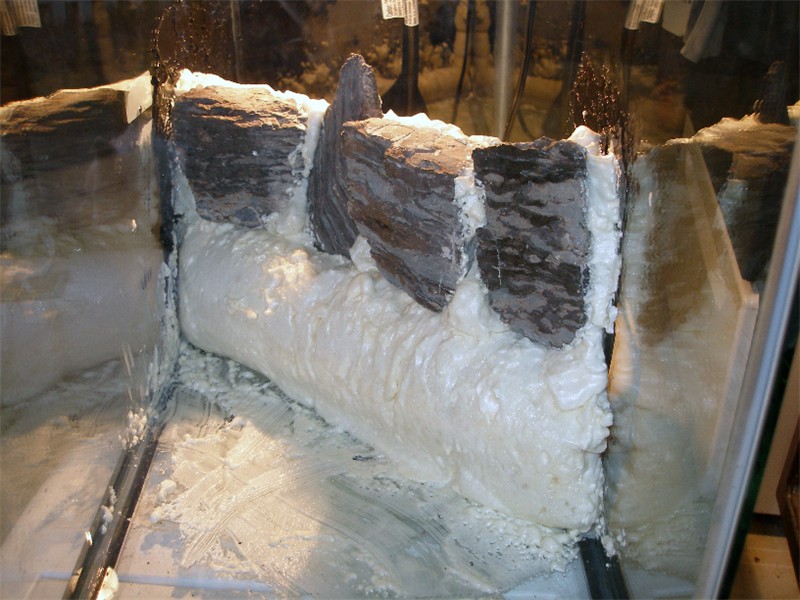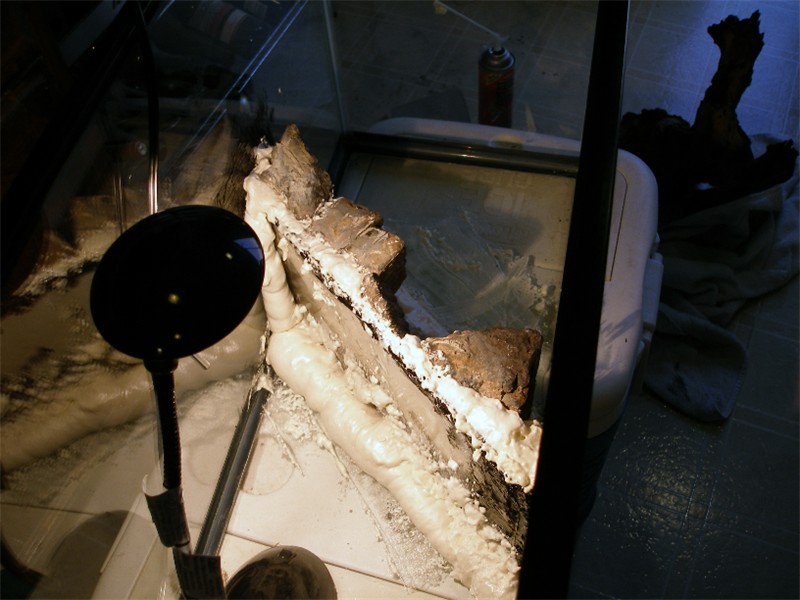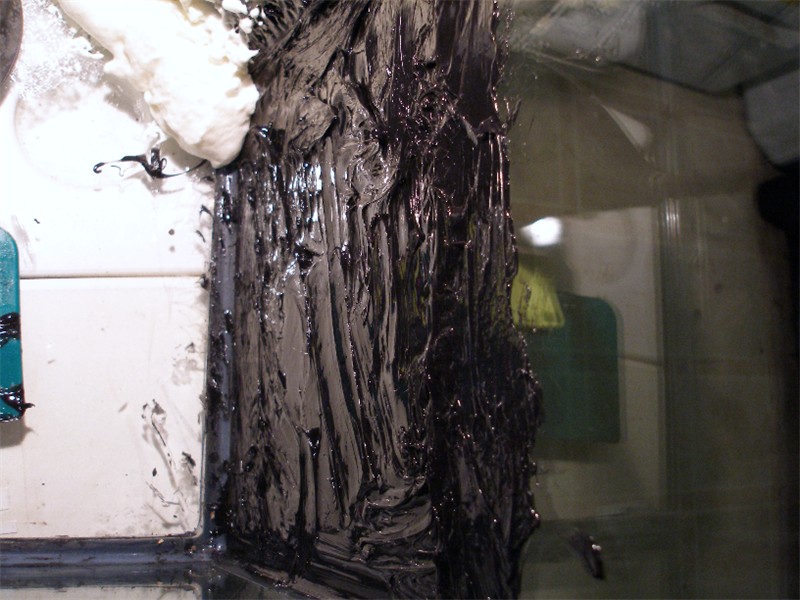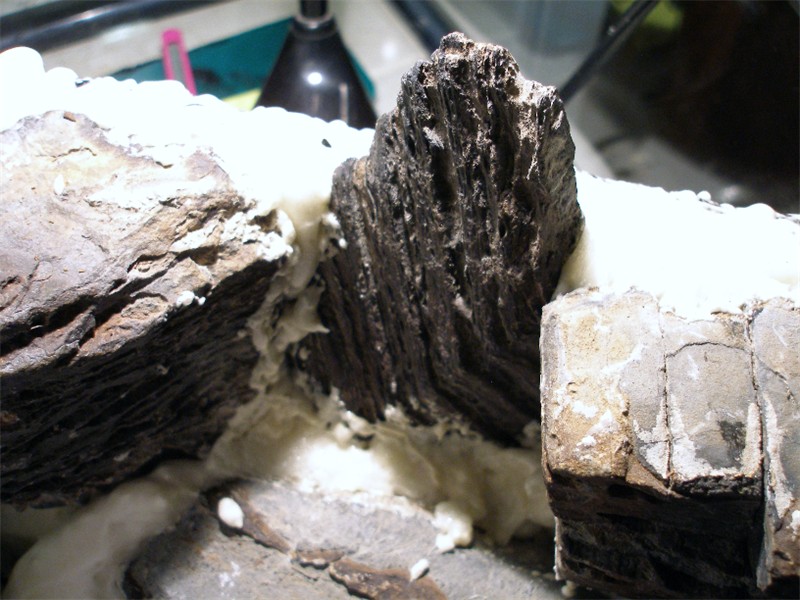 Another foam berm in front of the first one.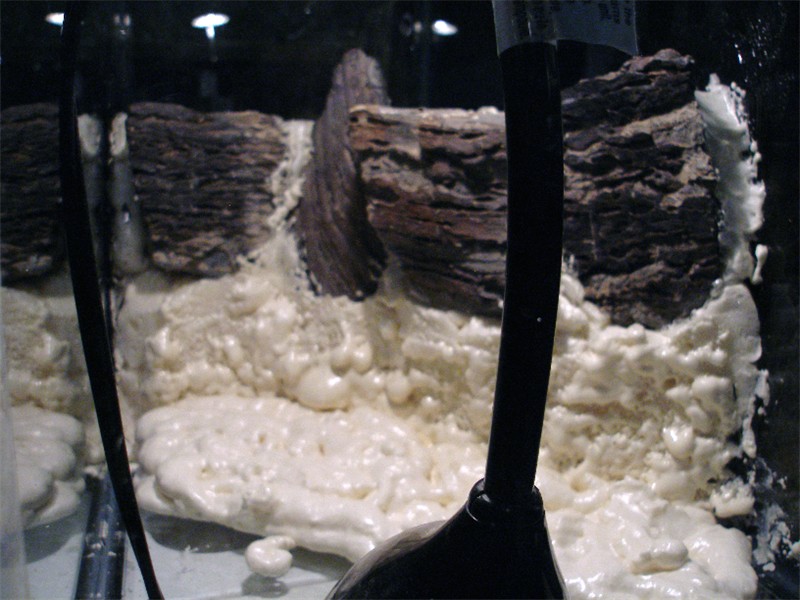 Next I foamed some more rocks in place to create a step.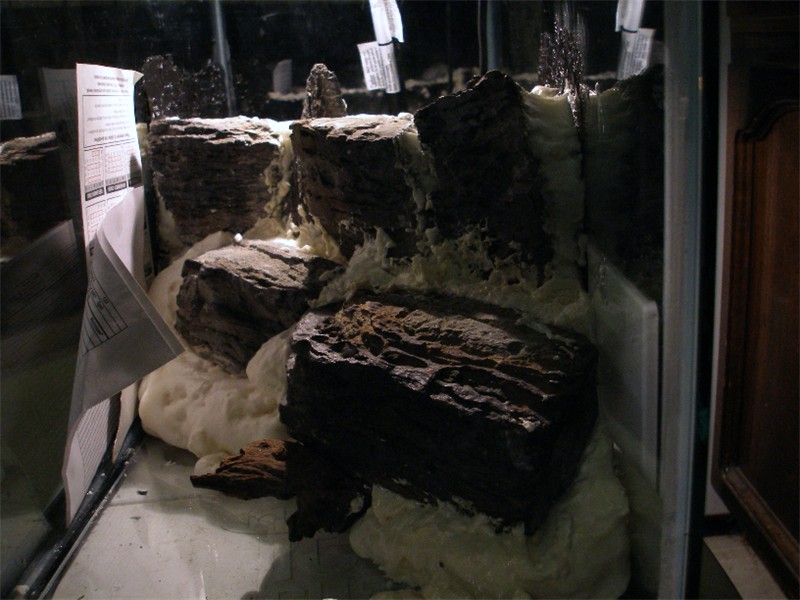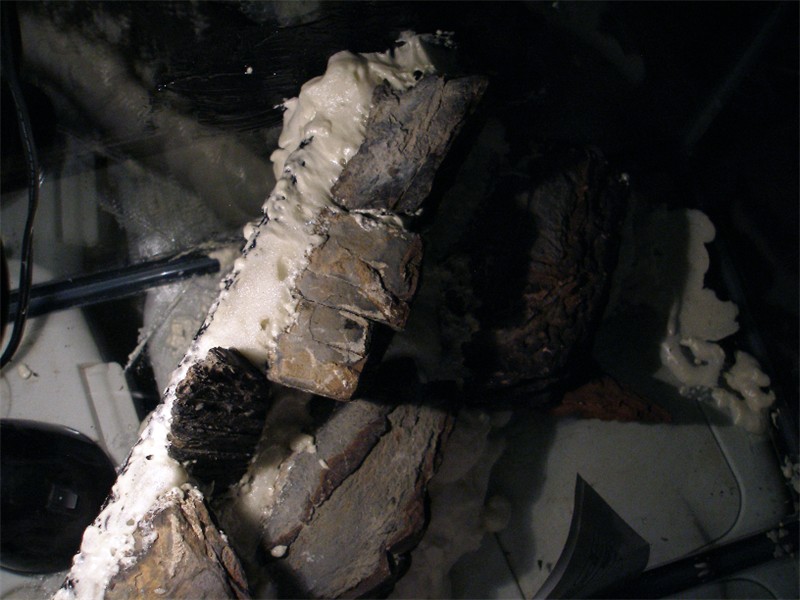 I let all of that cure overnight. Then I used a razor knife to trim the foam into a more natural shape. Next, I used the brown silicone to attach the mopani wood scraps and cover some of the exposed foam.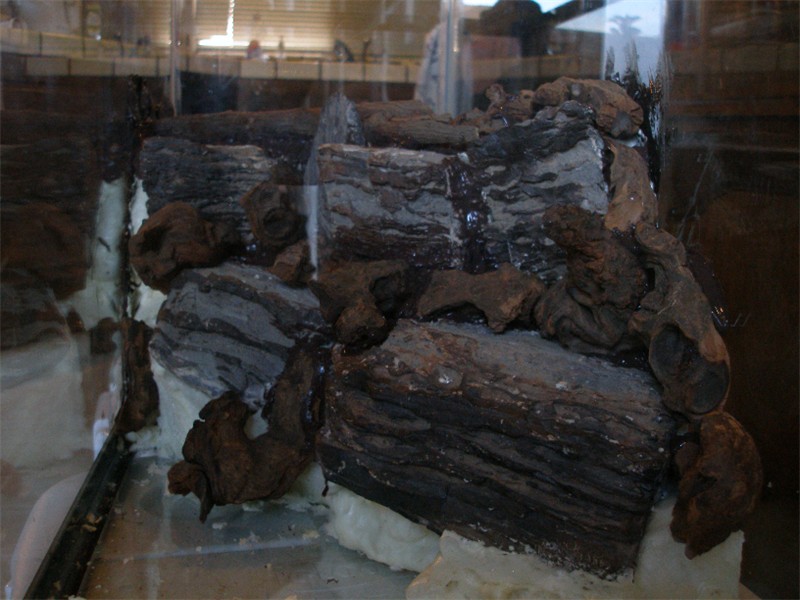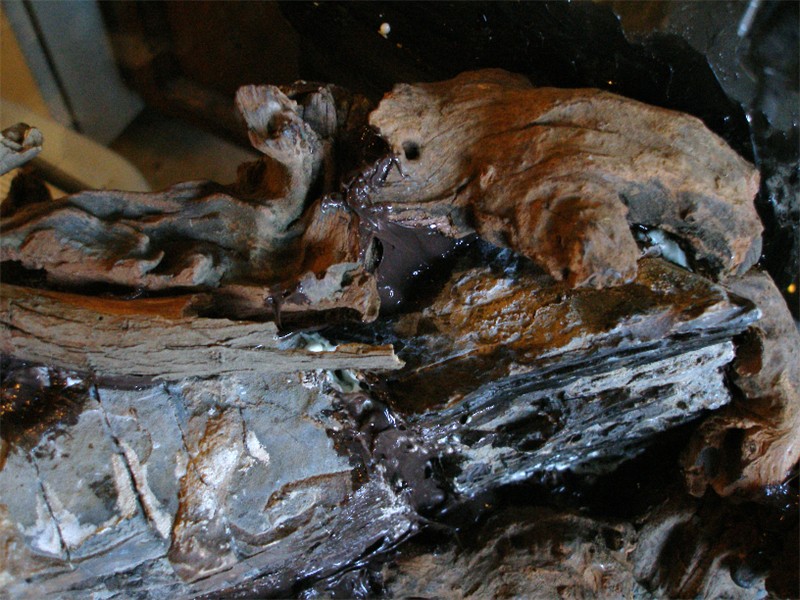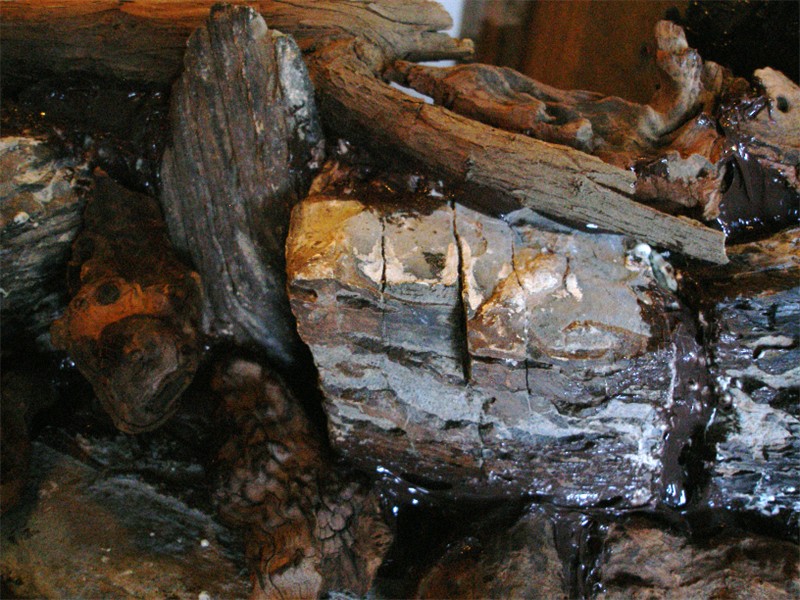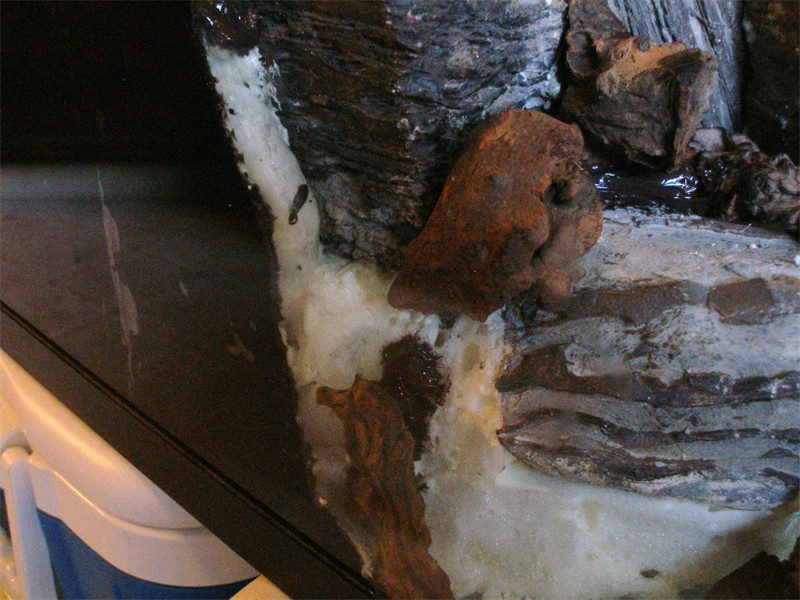 The next step was leak check. Playing with water is always fun. I filled and drained it a few times. The brown silicon practically vanished against the the wood when wet.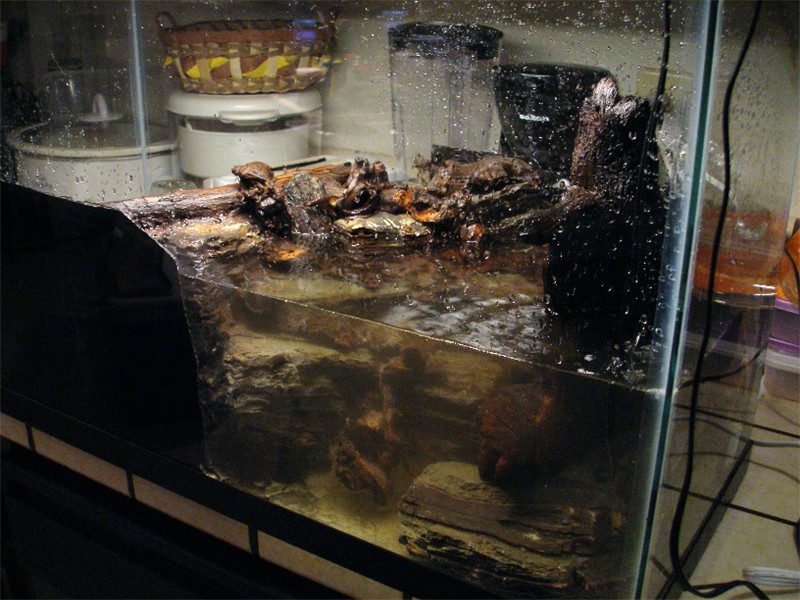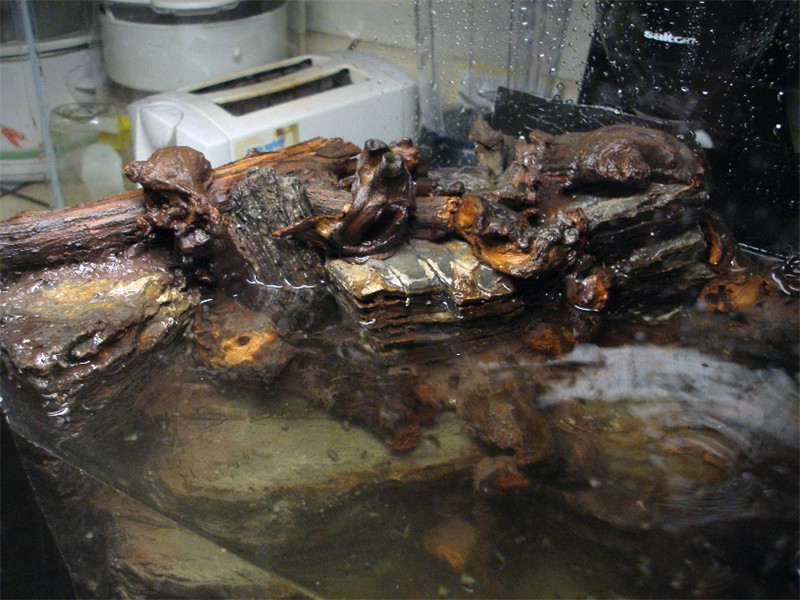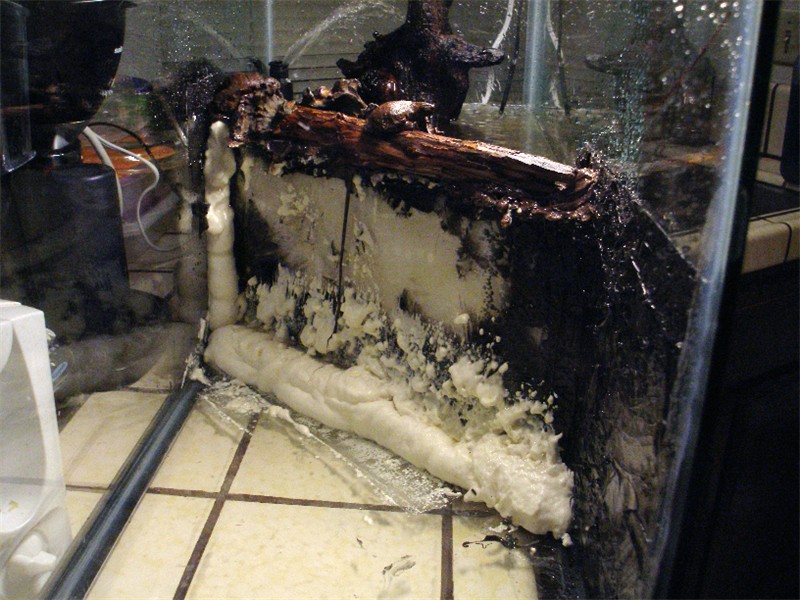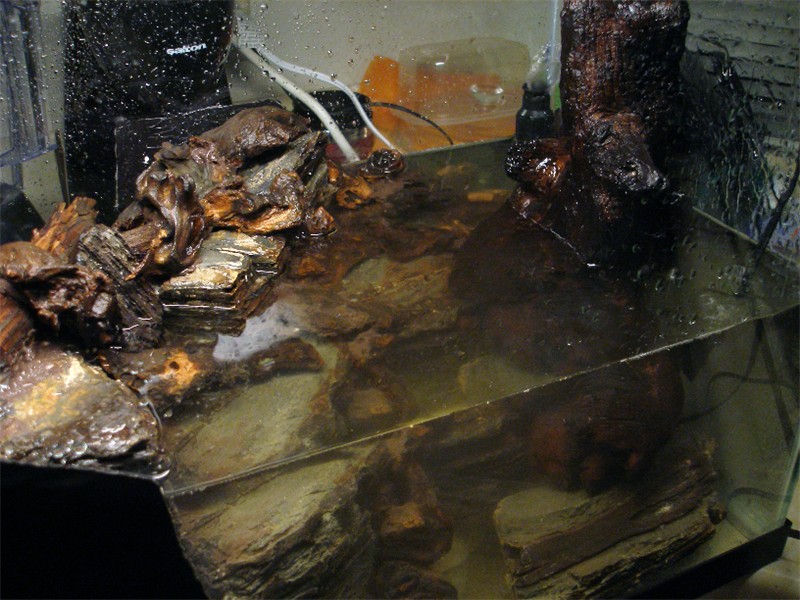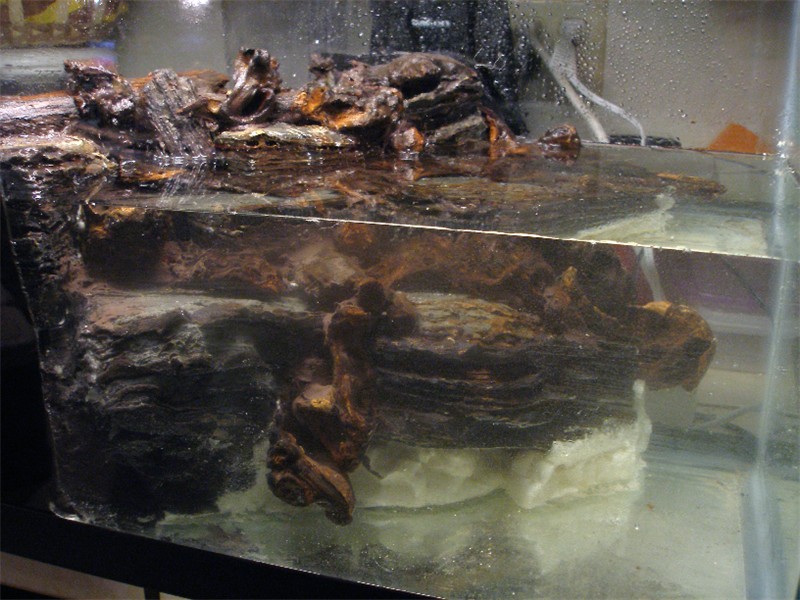 I drained it, and took it out to the garage to fill the dry half. First came a layer of medium river gravel. Then a layer of peat, then a layer of perlite. All of that is about 2" thick. For the main part of the soil mixed equal I parts regular planting soil, sphagnum peat moss, sand, and Schultz's aquatic plant soil. That I filled all the way to the top of the plexy. Which is about a half inch below the top of the rocks. On top of that, and in the water area I used the Schultz's mixed with aragonite. At this point I was planning to put some kind of crabs in there.
I placed the rest of the driftwood. In the land area I tried to create the look of an old stump whose roots were growing into the wet area.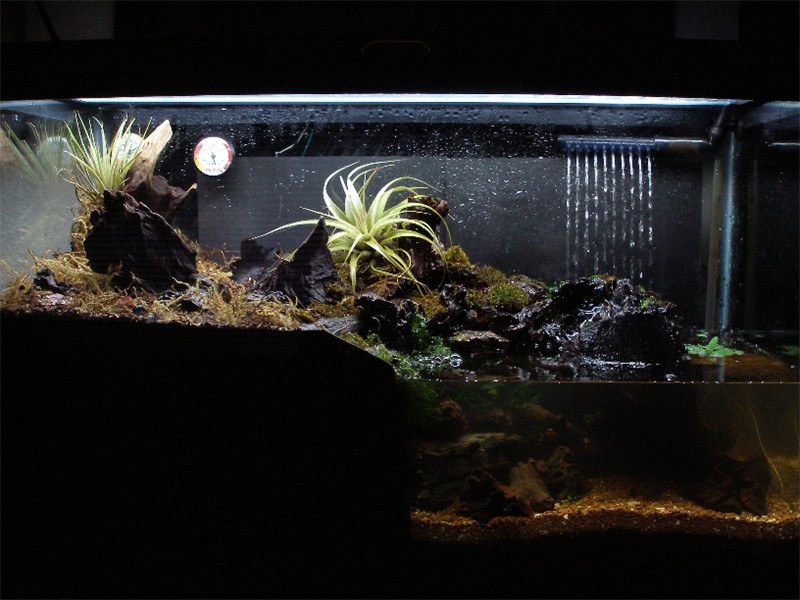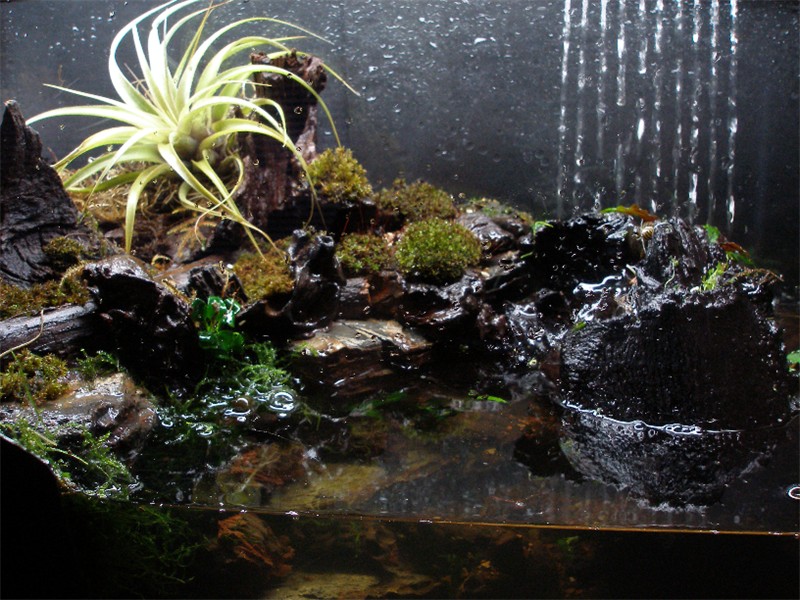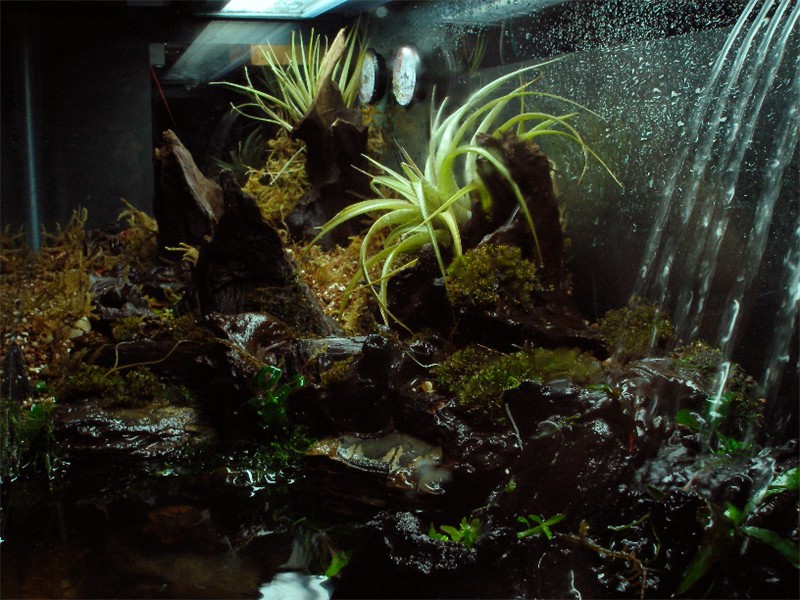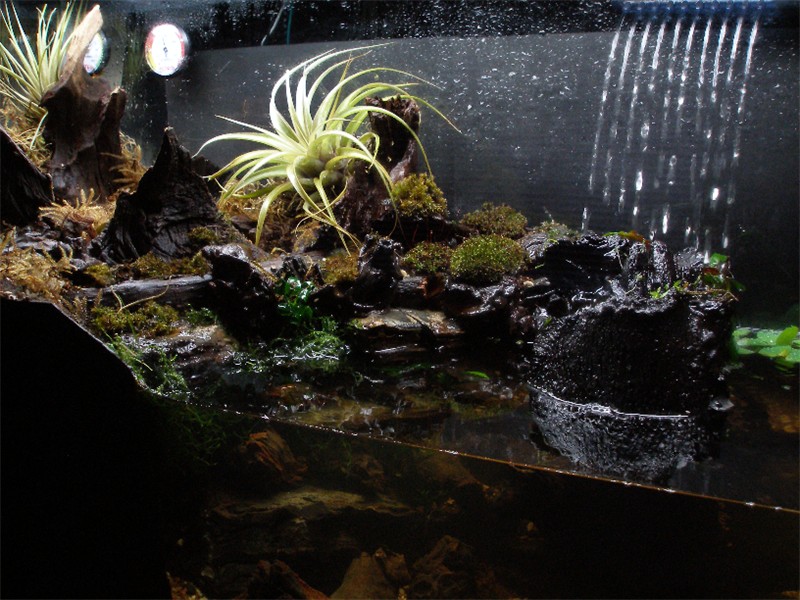 Some of the infamous Bali moss. I am hoping to get it to grow up into the splash zone.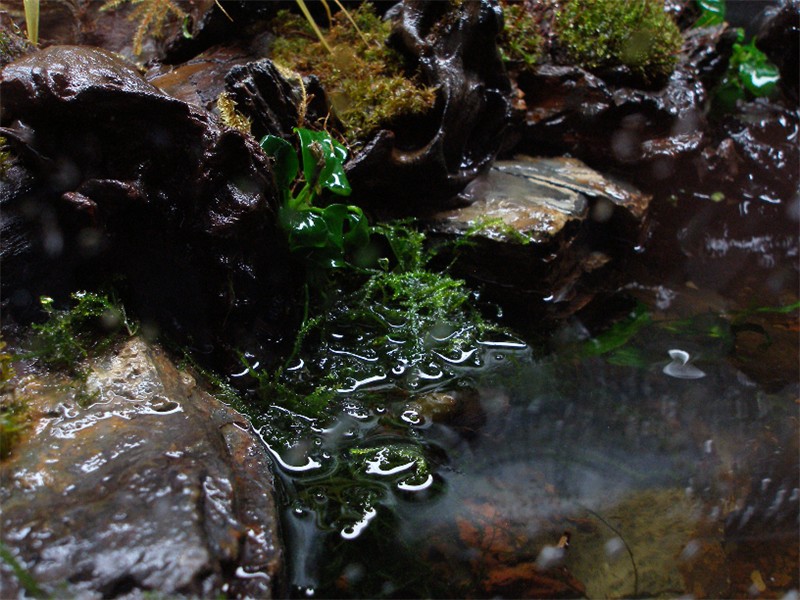 I was visiting a friend in San Martin and found this plant. There was a damp patch in his gravel driveway from irrigation runoff, and a nice patch of this native pennywort was growing all along it. It has tiny leaves, very nice.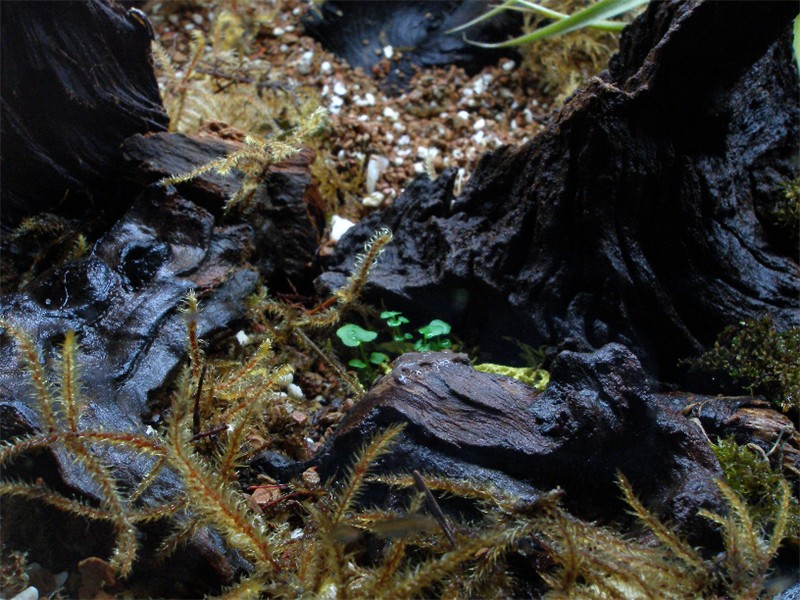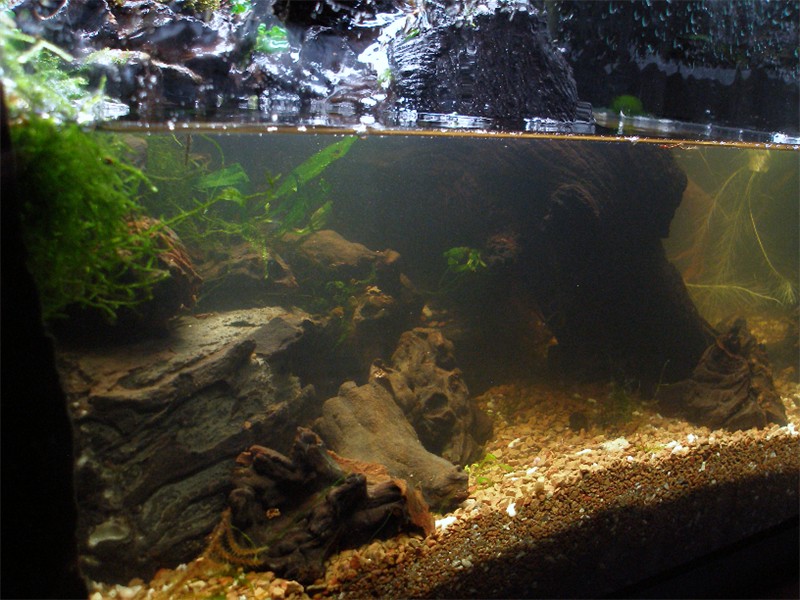 Some mosses I collected while visiting family in Oregon for Thanksgiving. I hope it is alive enough to revive now that it is in a good environment.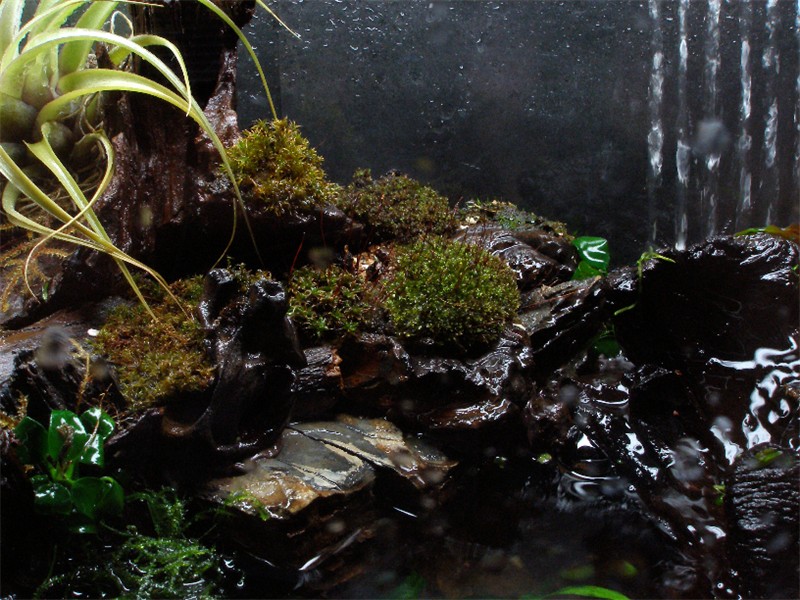 A nice Zebra Nerite: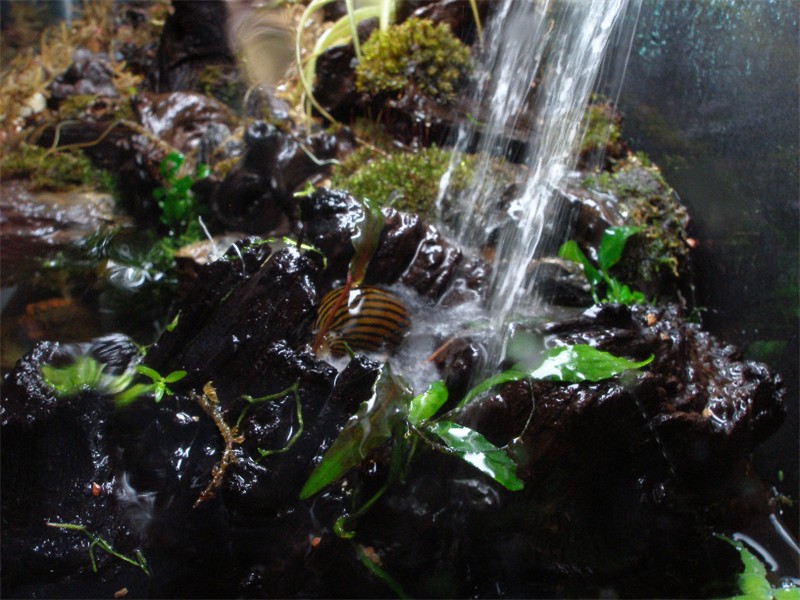 That setup was running in my garage for a few days. I was using a heater in the water, set to 80deg F, to see if I could maintain the tank temperature and humidity at levels that were good for crabs. Then on Saturday we went to our local aquarium club meeting (SVAS). a friend by coincidence had brought two Newts that needed a new home. I laughed and told him I had just set up a new Paludarium. So, he gave me the two newts. They are about 6" long, Paddle tail Newts. Some sort of Pachytriton species I am pretty sure.
On the Hunt: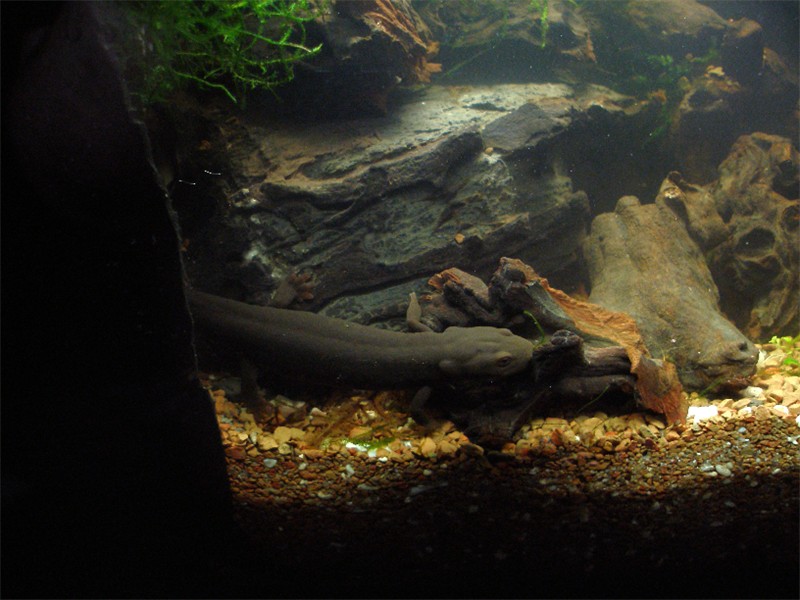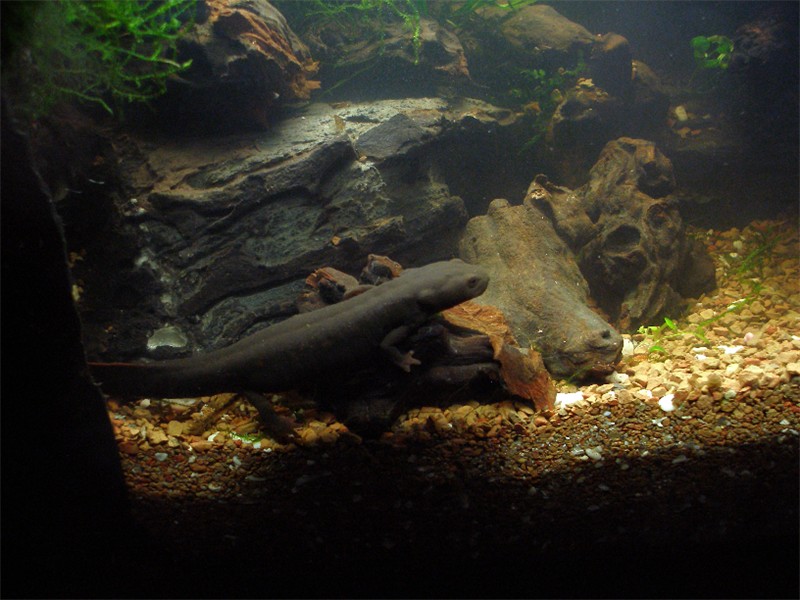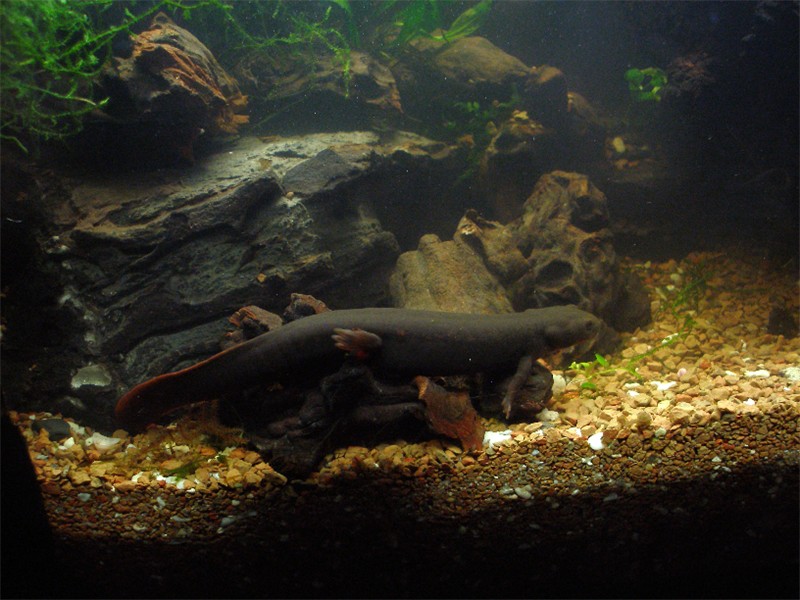 Here is the other one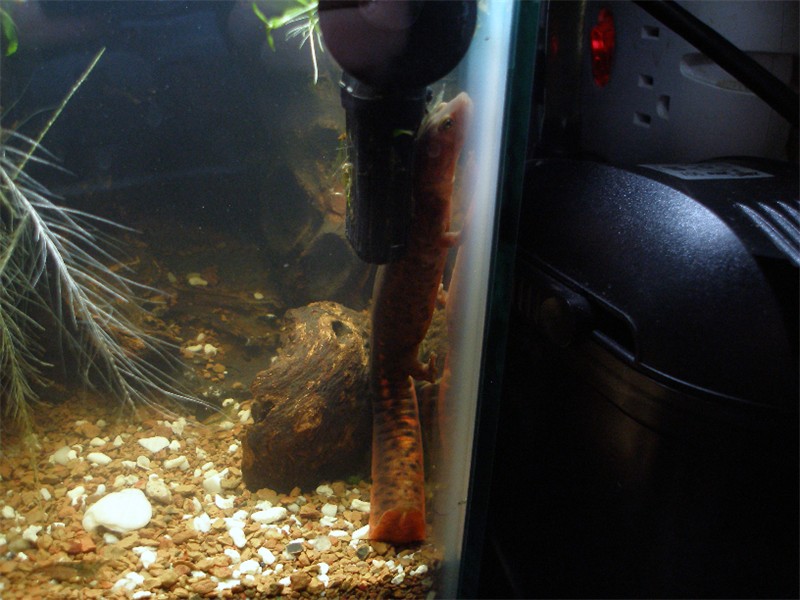 Since these picture were taken I have also added some wild type Neocaridina Heteropoda, and a few small guppies from one of my wifes tanks. These are all feeders of course. Also, I have added quite a bit more plants. C. pygmaeus, C. Parva, E. "kleiner Bar", L. palrustris and B. japonica all in the splash zone to help them transition to emeresed growth. Floating in the water is Water lettuce, Brazilian pennywort and Amazon Frogbit. <Note: In the year since I wrote that I have tried many other plants on the emersed side.>
Lighting: 1x 96w compact fluorescent
Filter: Zoomed Turtle Canister Filter
No heater, these guys like it cool. 70deg is max, with more like 60deg F preferred. I raised the light up on block to reduce radiated heat too. The temp seems to hold between 65 and 68, that is OK for now. But I may need a cooling solution for summertime.
<About 4 months later I posted an update>
I have been taking pictures of the Paludarium, but not really posting them. Every time I look at the pics, they just don't seem to come out right. This tank is hard to shoot, with lots of reflections. It is also not really set up to view the entire tank. It is more a tank to get up close and try to catch the ever changing details.
As I was spending some time looking for my new crabs...and only catch a glimpse here and there of them. Sheesh...3 adult vampires, 3 juvi vampires and 3 Geosesarma sp "blue" (thank you Chris). I realized, that is why the pics of this tank never look good...the pics should reflect how the tank is best observed..up close. So with macro mode on, I popped a few pics... well as you will see maybe more than a few.
A few of the male newt: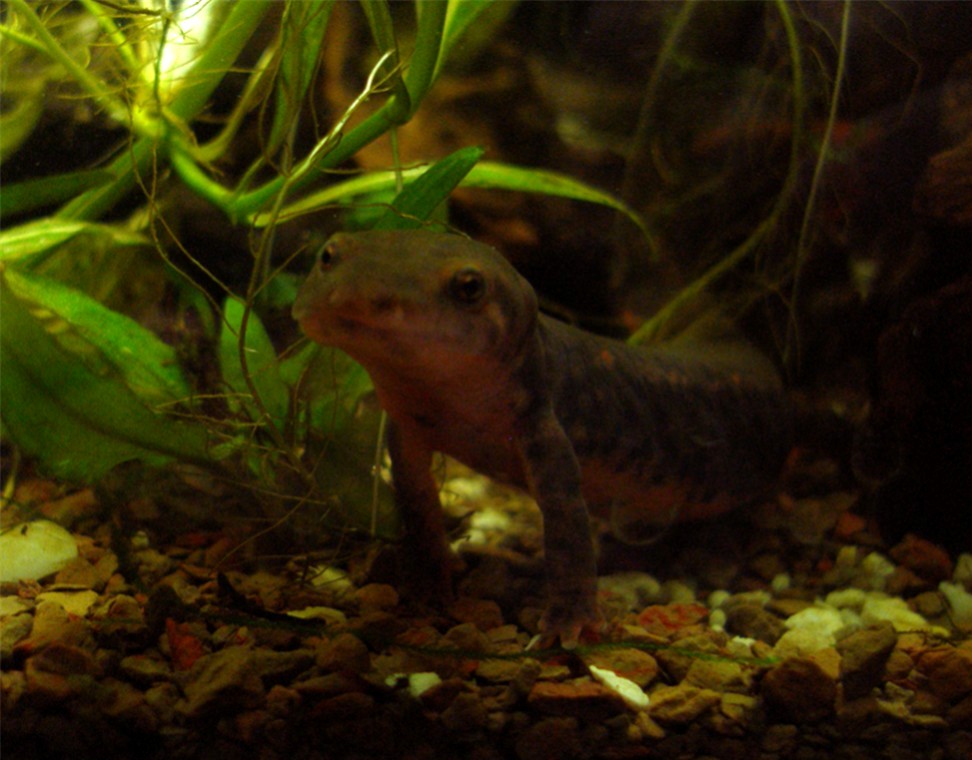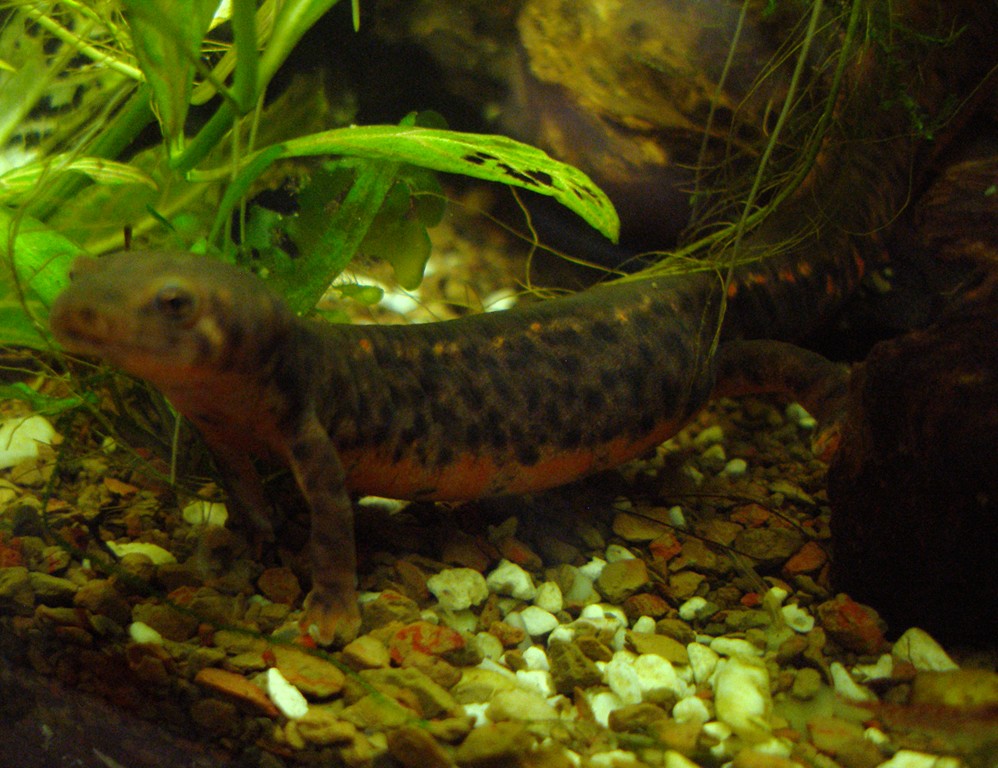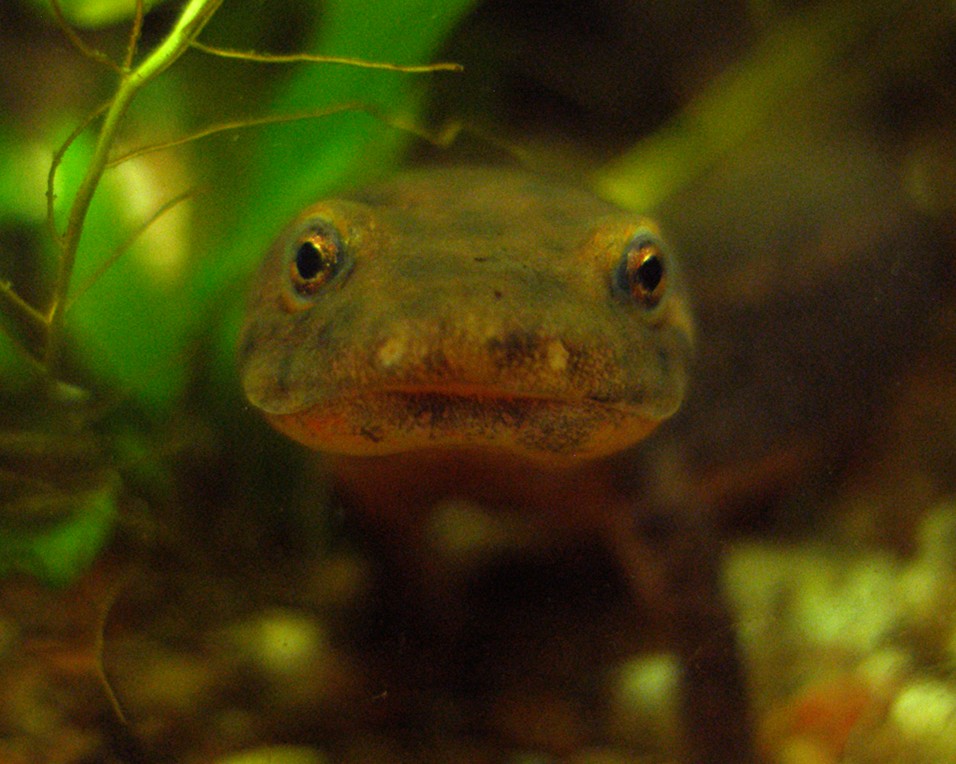 He is a surprisingly agile hunter. All the fish and shrimp are his snacks, he also eats fish food. When I put guppies in, he hunts all the pretty males right away... a treat.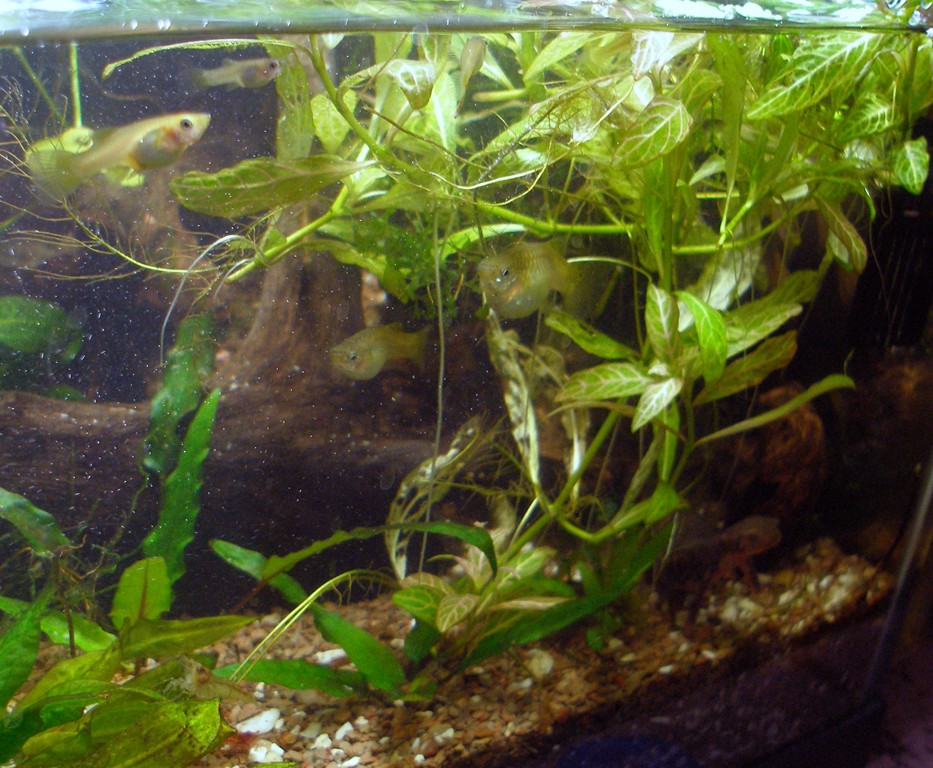 The shrimp are culls from my other tanks.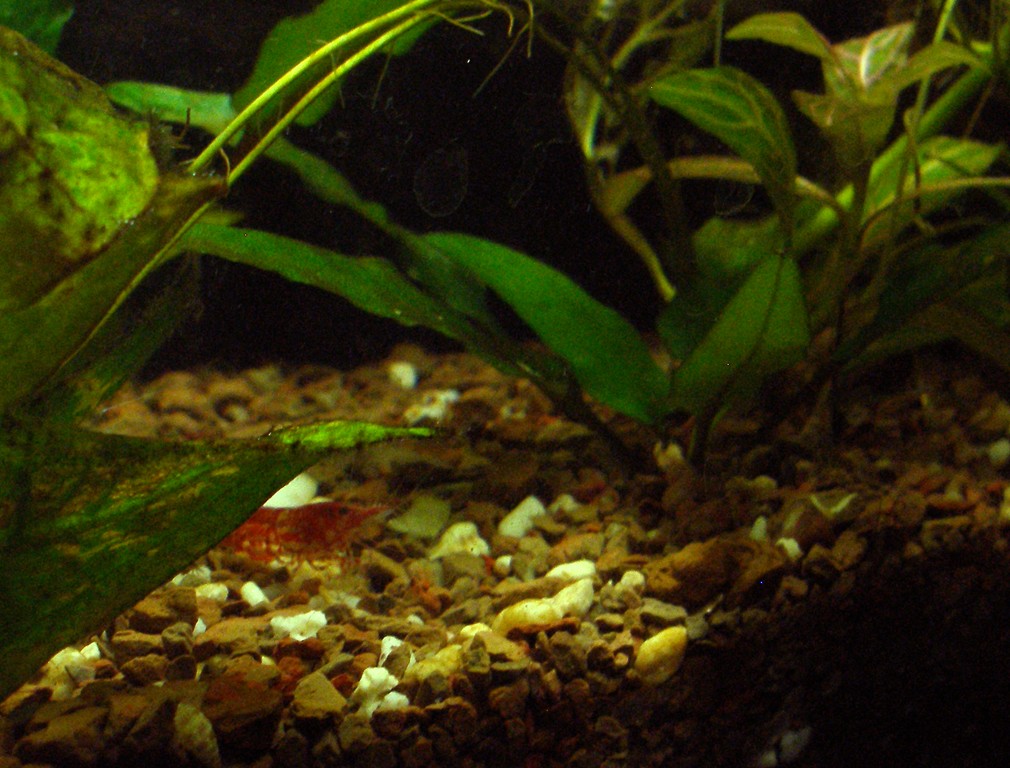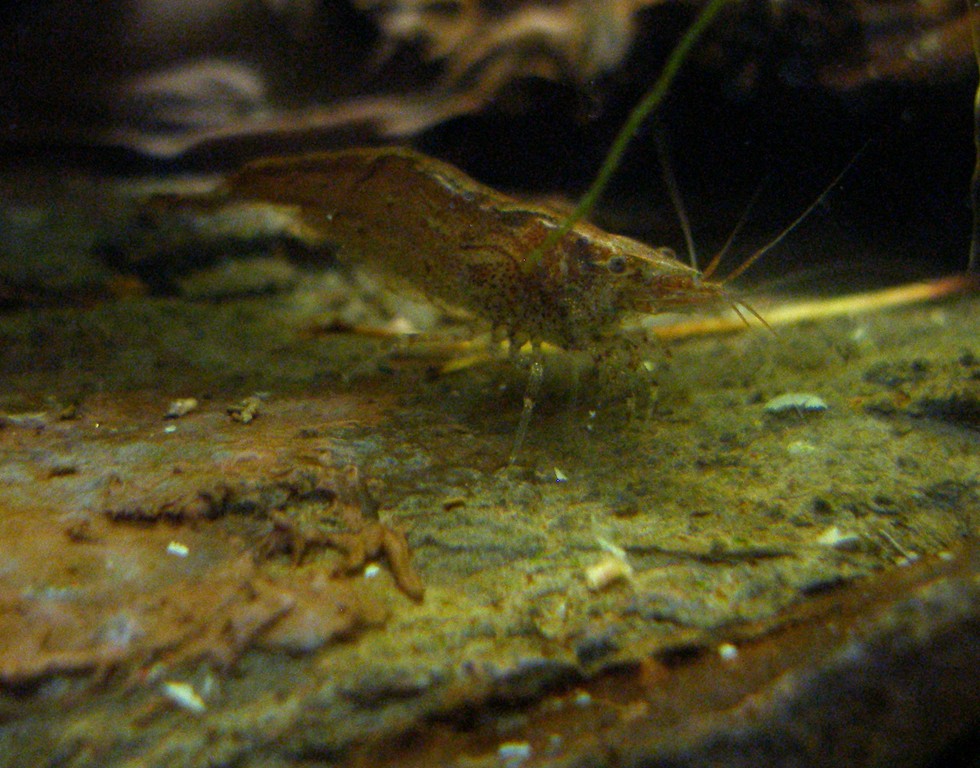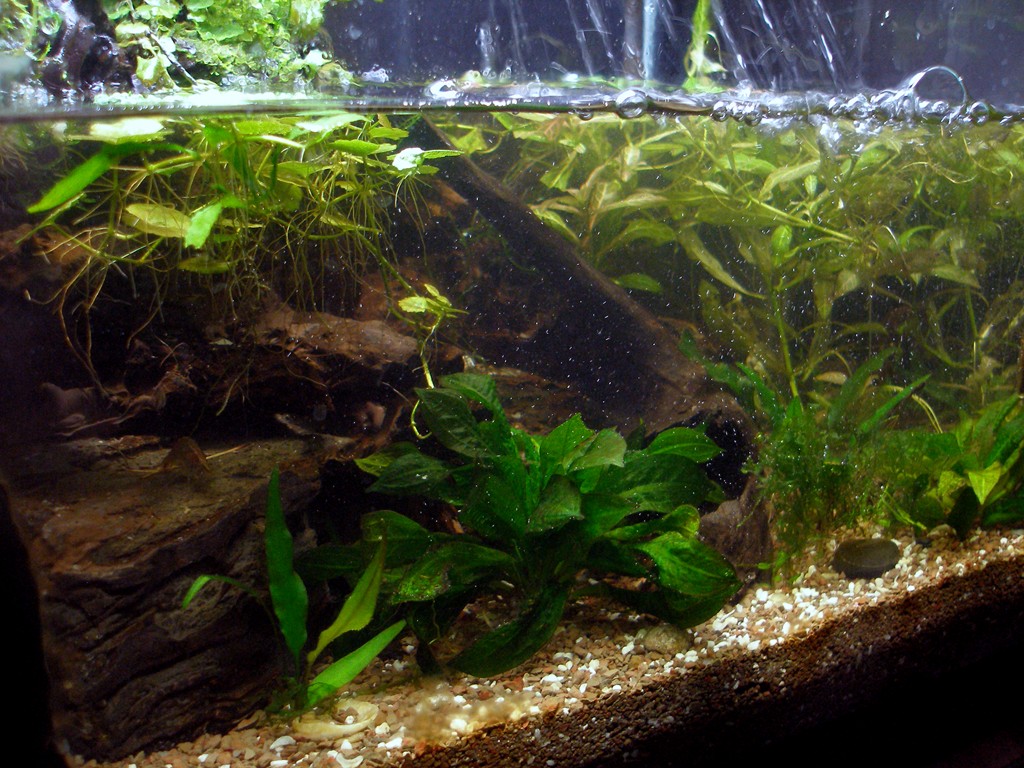 Even moving stuff around, I was only able to take pictures of two crabs. The "cave" the vampire crab is hanging out in is actually the female newts den. When I shine the light in there a few of the blue and vampire crabs found spots in there. The funny thing is, they are standing on the newt..and don't even realize she is there...yet. the newts barely eat the shrimp, so I don't think they will bother the crabs. <crosses>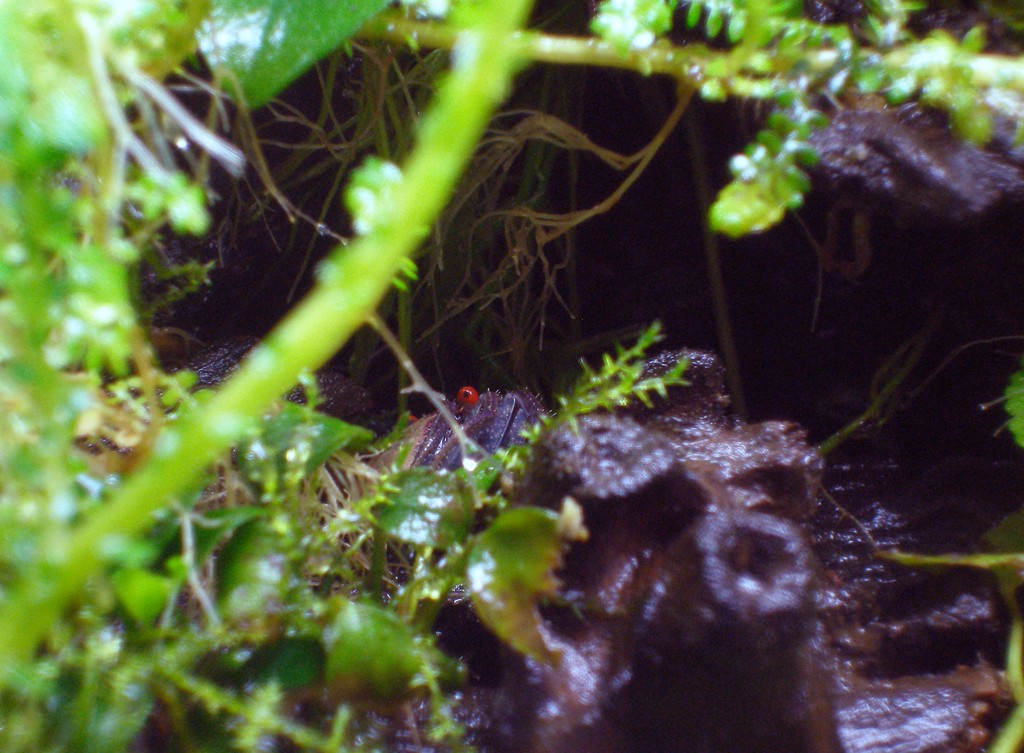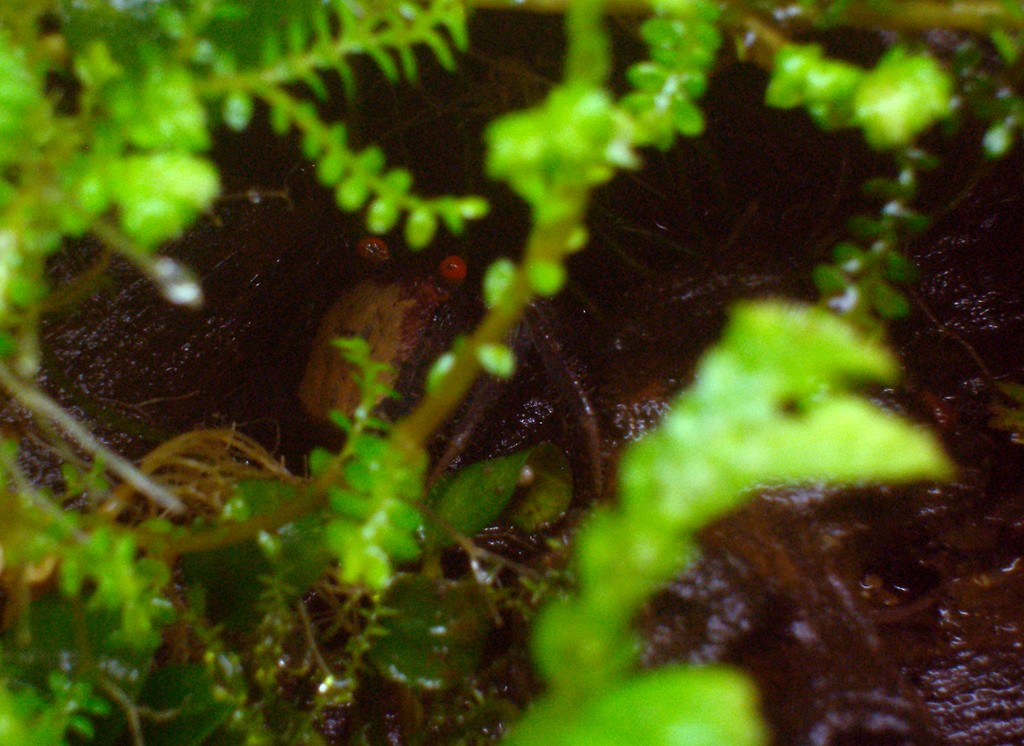 I didn't bleach or boil the wood, and I have been rewarded with some random stuff growing. Check out these tiny bryophytes... maybe a liverwort type?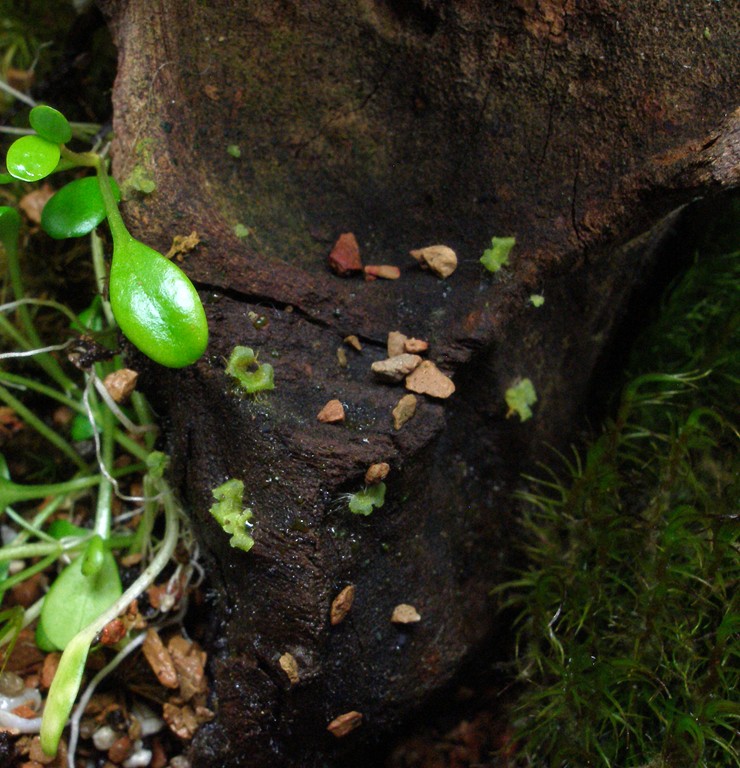 My wife went hiking in Henry Coe park when it snowed in January. She bumped a tree, got a shower of snow..and exposed this moss. It is growing nicely... I only started with a tiny piece.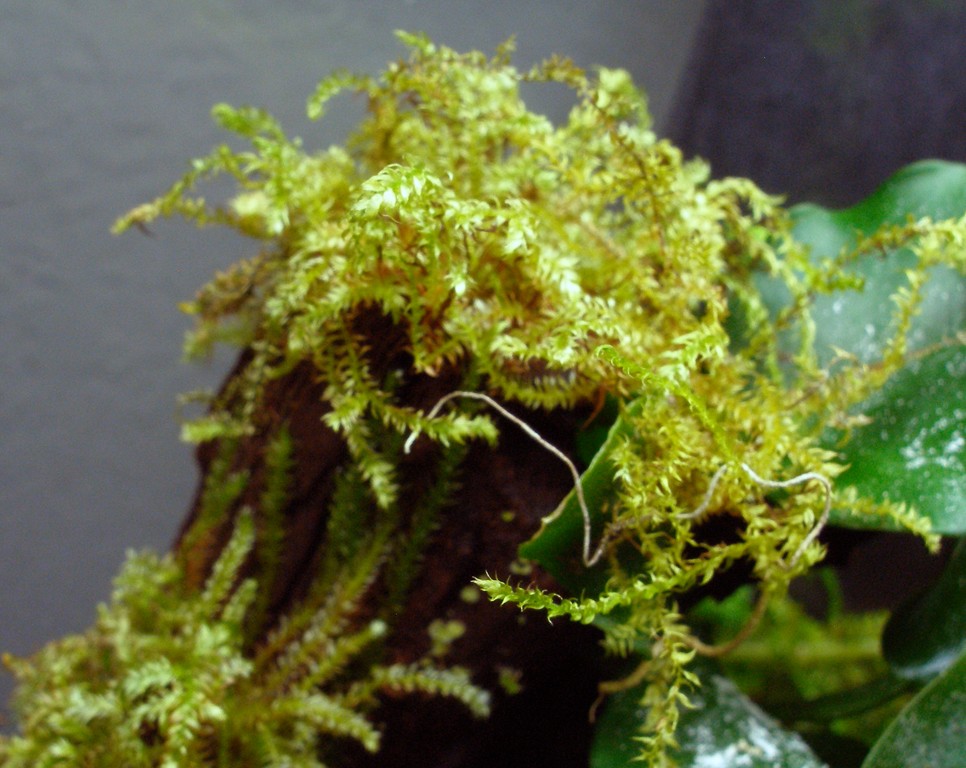 This came from my moms house in Oregon. She has a seasonal creek and pond on her property. They were dry the last time I was there, and I was able to collect about 5 different mosses from around her property, including an aquatic one. in the back you can see some Hygrophila "porto vehlo" growing emersed.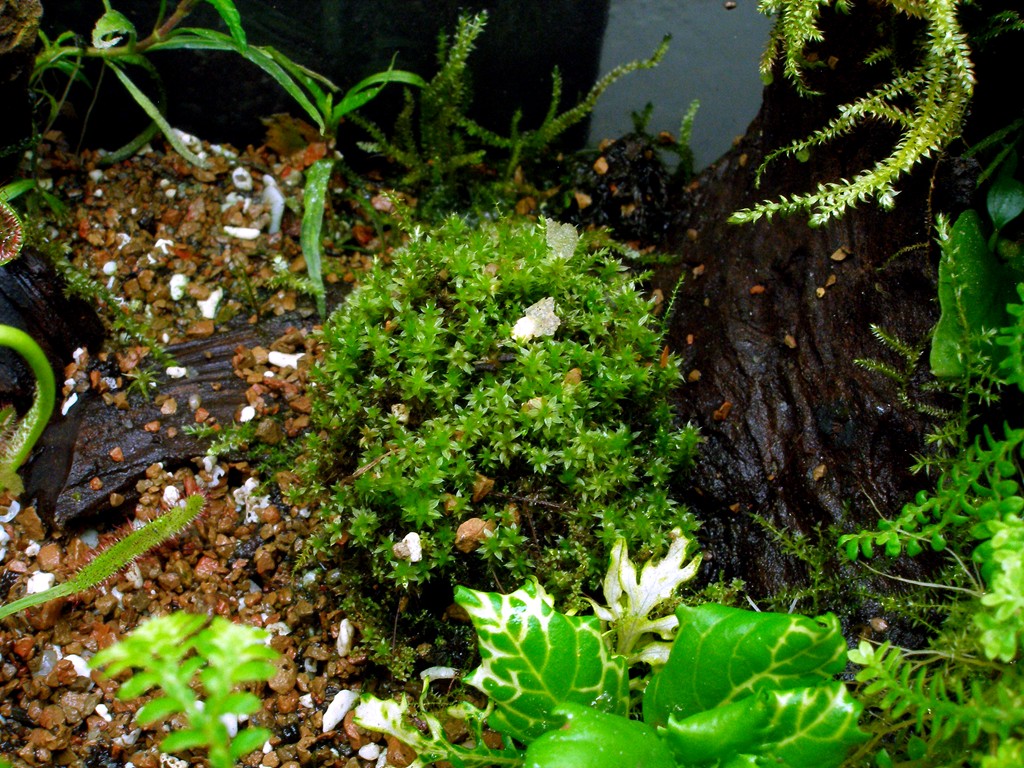 Random mushrooms and weeds sprouting from some frog moss. Look at the green algae(?) on the wood.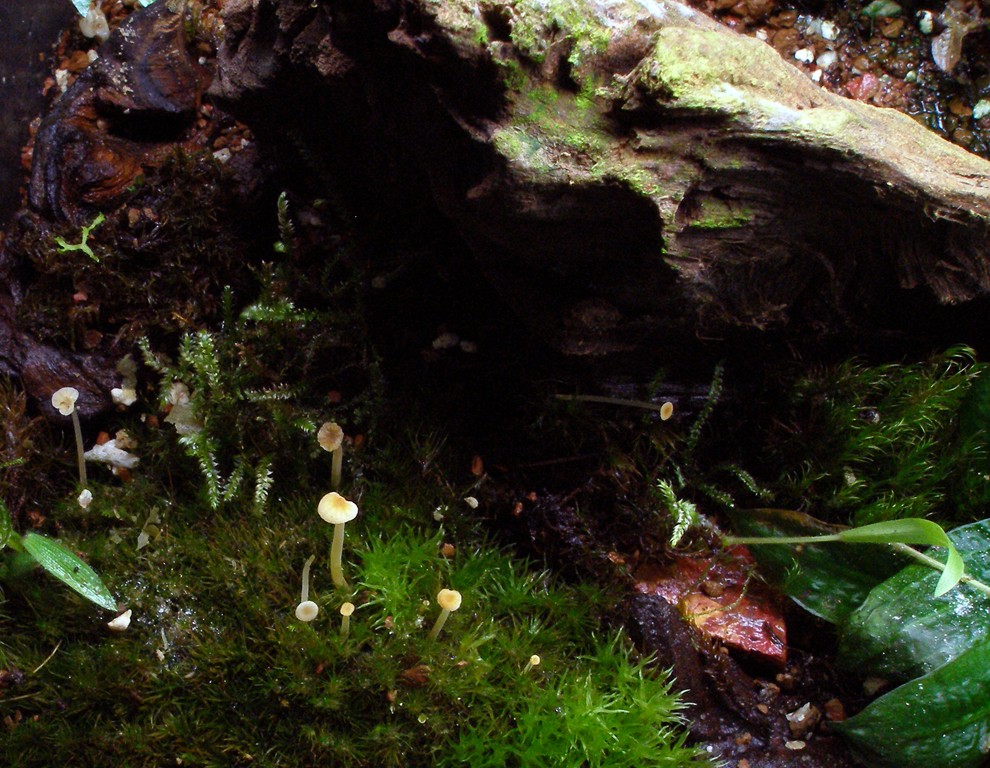 I got the Sundew from Chuck Rambo, it has already eaten all the gnats..I may have to buy bugs to feed it. Also, the Selaginella from the pet-co tube is thriving in the splash zone. That is also an emersed variegated Wisteria.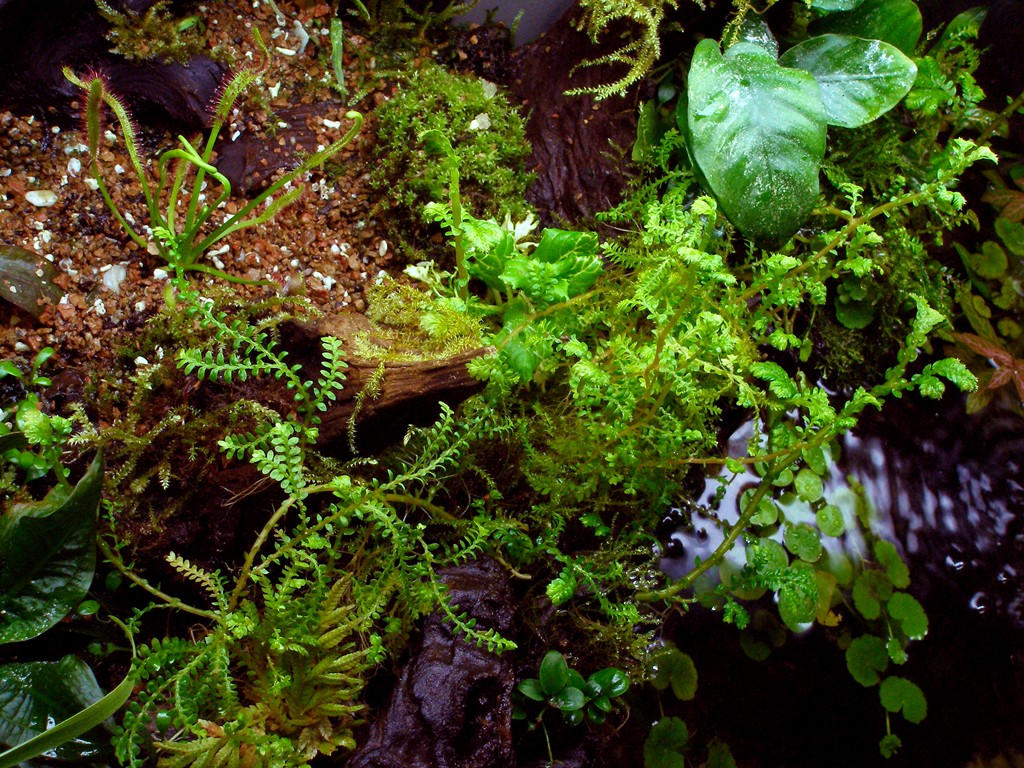 Here is a shot of the whole tank, not it's best view. Still a nice reference.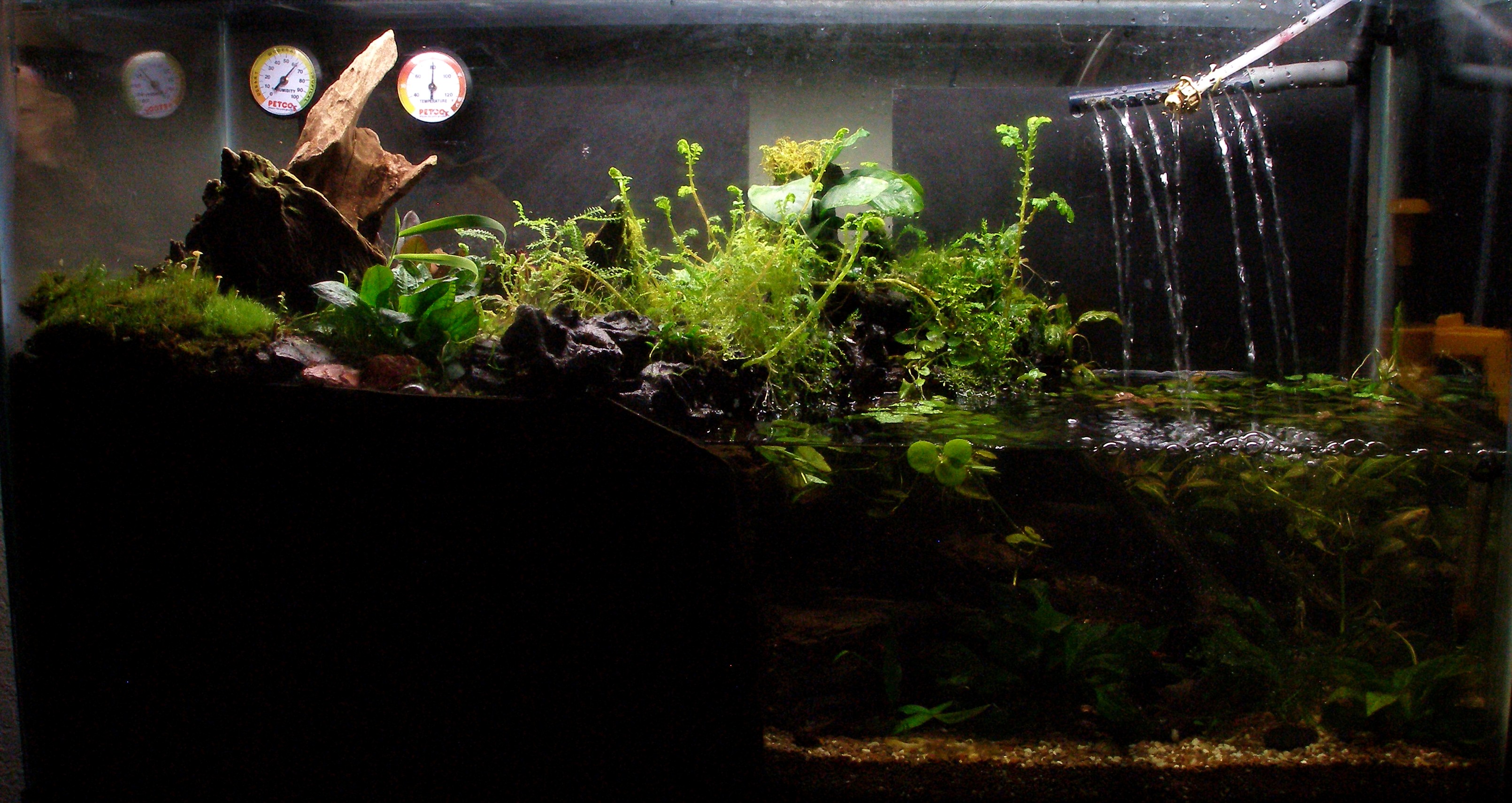 Finally, here is a short video of the Mist system in action.
http://www.youtube.com/watch?v=05Q9Qv6cUGM
I am a bit leery of my current combination of animals. Time will tell if it works. Also, I am getting some BGA (cynano) in the land area. I assume it can be taken care of emersed the same way as submerged... clean it off, raise the nitrate dosing...and I guess I can sprinkle some antibiotic on it if that doesn't work?
******
All of those pics were from at least a year ago. Currently the tank still has Crabs on the land portion. The Batik crabs have a lot of personality and like to sit up on the anubias. The male have very large claws, and each has unique markings. The "Blue" and "Carnival" vampire crabs have bred several times and now there are multiple generations of crabbs living all over the land, lots of tunnles. In the water are some Apistogramma caucatoides and the shrimp.
Attached are a few more recent pics.