Hi guys.
My tank has been running for about 3 months now. It is stocked with
5 zebra danios
6 harlequin rasboras
4 neon tetras
2 otos
About a month ago, I thought that my tank had an attack of diatoms as the glass was covered by rust coloured algae but I managed to clear them by using an algae scraper. Then I noticed that my Java fern leaves were covered by this brown stuff that was very difficult to rub off. My rocks also had them and it was completely covered. I discovered that I had the dreaded BBA so last week I decided to do something about it. i got Flourish Excel and put it in a spray bottle, took out all my driftwood with ferns and started spraying the driftwood and ferns. I also pulled off the baby ferns and attached them to the driftwood by fishing line. I also started running a pressurised CO2 system with diffuser, added 2 capfuls of Excel daily and Flourish Comprehensive twice a week. Now, after a week, most of the brown algae is gone although there are some clear substance still on the edges of some leaves. The driftwood though has turned somewhat green in certain areas.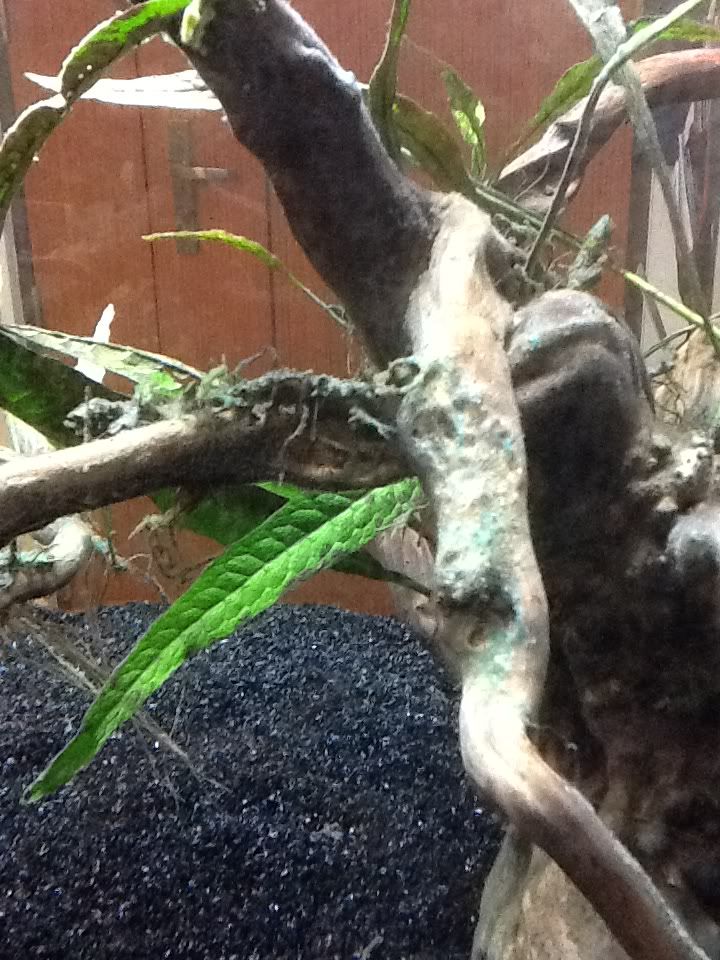 2 days after the BBA cleanout, the java ferns started turning brown, from the edges and spread to the centre of the fern leaf. Some of the ferns also have very small holes where the leaves have turned brown. Both the old leaves and the young leaves are affected.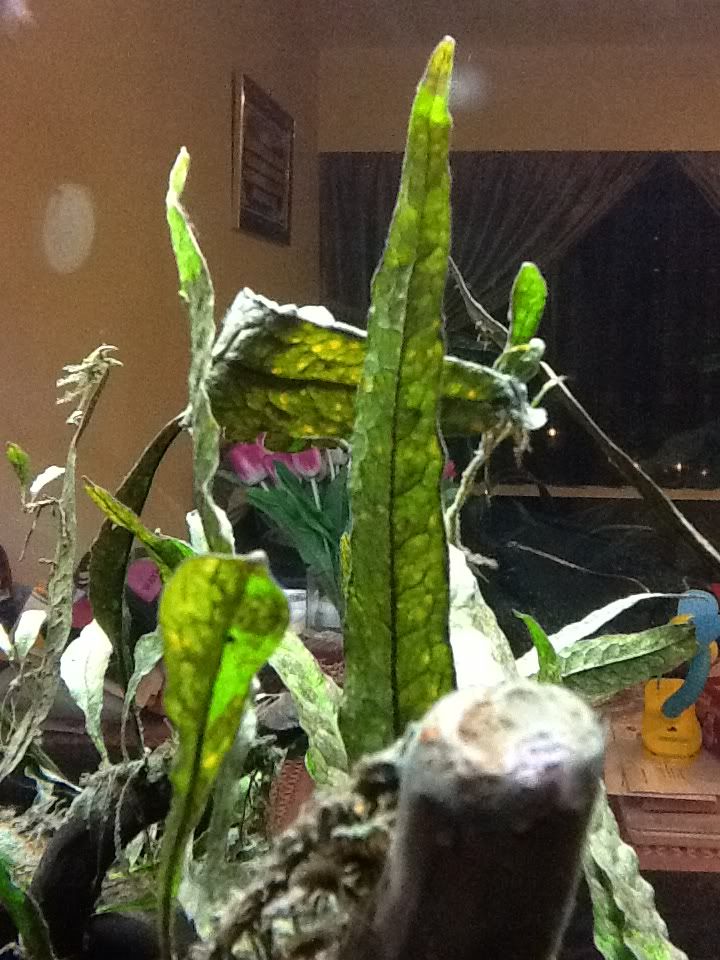 1) Are my java fern dying? If they are, what has caused it and what can I do to remedy the situation?
2) Is there a nutrient deficiency? I have googled it and some have said that it is because of the low nitrate levels in the tank.
Before the treatment, the leaves of the ferns are really green, but ever since being taken over by the BBA hardly put out any new leaves. Now, I don't see any new leaves or baby plants at all, like growth is stunted.
I will provide the details of the tank conditions, before and after treatment.
No water change since last week.
Used to be 50% water change every week with gravel vaccuum.
Tank size: 54G, 4 feet x 1.5 feet x 1.5 feet
Filter: Canister 1300l/h
Substrate: River gravel
Before treatment:
No CO2 injection
Run bubblewand 24 hrs
Bag of coral in filter
pH: 7.8
Ammonia: 0
Nitrite: 0
Nitrate: 7ppm
After treatment
CO2 injection 3 bubbles per sec
Stopped running bubble wand
pH: 6.5
Ammonia: 0
Nitrite: 0
Nitrate: 7ppm
Temperature: 28 -29 degrees C
Lighting and CO2 both turn on together from 12pm - 4pm and 6pm - 10pm.
Lights are T5, 54W. I have 2 tubes but only running one, switching around every week.
Fish are fed daily, only as much as they can eat in a minute.
Please help. Cos I am at a loss of what to do. I might just have to redo the plants again.