Quote:
Originally Posted by
manini
Hi. Just wanted to share a photo taken of a friends 60F tank that was extremely well put together. Enjoy.
His foreground plant is UG. There are other emerged form of plants in the tank.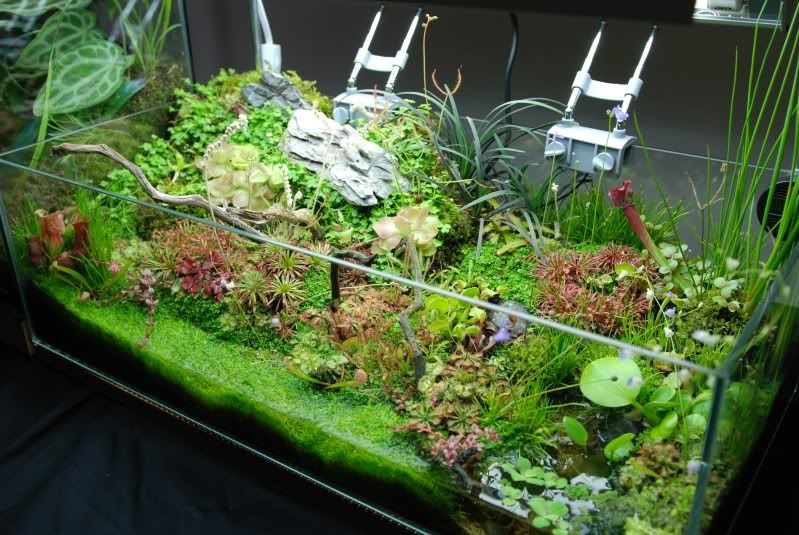 I would first like thank my friend JoJo who is the owner of Aquascapes here in Honolulu, Hi. His shop is an ADA themed shop with everything you need to create the scape of your dreams. His awesome creations and displays in the shop exemplifies his knowledge, experience, and dedication to the hobby. Also a big mahalo for the pictures he took. Very professional and well done!
To all of you who commented to this thread, Thank you very much for your kind comments. I'll try to answer all of your questions here. The scape created here with this tank is an emersed aquatic, carnivorous plant bio in an bog layout.
The tank is an ADA 60F, lighting is provided by a suspended hydroponics (4) 24" 24w 6400k t5's, and an Achmea 24" 36w 6500k t5 for a duration of 14-16 hrs.
The substrate used is a 50/50 mix of peat and sand, a basic mix used for carnivorous plants that require an acidic low nutrient soil.
The carnivorous plants used in the layout are found naturally in bog conditions include Dionera-the venus fly traps, Drosera-the sundews, Sarracenia- the American pitcher plants, also various emersed Utricularia:U. Gramnifolia, U.Livida, U. Monanthos, U. Prehelensis, Other CP's grown in moist but not wet environs include Pinguiculas, Australian pitcher plant-Cephalotus, 'Wooly sundews also from Australia of the Petiolaris Complex, and a few others. The emersed grown aquatic plants included eleocharis sp. hair grasses, various mosses, HC-Hemiantus callictriodes, Hydrocotyle 'Sib', A few Rotalas- Indica, mini, floaters - mini water lettuce, frogbit, and azola.
The tank is an 'open top' tank with no cover or humidity dome, temperature and humidity are monitored by a digital hygrometer that normally stays in the low-mid 80's, and 70%-80% respectively. The plants are misted or squirted with a baster once in the morning and evening. There is no filtration used nor co2, and no fertilization regiment, CP's will not tolerate ferts in an enclosed enviroment. RO is used as sole water source initially and is filled to a level just above the roots of the plants. Utricularias appreciate a little flooding above their leaves once in a while, other cp's should never be submersed. The bog and pond areas are stagnant and will need to changed every other day or so with fresh RO water. I use a turkey baster to suck water out and for refilling. The only other thing that I added to the tank initially and with every water change is an very effective product called EM-1 which is an live Microbial Inoculant of effective Microorganisms that will keep your substrate and water features "sweet".
All plants used in this layout were grown and propagated from my various collection of Rainforest CP's, and other CP's in wetland environs under green house, semi- shade conditions or full sun. The plants suffered a little when brought indoors under artificial lighting from their transition of outdoor cultivation. For the first few weeks supplemental lighting was added with two clip on
cf spirals 100w 6500K ea. Most sundews can handle as much light as you can give the without burning. A small table fan on its low setting was also used for air circulation.
Again, thank you very much for your nice comments and interest. I hope I covered all questions?