I posted this on the plantedtank forum a while ago. I'm sure many of you have already seen it there, but I thought it might be food for thought for anyone looking to get light into the tank for cheap. I find myself increasingly drawn to this forum over "the others" for reasons that are probably shared by many of you.
When designing this, the main constraints were: #1 - cheap, #2 - cheap, #3 - cheap, and #4 - enough light to grow plants. I used 1/2" x 2.5" and 1/2" x 3.5" pieces of wood that I found at Home Depot. Conveniently, they came pre-cut in 36" lengths. I spent a total of:
wood $8
screws $0 - had a few lying around
paint $3 - 1 can black spraypaint
light bases $16
wire $0 - had it lying around too
lamp cord $2
fan $20 with shipping
mirror $6 from local glass shop
bulbs $36 from bulbs.com (they're down the street - no shipping)
Total = $91
I got the fan from Allied Electronics, part number OA80AP-11-2WB. $14.22 plus shipping. The main criteria here was something quiet and 120V so I wouldn't need a transformer. It works great and keeps the bulbs nice and cool. The tank doesn't heat up at all during the day.
Currently I have a real hodge-podge of bulbs. Don't be fooled by the reflection from the photo. There are 8 lights total, all 5000K or 5500K and between 23W and 26W. I initially planned for 6, but then decided I wanted eight & kind of jammed the extras in toward the middle. The 46 bow has a center brace so I used that area for the fan, which exhausts out the back & helps to heat my house in the winter.
I used two 36" x 1/2" x 3.5" pieces of wood for the front and back. The right and left sides are 6-3/4" long. I drilled three 1" holes in each end to let air in. The top is made of three 36" x 1/2" x 2.5" pieces.
I did all the wiring before putting the thing together which made it much easier. I also put a plain mirror in the top as a reflector. If I did it again I'd probably just paint the inside white. The light bases are connected in parallel, and I found a lamp cord from a hardware store that worked nicely.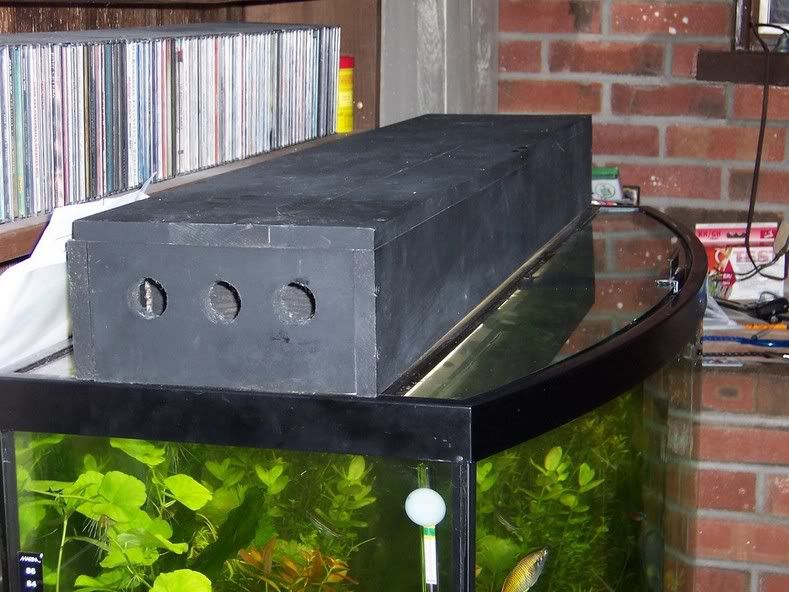 Please ignore the poor paint job on the thing. I was in my usual hurry and the tank is in a room that is very dark. The only time I've ever noticed how sad the finish actually looks is when taking photos with a flash.
I didn't electrocute myself and still have all my fingers. Besides, it actually works quite well, especially considering what I paid for it. Replacement bulbs are in the $3 to $5 range, very nice compared to the 24" or 36" CFs. I can't find any spirals in the 6500-8700K range, unfortunately.
The total WPG is around 4, but the effective light making it into the tank is probably equal to 2-2.5 WPG of what you'd get with AH Supply's stuff. There is a lot of restrike with spiral bulbs. I'm growing Pogostemon stellatus, Blyxa japonicum, Didiplis diandra, HC, and other stuff with no trouble at all. Everything pearls nicely and the tops of the Didiplis get just a little pink/red on them. The biggest problem is a near-terminal case of colectoritis and keeping the misserable stem plants trimmed back to something that looks ok.
If I did it again, I'd just go with AH-supply's stuff, since it's more efficient and probably safer. My design leaves a few exposed wires that wouldn't be a good idea without a glass or plastic cover. I use a sheet of lexan that the glass store cut to fit. If you try anything like this spend a few more minutes than I did to get the wiring covered up.
The other major advantage is that you can remove or add lights as desired to get whatever light intensity that you're after.