Hello. I've just read through this and see there a few doubters out there and a few people giving advice that seems strange to me. I would however add that I am no electrician so all these people 'know' more than me
Any advice given below is what I was told whilst making mine. I had never soldered anything let alone understand electrics so I was guided through mine by several interested electrical people
I have just made a luminaire using 15 x 3W 'Luxeons'
Firstly the ebay seller selling 'white' Luxeons is selling 5500K LEDs they seem to be copies as some have Lumileds branded on them whereas others don't however I can say they are in the main pretty good. 5 for £10 is worth it even if only 2 thirds are a good match lightwise.
Secondly I wouldn't use lenses/collimators on these. They are lambertian dies and therefore give a good light spread at a 120º angle. When used with lenses/ collimators they give a point focus which doesn't look that good. I assume this is why the 'retail' luminaires are slated by reef keepers in comparison to MH!!!
'Batwing' dies would be good for our setups without collimators/lenses also but not side emitters for obvious reasons.
I'm not a fan of the Lumens per square inch calculations nor the WPG rule. You can't really use this on LEDs anyway. Much better is to see what is out there see what their setups look like gauge their opinions and observations on growth.
These LEDS (3W) get awesomely hot. They need proper heatsinking or they will fry. I also have fans on mine to help alleviate the heat.
You must use current controllers and not resistors and not just assume a 12V regulated supply is supplying 12V. The V allowances of these is very limited (3.4-3.7 or similar) and therefore any surge etc will fry them. I was also told to always wire high power LEDs in series.
From my observations the initial posters comments on 18W high power LED being equal to 36W of PC are not far off the mark. I would go aas far as to say that the plants under my setup (running at 42W) is growing much much faster than it was under 48W of T5HO. I would say they are probably 1.25 - 1.5x better than the T5HO was!!!! CFs are nowhere near T5HO IMO (and experience!!!)
So a little look at my setup. I can answer some questions as long as they are in non electrician's English
The setup as I said before is using 15 x 'Luxeon' 3W 5500K stars. There are 5 series of 3. Each is run by it's own current controller. Each series is powered by a seperate '12V 700ma+ regulated adaptor'.
This can be done by using 1 power source of course and computer with electrical knowledge but I wanted a sunrise/sunset and with my abilities I went for this option as then I can put each adaptor into a timer.
Therefore I have in effect got 5 seperate LED setups within the 1 luminaire.
Each Star has a computer memory chip stuck to its rear with thermal tape. These are too small to be used as heatsinking on their own so the LED/heatsink combo is then attached to cut up pieces of an old hollow reflector I had handy. Not for reflection more to use the extra metal for drawing more heat out.
Each LED unit complete with heatsinking is then attached to a board and wired in series from front to back (5 rows from left to right.) then each series is attached to it's own current controller. The particular current controllers I got says they are for 7V to 24V. It uses 1.5V for itself leaving 10.5V for the series (3.5V each.) There are then 4 x 50mm PC fans blowing in from the left and 4 more 'sucking' on the right. These are all underpowered running from a single 12V 300ma source and therefore are quiet (almost silent unlike our PCs
) Then the whole unit has a pane of glass sealing the bottom so the airflow doesn't go downward and travel from entry fans to exit fans
They also run 15 minutes and 15 minutes after any lights. the former to dry any little moisture that may be in the unit and the latter to cool down the LEDs at the end.
These LEDs are 3.7max and therefore I am very slightly underpowering them at 3.5V (10.5V/3 Leds) which by a sloppy calculation that will not be accurate I say they are each running at 2.8W and not 3W. This of course will not be exact but is good enough for my purposes.
So there we have it 5 series. Each series running at '8.4W'. Total '42W' over a 33USG tank. Easily brighter than 48W T5HO. The T5HO was at 4-5" from the water surface. I have had to raise these LEDs up to 13" above the water surface so they don't wash the colour out of the top of the tank (meaning you can't see the colour in the top third due to the intensity of light near the surface.)
I then made a simple single series for a 10 Litre Nano using the same LEDs from the same supplier, same current controller but used the recommended heatinks and 30º collimator/lenses.
This picture show an individual LED with the mini heatsink on the rear, the piece of reflector used as extra heatsinking and then the whole lot screwed down to the board.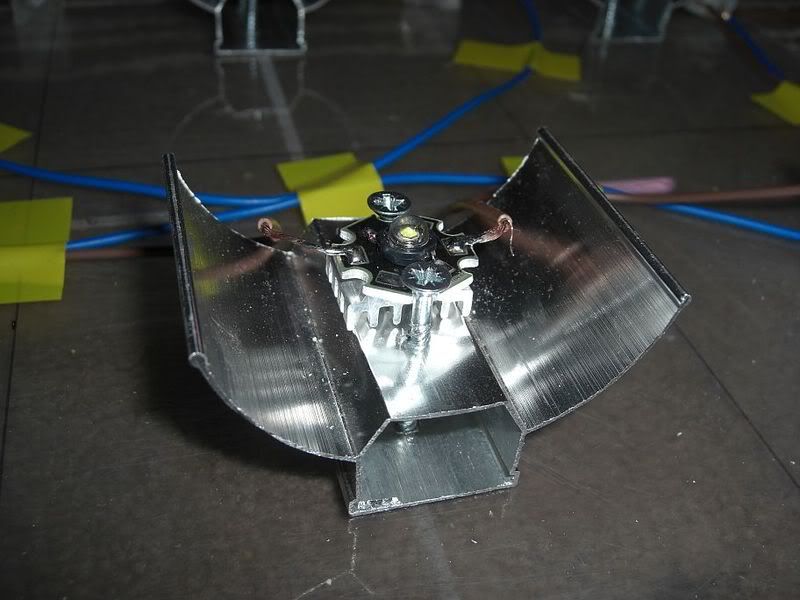 Here is the whole board. looks messy but this tape came off after siliconing all the wires down to stop movement when it was turned upside down
Here is the board from above showing in red 1 series: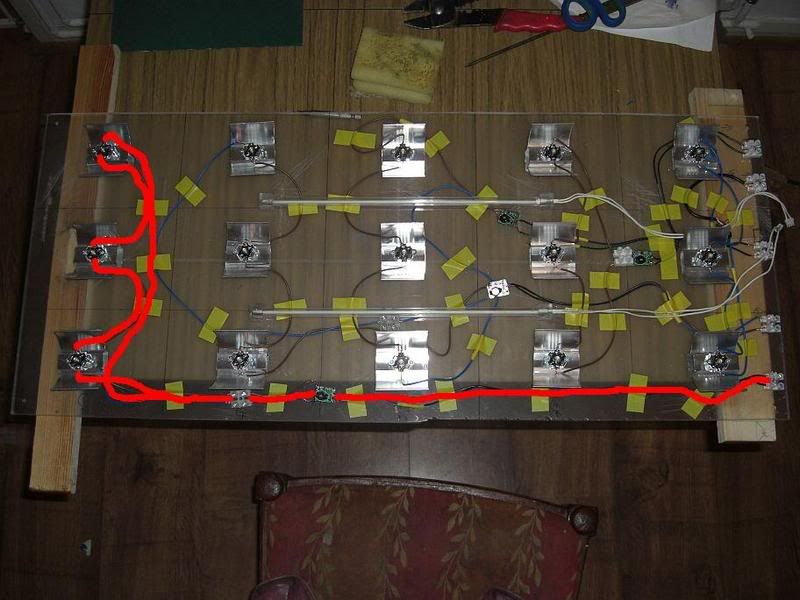 The board complete with Cold Cathode 'moonlight' all lit up: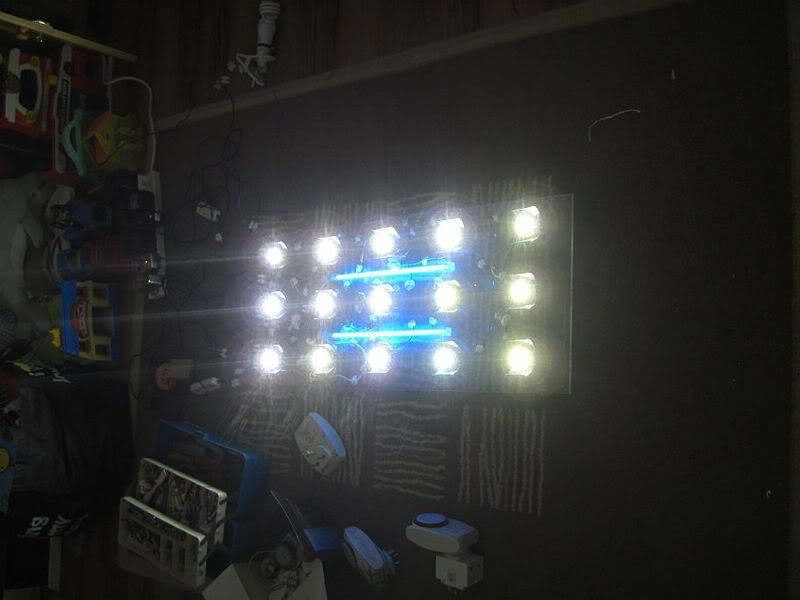 The luminaire ready to hang up.
Gotta go and moderate somewhere now so let me know if you want me to carry on and I will try and get some more pics on tonight for you to see.
AC