Hey Everyone,
With so many people putting such great work into amazing Arduino projects, I thought it was about time we had a consolidated shield to make this more plug and play. So, after a lot of work, and with help from a lot of great people, I put together the Aqua Shield.
FEATURES:
PWM Pump control
IR Blaster for controlling Current Satellite LED
Room for any Atlas Scientific Embedded Circuit (pH, DO, Flow meter, etc)
RTC
I2C Field
Headers to easily plug in a digital input device (like temperature sensors!)
I made it slightly longer than an Arduino mega, and placed the BNC Connector, and the embedded circuit field in this area for 3 reasons:
1: The embedded circuit is sensative to electro magnetic interference, this isolates it as much as possible to provide the most accurate readings.
2: The BNC connector is very tall, and placing it on the new extended area of board makes it possible to stack additional shields.
3: So much extra space for activities!
Here's a picture of the current layout: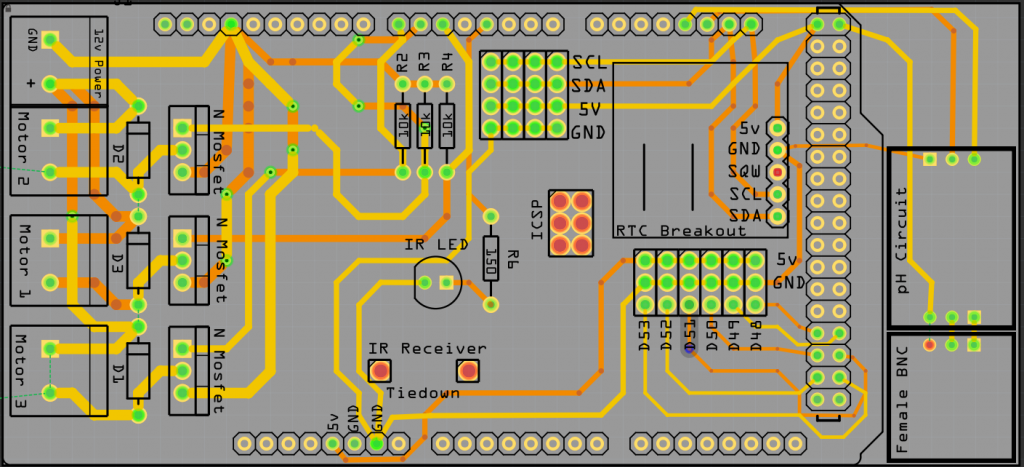 Its still a prototype, but I wanted to get an idea of how many people would be interested in possibly putting an order in and getting this made. The price will depend on how many people are interested. The more people that want one, the cheaper it gets.
So, what do you guys think?
Feel free to let me know if you guys would like to see any additional features, and I will see if i can include it in the final build.