Quote:
Originally Posted by
davemonkey
Left C, thanks for that informative explantation and the links. It will take me some time to browse through them, but I do appreciate you posting the info (and I'll respond to your PM shortly).
You are very welcome, Dave. I just sent you a bunch more information via PM.
Quote:
Originally Posted by
davemonkey
Wow, $30-$90? That's amazing, as I had expected to shell out $300-$400 for one of these. That price puts me back into the paying field of high-tech.
That's true. I've purchased Victor chrome plated brass hospital grade two stage regulator in mint and new condition for $30 to $60 shipped. I mentioned the following in my PM to you. I recently bought a brand new brass Victor regulator that retailed for $753 plus shipping according to Thermadyne. I paid $75 shipped for it. It was already set up for CO2 duty when it was manufactured. A person bought two, but he only needed one. I got the other one for what works to about 10% of retail including shipping. I have two Victor
SGT500
high purity two stage regulators with stainless steel diaphragms. Their bodies are made of chrome plated forged 316L stainless steel. They were set up for CO2 duty. The output had Swagelok stainless steel adapters from the 1/4" regulator port down to 1/8" male fittings. They were ready for me to attach my solenoids and needle/metering valves. I paid $90 shipped for each of them. These some of the most expensive regulators that Victor makes. These regulators came from a Victor regulator technician and not ebay.
Quote:
Originally Posted by
davemonkey
What would you recommend as a proper needle valve (as precise, non-fluctuating and dependable as possible) to compliment a two-stage regulator?
Before I get started answering this question, let me mention something first about these valves. It is rare that we see Ideal needle valves on ebay. Most of them are purchased from Ideal or some companies like Rex Grigg or SuMo. I'm not sure if GLA will sell them. On the other hand, Swagelok, Nupro, Whitey and Parker metering valves are spattered all over ebay and at prices all across the board. From 99¢ to well over a $100. You will have to shop around for a valve in your price range and with the specifications that you desire. Sometimes patience plays a big role in your selection process.
OK, back to the question. For the money, Ideal needle valves are terrific. These are the 52 brass series and 54 stainless steel series models with the 0.019 Cv at wide open. You can get them in straight flow or angle flow. You can get them with a knob for adjustment or a Vernier micrometer handle. Panel mount is another option and you can get your choice of handles in panel mount as well. They can even custom make valves for you. They chrome plated 10 for me last year.
http://www.idealvalve.com/
Swagelok, Nupro, Whitey and Parker low pressure low flow metering valves work well for our use. There are many models available. Their low pressure medium flow metering valves are somewhat usable. The first part of the first turn is usable, but the other 9 to 11 turns are too much. Even with this small working range, they will hold their adjustment due to their fine workmanship and the steady flow of the two stage regulator that feeds it. All of these valves can either come with an adjustment knob or a Vernier micrometer handle as stock or added later. The low pressure high flow metering valves are too much for our use.
Swagelok metering valves and Vernier handles:
http://swagelok.com/search/find_prod...0000276/type-1
The Vernier micrometer handle allows you to know exactly how many of its 22 to 24 revolutions in the Ideal needle valves or 10 to 16 revolutions of the Swagelok, Nupro, Whitey and Parker metering valves that the valve is set at plus which part of its 360° revolution that it is set at too. When ever you rotate the handle for either increasing or decreasing the flow, you know exactly how far you adjusted it. If you would ever want to go back to a previous setting, you can easily find it. Or, if you did maintenance on it and had to turn it wide open. You can easily return to its setting. Also, let's say that you require a lot of CO2 for your aquarium. Sometimes the flow is so fast that you really can't count the bubble rate in your bubble counter. Many depend on their drop checker and their critters to tell them the stopping point. With the micrometer handle, you have the precision to know exactly how far out the valve is open. There is no need to try to count bubble at a frantic rate. You can easily fine tune it and return to your setting.
The regular handle model is cheaper, but still with precise flow control. You can follow your adjustments by counting the bubble count rather than on a micrometer handle. You can mark the adjustment knob for reference if you want to. If you would not need the precision of the micrometer handle, this would still work fine. You could always get the micrometer handle later if you want it. You can buy it separately if you wish. You just remove the stock knob with an Allen wrench and replace it with the micrometer handle. Then you "0" the handle out or you can call this "calibrating the handle."
Here is an odd quirk about needle and metering valves. Ideal calls theirs "needle" valves. They have no "metering" valves at this time. They do meter the flow very precisely though. Swagelok, Nupro, Whitey and Parker call their valves that work for us "metering" valves. They do make "needle" valves, but they are much too coarse for our use plus their Cv can be 100 times or more too high. Don't even waste your time with their needle valves.
Here are a few pictures of the valves that I mentioned.
Ideal 52-1-12 brass angle flow needle valve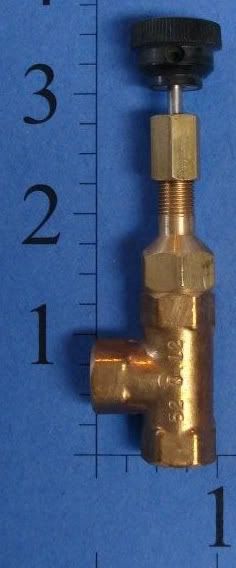 Ideal PV54-1-12 stainless steel angle flow panel mount needle valve with a Vernier micrometer handle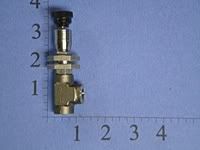 Ideal V54-1-11 stainless steel straight flow needle valve with a Vernier micrometer handle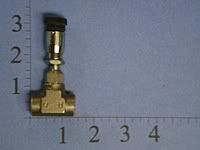 Swagelok stainless steel angle flow metering valve
Swagelok silver mist plated brass straight flow metering valve with the Vernier micrometer handle
Swagelok Vernier micrometer handle option