24" GLO Dual T5 HO 2 x 24W Lighting System
by Hagen
Selling a almost brand new, just used for 1 week on my 29g planted tank. it comes with 2 life glo t-5 bulbs each bulb is 24watts -total 48watts. bulbs are not included when you buy it brand new, it is sold separately. These lights fits aquariums from 23inch to 40inches. Petland sells these light for $139 and you still have to buy the bulbs which run around $26ea or more. Reason for selling moved into a 55g tank.
$100 includes 2 life glo bulbs
If interested PM or call/text 384-7772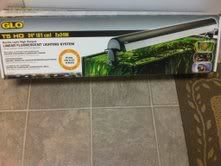 Other Features:
* Integrated Extension Brakets - 24 watt unit fits aquariums 23 to 40 inches
* Aquarium Mounting Brackets - Allows the fixture to be fastened to the aquarium and allow for 4 different vertical positions and assisting in adjusting the light levels.
* Integrated Suspension Tabs - Enables easy suspension over your aquarium but if not used they recess into the fixture ensuring a clean attractive look.
* Electronic Technology - Creates optimal bulb performance and longevity of the lamp and ballast.