Thank you all for the great input! I was actually pretty nervous, believe it or not, about posting those pictures. I wasn't sure if my 'vision' for this tank was going to be feesable even! From your responses, it sounds like I am at least on the right track for now as far as looks and placement goes.
So...CO2...so many questions, so little memory once I get in front of my computer!
First, I realize that this tank just went from "zero to hero" in less than one day, meaning I know that I bit off a lot with this many plants compared to my experience level. Hopefully I have most of my bases covered right now though...but I do have questions.
So, I am a Project Manager at a Landscape company and right now is the big 'trade show season'. The one we are working on right now is going to feature an outdoor kitchen, complete with a stove/grill, refrigerator, and some high tech beer tap machine. The point being that even though we rented the stove/grill, fridge, and tapper, we had to pay for the working parts of the tapper in order to make it look right for the show. Included in that was a pressurized CO2 tank, a regulator, and of course, the CO2 in that tank.
I have the opportunity to buy this from my boss, for cost basically, and while I am not sure what the regulator controls or if it would be applicable to my aquarium, I wonder if this is a good thing for me to purchase, or if I should skip all of that and buy exactly what I need from an LFS or online store? Also, I am pretty sure that this tank is a 10 or 15 pound variety (ironically, the directions were in every language but english...otherwise we lost those...and the writting on the tank is in chineese or something similar) and I am wondering if this is a good size, and if so, how long would that typically last me if I used it on my 55 gallon tank with the amount of plants I have (hopefully you can get a good idea of types and numbers from my pictures)?
Also, like I said, I have two other CO2 kits which work on the sugar and yeast idea...and I am wondering if I should hook one up and then wait a couple of days to allow the fish and/or plants to adjust before going ahead with the second one....or should I just go for broke and put them both on at the same time? Also, I am wondering if anyone else has a similar device as this one (now that I realize that I didnt post this picture, sorry):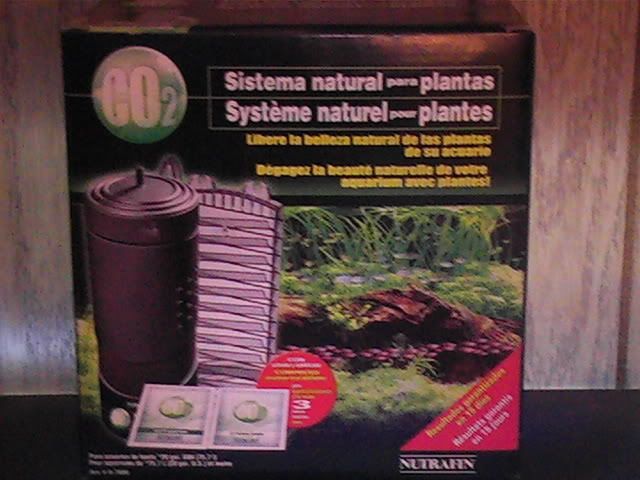 If so, what would be the major difference between this set up and a pressurized CO2 system? How long can I reasonably expect one or both of these kits to last me? How would I know that the CO2 potential is exhausted and it is time to add new sugar and yeast? On top of that, how would I know if my tank is getting enough/too much CO2 from one of these kits? (It says it has a bubble counter, but I am not sure how that works unless I am the one who counts the bubbles) Also, I am not sure if I would even have the ability to slow down the rate of CO2 or not...so if anyone has used these, could you please clarify that for me?
I am also using Flourish and Flourish Excel...my understanding was that the Flourish Excel was a replacement for CO2 and not really something that is more of a suppliment to the CO2. I realize that a lot of products claim to do more than what it can truly do...but I have heard so many people talk positively about this product that I guess I just assumed it is everything it says it is.
As for seperating the plants, I did do some of that....mostly to the dwarf grasses though and only because I hear they will spread really quickly and so smaller would be better. The micro swords went in 'as is' though and I never thought to seperate them. In fact, I think there is a lot of grass growing with the swords and I would like to prune them out to thin the plant down to what it really is...but I am not sure if I can, could, or should do that.
After work today, I checked everything in this tank out very well and none of the fish died, or look stressed/sick. The plants also look very healthy (judging from my landscape background with non-aquatic plants) and are now standing up much straighter than before. When they arrrived, they were also very bright and fully green for the most part (some are a bit red and they also had good color. So, while I realize that this is wwwwaaaayyy too early to be truly confident that these plants and fish are going to make it with little problems, I thought that it was still a good sign to see everything looking good and healthy (as far as I can tell with the plants anyways)
I will leave it at that then and then move forward after getting some responses before I formulate more questions. Thank you for all of your help again!