Hello everyone! This is, of course, my first post to this forum and I was semi-referred to this site from a person who is a great friend and who I know from another forum which is dedicated to all sorts of aquariums...however, finding a planted tank 'expert' seems to be awefully hard these days, so here I am!
Like my title suggests, I am pretty familiar with aquaria in general and keep five tanks at the moment. I have three saltwater tanks...a 90 gallon bow reef tank, a 29 gallon biocube breeding tank (clowns and mandarins), and a 10 gallon hospital tank with one fish in it right now. I have quite a few freshwater tanks, but really two of them are always up and running...a 55 gallon long and a 10 gallon used-to-be fry tank. Until very recently, I was keeping cichlids, malawi mostly, and had the 10 gallon for the fry. Now, I want to take on the planted tank because....well...it is a challenge and I want to see if I can do it. (and because I like the looks of them of course).
So, here is what I have done so far....
I removed all my fish and decor from my tank and cleaned up 50 pounds of flourite. I used some of the sand substrate from my previous set up, and some new gravel which I mixed with the flourite to get this tank: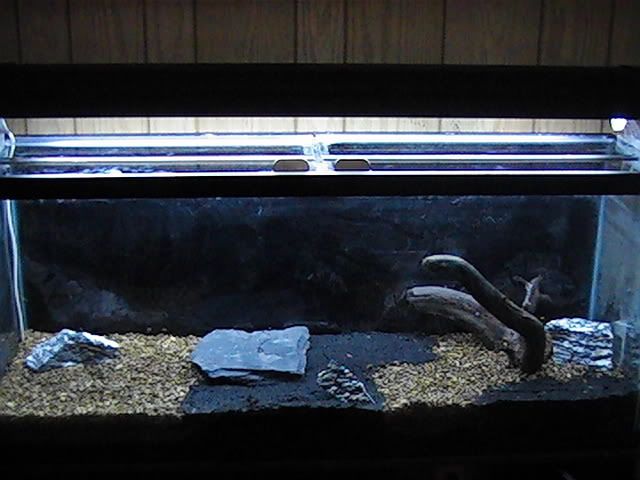 (I have water in it now, and it is crystal clear already as you can see below)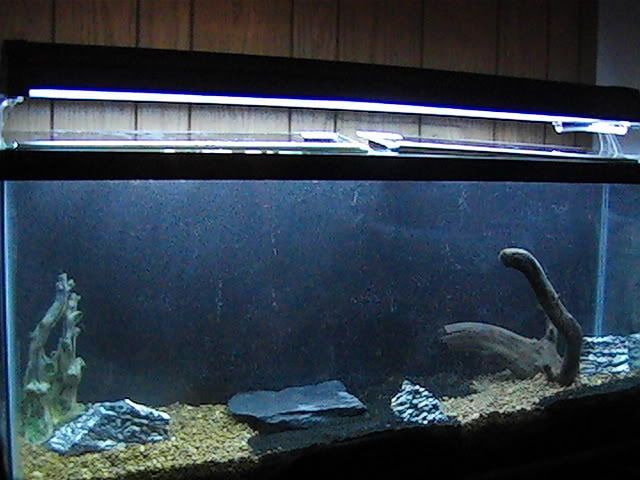 I am using my old saltwater light set, a Finnex 4 by 54 watt HO T5 system with two white (10,000k I believe) bulbs and two actinic lights. That should be more than enough light for this tank...correct? (It will be planted on the heavy side from what I understand as far as what is heavy, light, and medium)
The plants are on their way from Dr. Foster and Smith's website...will be here this coming tuesday.
The only fish I have for this tank, which are in the 10 gallon used-to-be fry tank, are a rainbow shark (large one, very large), a BN pleco (debating on keeping it or not, have had it since I started out in the hobby so hard to part with it), and two otto cats, which I want to make at least five in this tank.
This is a very well established tank and I have one HOB filter that has been on it since day one running right now to help me support life from the nitrogen cycle point of view. I have also added a new Marineland cannister filter to this tank, mostly for personal reasons because I want to keep this tank as equipment free as possible. I am basically 'cloning' this filter from the established HOB filter I have on the tank right now, and the other one I used to have on this tank, but now have the biofilter media in the cannister filter. I plan to use a spray bar, submersed completely, and a valve to control the flow rate as needed. This cannister filter is rated for a 55 gallon tank, which normally I would go larger, but the plants should help me out with the filtration from my understanding, right?
I am using a substrate heating cable rated at 50 watts under the entire length of the tank. It is holding my temp perfectly at 75 right now and has been for two days. I have a backup heater if need be...ok, I have about 50 of them if need be
Now, the questions...
Like I said, this is an established tank, and I can deal with the nitrogen cycle and all of that without a problem or a doubt. However, the water parameters of this tank as of today are:
pH 7.6
Kh 70
Gh 180
So, this is a problem as far as I have read and researched out, right? The alkalinity is low, which should help me out in the long run with the slightly high pH, but my water is very hard. I am using city water, without a water softener and this is basically what my tap water is. Now, I have added some peat to the cannister filter (fluval brand peat fiber) and to be honest, I am not seeing much change at all. Is this product some sort of gimmick or do I need to wait a bit longer to see results? (It has been in the filter for two days).
What is the best method for me to affect the Gh of this tank? I do use RO water in my saltwater tanks and so I can mix some with this tank as needed, however, and this is just a fact of life, I do pay for my water and so making RO water gets expensive...so, I try to make only what I absolutely need.
I hope that I do not sound like the anti-christ here, but I have to tell you that I absolutely hate, and try to avoid with a passion, any product which is a chemical or something along those lines to buffer, change, or alter my water chemistry such as messing around with the pH. I am a firm believer that almost any freshwater fish can acclimate to a wide range of pH if given enough time to do so and that pH is maintained constantly. So, I am not looking for the quick fix or the product that keeps me next to my tank three times a day testing the water. I know that may sound harsh, but again, it is a fact of life that I just cannot do that all the time and so I am looking for something which is more permanant than anything else. Make sense?
So, are my hopes and dreams going to be dashed here by my water chemistry? Can plants adjust to a higher pH and hard water? How much affect will the CO2 have on this chemistry and will the plants affect things as well? If so, should I hold off on adding fish to this tank to allow those changes to take place and become more of a constant situation?
Lastly, I would just like to say thank you for taking the time to read this overly long post. I have such huge faith in forums like this one and so I know I can get the help I need here. I hope to meet a lot of great members here and hopefully soon I can be showing off my new planted tank to you all!
MD