I'm still clearing out plants and more equipment folks. Apartment living has me in want of space.
Plant Package:
Rotala macrandra - 5 stems
Rotala macrandra 'green' - 5 stems
Ranalisma rostrata - 20 plants
Ammannia sp. 'bonsai' - 4 stems
Lindernia sp. 'India' - 3 stems
Pogostemon helferi - 2 stems
Egleria fluctuans - 3 stems
+ whatever else I toss in
$25.00 for the whole thing - see below for shipping costs
SOLD
Equipment
URI Aquasun 24" VHO bulb, it is either 10,000k or 6,700k...I can't remember which and I have no way of knowing for sure. Only used for 1 month.
$15.00
GE Aquarays 9325k 55 watt PC bulb, used for 2 weeks
$12.00
PENDING
Ushio 175 watt 10,000k MH bulbs (mogul screw-in type), used for 1/3 of their life.
$40.00 for both
JBJ Regulator, this is missing the bubble counter. The bubble counter plastic got a crack in it (my fault). This is practically brand new. I still have the box, instructions and tubing. I'd keep it, but I already have two others and it's just sitting around taking up space.
$45.00
PENDING
Rhinox Glass Diffusers. I have one each of the 1,000 / 2,000 / 5,000 models. These are brand new, never used.
1,000 - $8.00
SOLD
2,000 - $15.00
SOLD
5,000 - $20.00
SOLD
Here's a picture: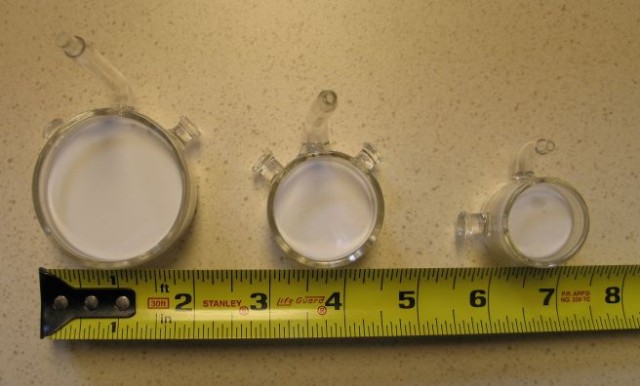 Shipping for any combination of the above is $5.00. I prefer paypal payments. Thanks!