Hello! :-D
22 of March of this year I signed up for this forum.
After 20 days of reading my first 20 gal Planted Tank was launched. (12 of April, "As good as it gets")
I wanted to say many thanks to all my friends and people I don't know. Without this forum I would be totally lost. I greatly appreciate every comment and bit of advice. I am still learning and enjoying every minute of my hobby. This is very nice to see all of you, who love it too.
And now… here is my 50 gal.
Main challenges:
1) I don't know what I am doing!
2) This tank is for my two Goldfish and they eat plants… I have two common goldfishies, Hagrid and His Pet. (Hagrid is a character from "Harry Potter" book) .Most of the plants I used are coming from the tank they are sitting right now and I know they will live it alone. So they are moving in with their own furniture, so to speak. But some of it will get eaten and I am ready for it!
3) I don't know how to classify my tank, it is somewhat low tech, somewhat El Natural, but I might be wrong. I do have a filter and T5 lights, and for now this is it. No dosing with anything and no CO2 injections. If I am not in the right part of the forum, I apologize for that.
Lights:
I have two T5 light fixtures sitting on top of the tank, 2 x 24W and 2 X 39W, but for now I keep the lights down and photoperiod is… undetermined.
Filtration:
AquaClear HOB with cured media, but I do have Eheim 2026 running if I need to use it.
Substrate:
I mineralized some Home Depot soil for about three weeks in the trays sitting in my living room on every flat surface I could find. The recipe is from AaronT, and he was nice enough to even mail me some dolomite, potash and clay, and that was really great! Thank you, Aaron!
For those who would like to do the same thing, I would strongly recommend doing it outside, and not only because of immediate danger of stepping into those trays in the dark in the middle of the night, (this is a minor complication), but because of the dirt drying out at extremely slow pace. Some sun light would be great.
I capped it with Eco Complete.
Rocks
are sitting right on the bottom of the tank,
not on the substrate
, all of them.
Sand
is a Desert Sand from Mosser Lee Company and I think I should replace it with some bigger grain something.
Plants
(for now):
Saggittaria Subulata
Some Vallisneria
Crypt Spiralis
Rotala Mini
Rotala Rotundifolia
Mayaca Fluviatilis
Limnophila Aromatica
Hemianthus Micranthemoides
Hygrophilia Difformis
Anubias petite
Java fern needle leaf
Yea, I am creating a salad bar again, but in this case my fish might really enjoy it.
Set up process:
25 of may
.
We started at
10 PM
. For some reason I thought 2-3 hours would be enough to finish it up. Who was I kidding? Building up the islands.
Some time later - my help, support and inspiration Chris looked so tired, I discharged him off to bed immediately at this point.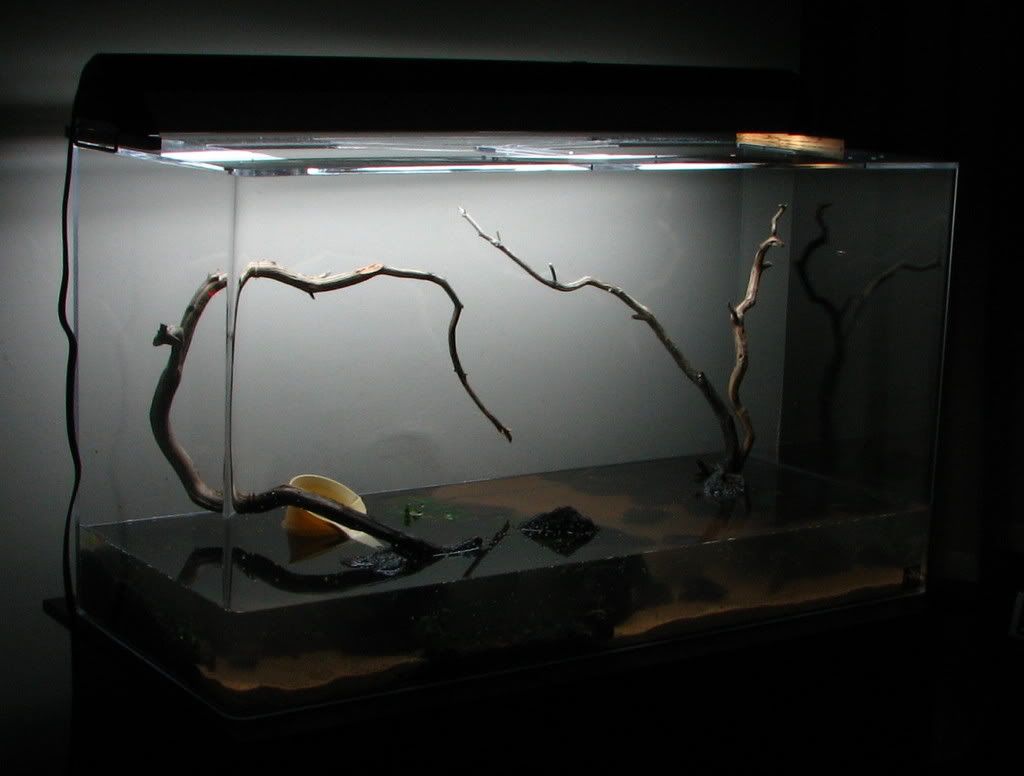 Midnight
. All by myself, :violin: continuing to fiddle with the wood and everything else.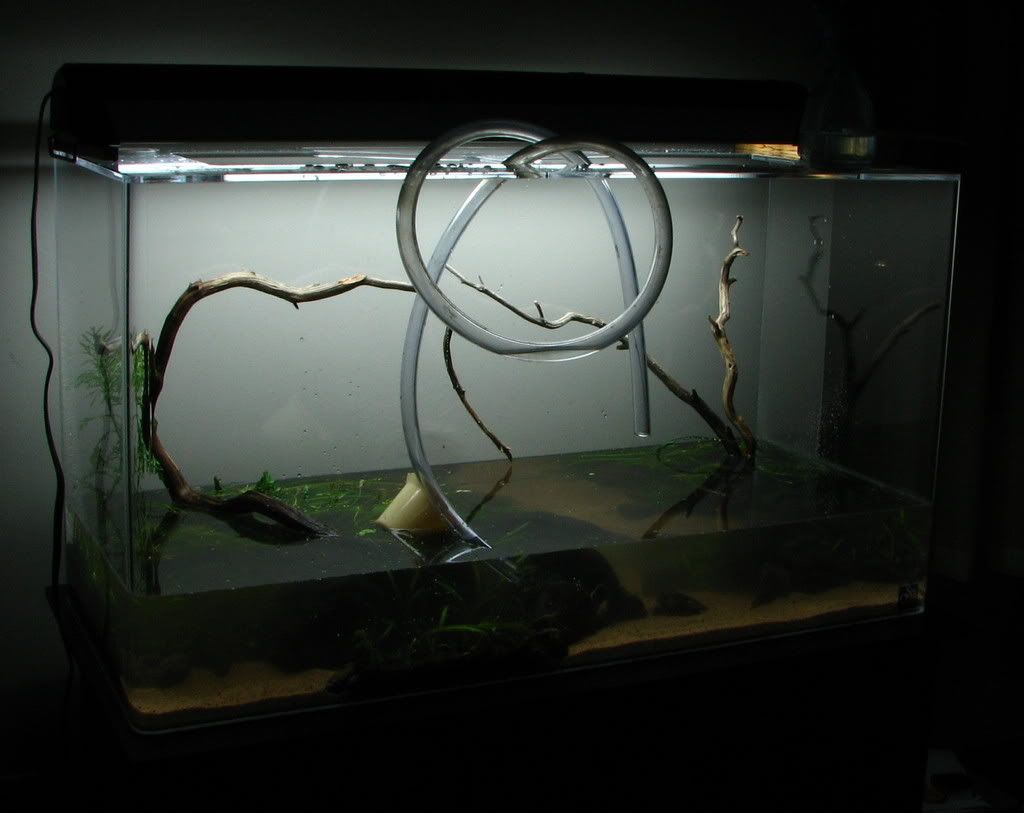 2 AM
. Most of the plants are in, or so as I thought.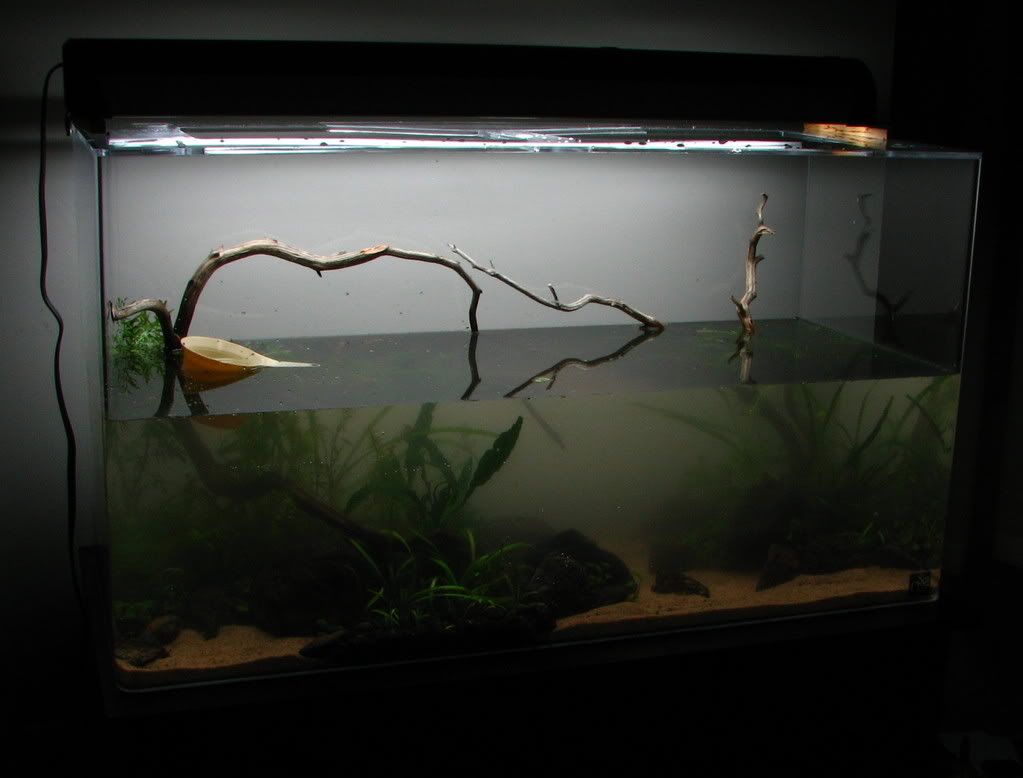 3 AM
. More plants went in. Suddenly I realized this Island on the left shouldn't touch the glass, it just didn't look right to me.
I had to drain the water and fix it all over again. It was unbelievably messy and I had to change the water a few times because my soil got all over the place.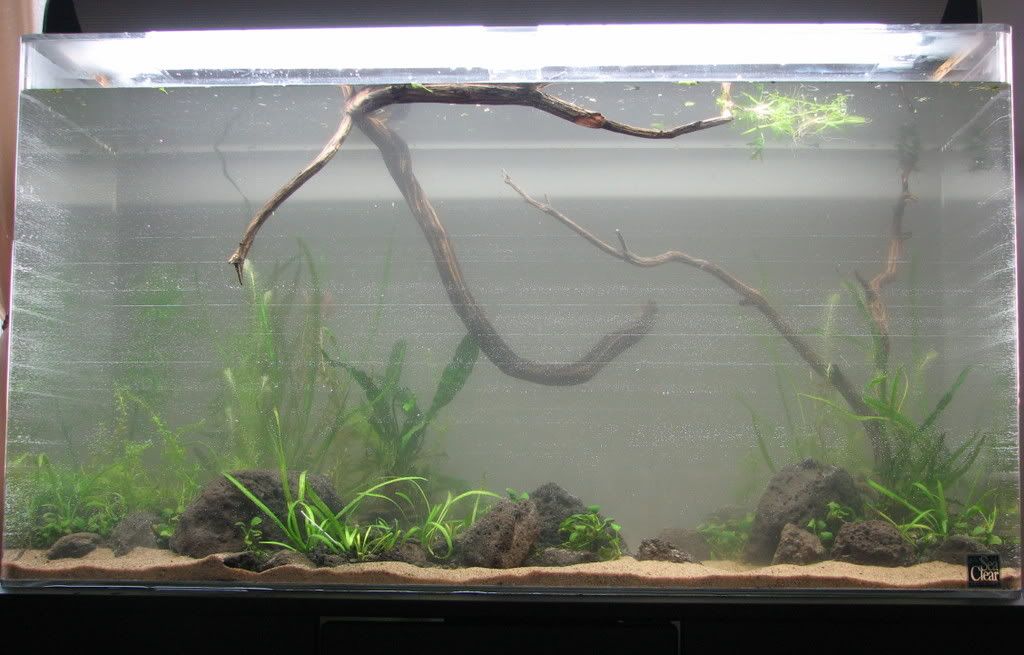 5 AM
- Finally everything is in place and looks OK. It takes forever to fill it up. When I was so close to my victory, redid the Island and cleaned up the mess, the left branch of wood FLOATED even though I used epoxy, glue, wire, rocks and everything I could think of to hold it down. My General Meltdown momentum. :heh: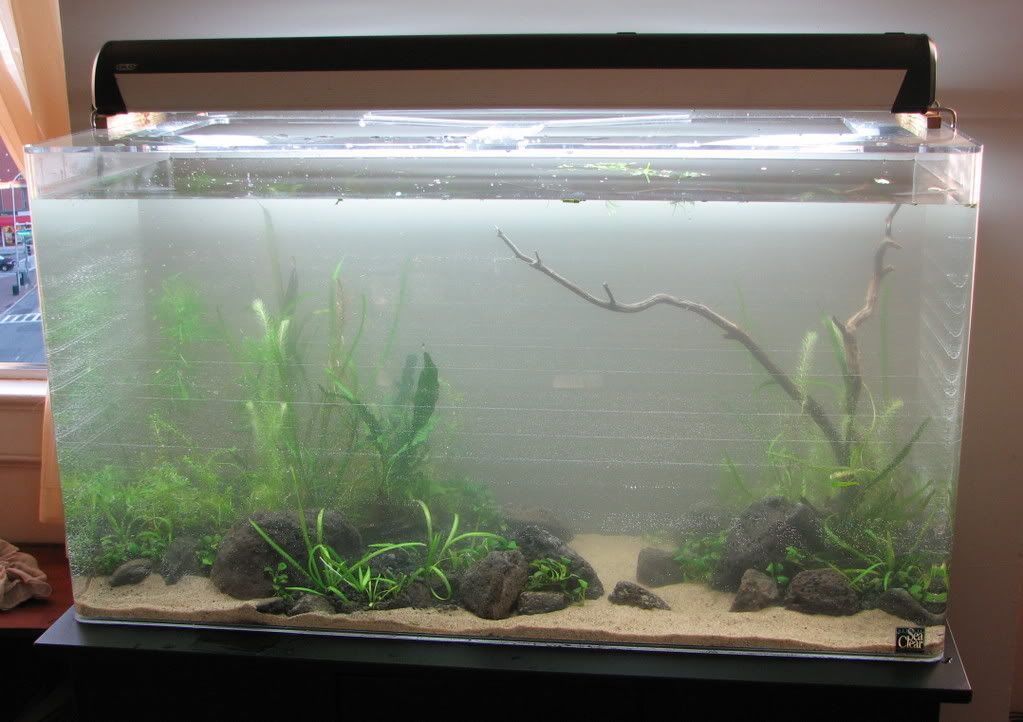 6 AM
. After an hour of fight, I gave up. I took the branch out to take a picture. It is light outside, as you can see, the window is on the left. Yup, the sun is up.
After this painful and SLOW going process, I couldn't look at the tank for two days.
27 of May, two days later:
Removed some reg. Java fern, added some more plants in. 20% water change.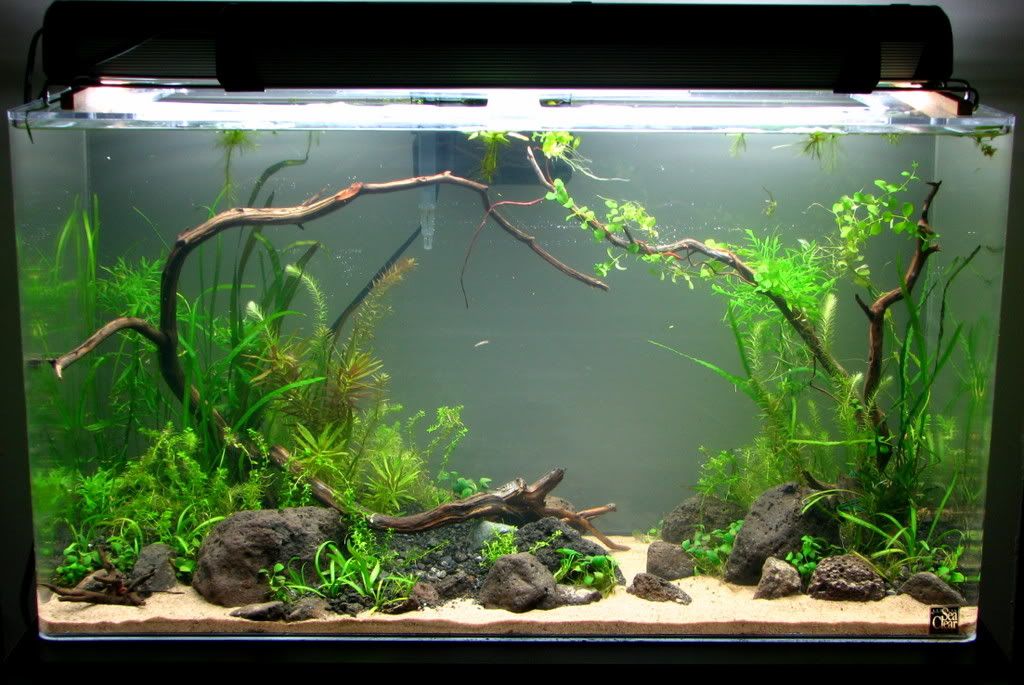 Front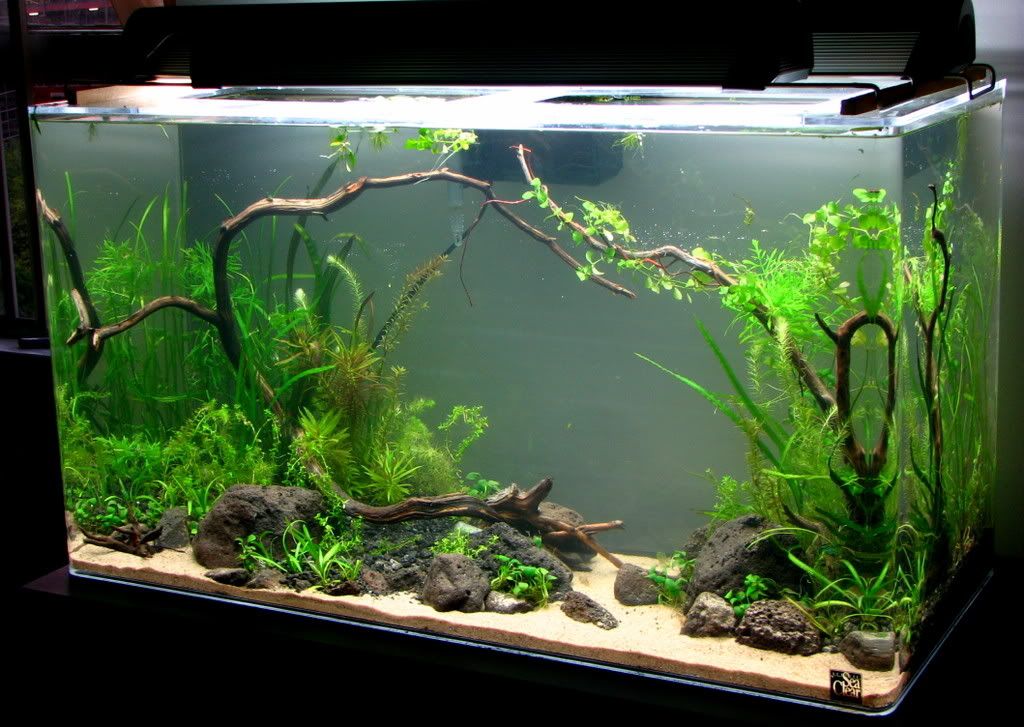 Right side.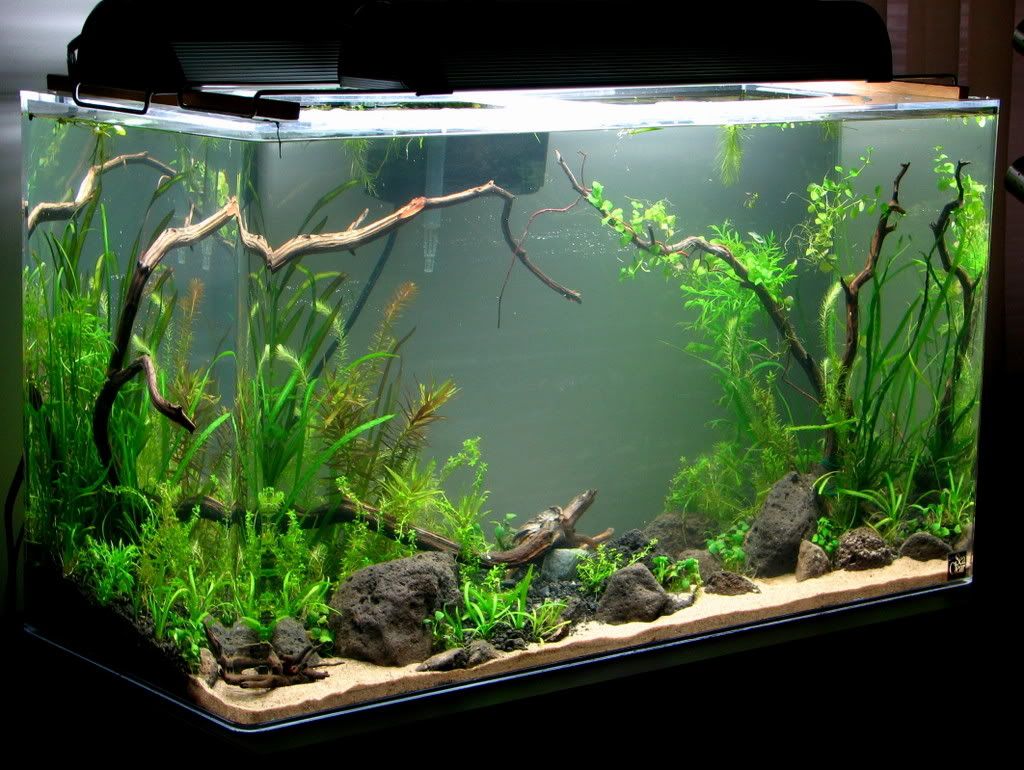 Left side.
June 1
, the update.
Yesterday I got rid of HOB, switched to Eheim 2026, added some Blyxa Japonica in hope it will take and will not get eaten. Added some more plants, increased the time I keep the lights on.
No algae, none of any kind yet. But some white fuzz on the branches.
Front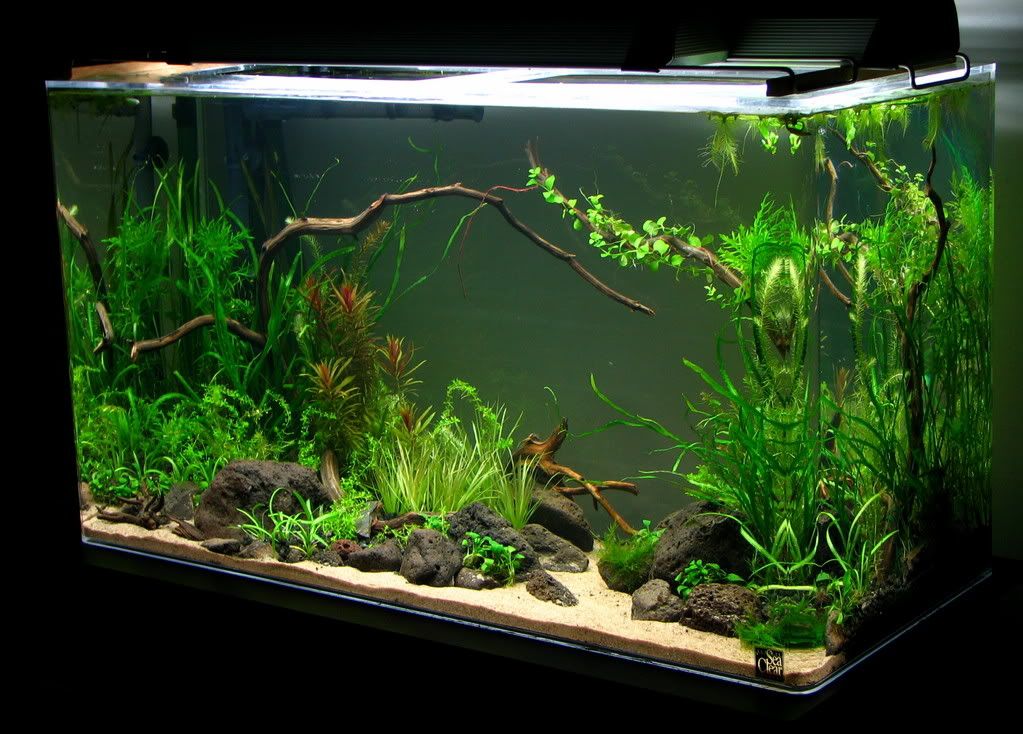 Right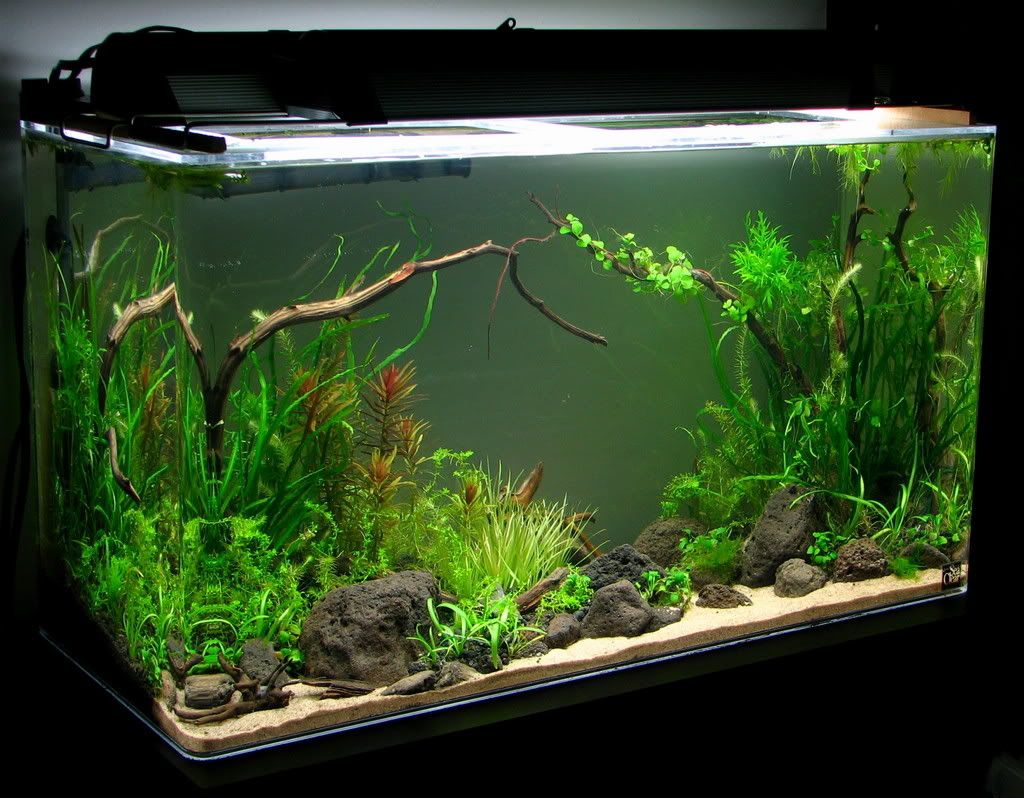 Left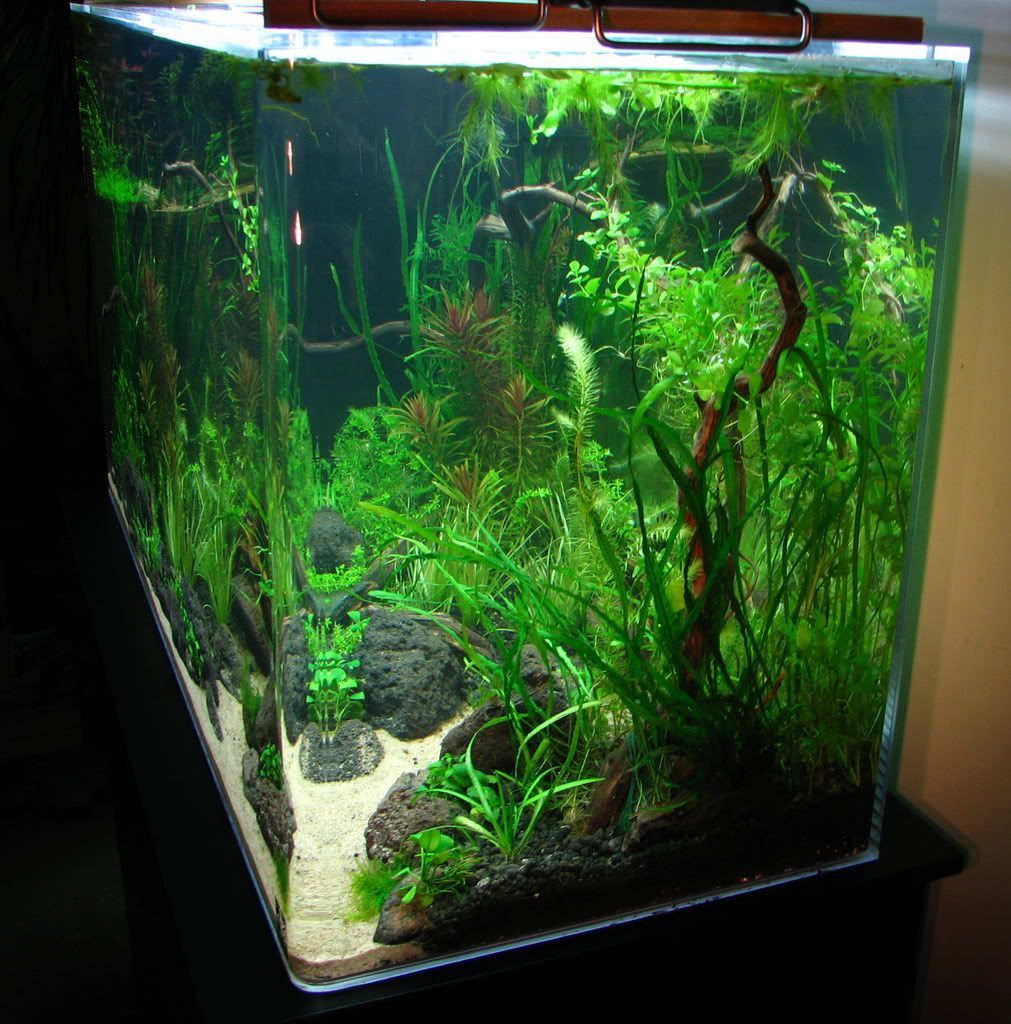 Right side only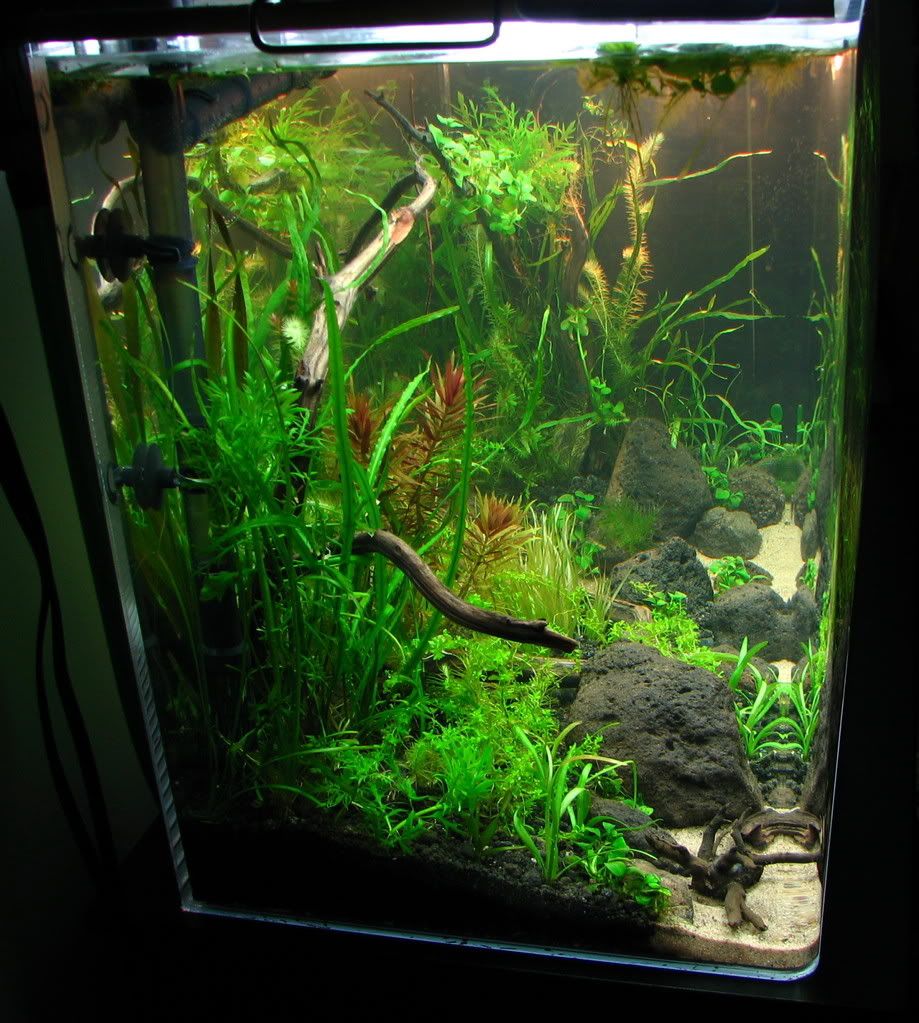 Left side only
Proud Owner
If this thread is not going to blow up the entire server, I will be happy to hear from all of you.
Thank you!!!:
:-D