Hi,
This is my 3rd aquarium setup, the first 2 being just regular planted aquariums. With this 3rd setup I have tried to create a sort of aquascape.
First of all, the aquarium footprint is triangular, with the front glass curved. This prooved to be the biggest challenge: how to create a 3D aquascape on a triangular footprint aquarium? Well, I still have tried and this is what came out:
The initial setup was made on may 5th 2008. All the water and filters have been reused from the same aquarium in it's heavy random planted state (that why you will see fish in it from the beginning).
The setup is made out of:
- 190 liters (Juwel Trigon 190) triangular footprint aquarium
- JBL aquabasis plus as a fertilizing substrate
- 1-2 mm granulation inert sand as sterile substrate
- wood and rocks
- eheim 2226 external canister filter
- 3x28W + 1x24W Juwel Highlite tubes (T5HO)
- complete pressurized CO2 system
- complete Seachem liquid fertilizing line
- the plants have been changed along with the aquarium evollution but the most stable ones are:
---- microsorum pteropus 'Narrow'
---- anubias barteri var. nana
---- marsilea hirsuta
---- blyxa japonica,
---- hygrophila corymbosa "Compact",
---- eustralis stellata
---- limnophila aromatica
---- java moss
- fauna is composed out of:
---- ~30 paracheirodon innesi
---- 7 otocinclus vestitus
---- >100 red cherry
---- 6 dwarf crayfish (these will go away in couple of weeks, after the new aquarium that I've started one week ago will be stable)
Initially the setup didn't had a name. After a while I was thinking at "Luxury Garden". Now I'm confused
.
Here are the photos in their chronological order (yy/mm/dd):
080511
080525
080601
080615
080629
080714
080727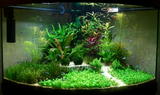 080804
080824- with some side views to get an idea about the depth of the aquarium
....
To be continued !