Discussion Starter
·
#1
·
Ok, so I'm 3 days into this one, and it is my first nano. It also happens to be my first scaped tank. I have had some adventures. I'm thinking of calling it "Crossing Over." The concept is a rock arch over a dry riverbed in a desert climate.
Here's my hardscape.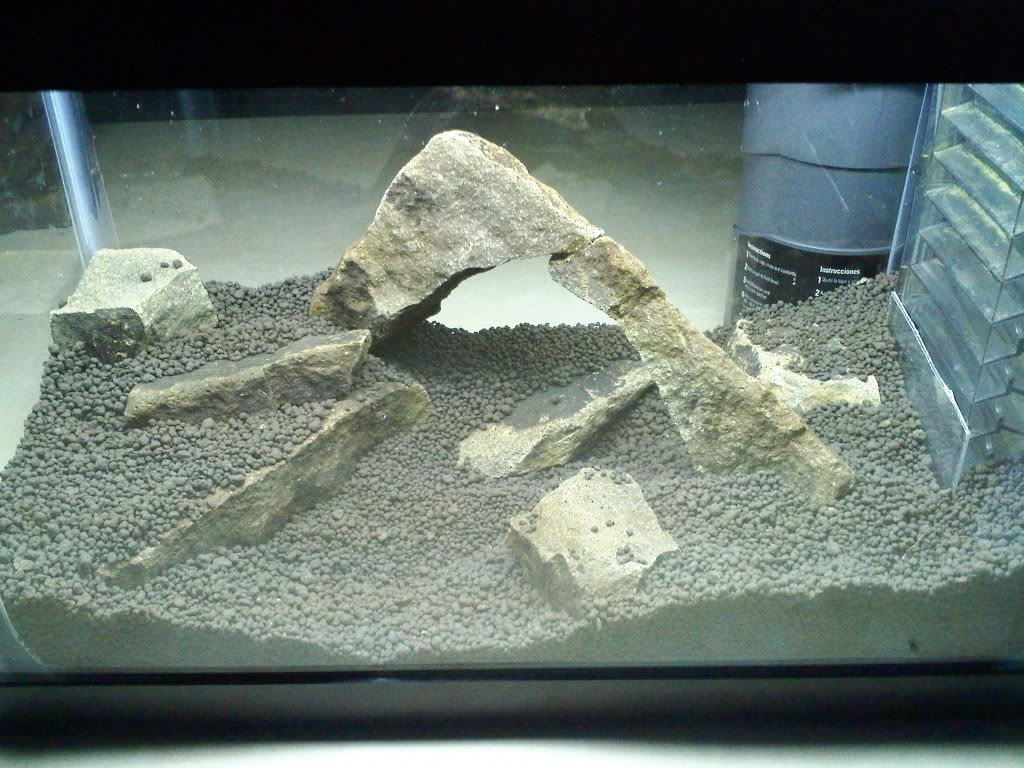 I liked the way the rocks were laid out, drawing focus to the arch in the middle. I also worked on bringing in some depth by creating a diagonal dry riverbed beneath the arch. Here' s how it looked yesterday after 1st planting.
Here, I discovered that I hadn't enough room for the plants. The substrate was stacked on top of the slate pieces and only to a depth of about 1/8 inch in places. I removed two of the stones (the two in the back corners and a few of the smooth rocks in the riverbed) I liked the look, but it seemed to lose all depth when I added the sand. I lined the dry riverbed with some smooth stones about 4-5 mm in diameter to create the look, but I think it all got lost in the sand. The plants are xmas moss and HM, with what I am told are Tonina Lago Grande (thanks, Minsc) in the background. Here's where the first disaster happened.
I filled and installed my CO2 bottle a little too eagerly and it bubbled bready milk right into the tank. I immediately bailed it out, and refilled it. In my panic, I neglected to remember the whole inertia thing, and disturbed about 40% of the sand in the tank. oops. I have a feeling I will have to wash the slate clean and start over, but I'm not too concerned about that right now (as a matter of fact, I'm looking forward to doing it a little better this time). What I'm worried about is whether or not the milky bath damaged my plants. If anyone can set my mind at ease, I'd love that. It was only in the yeast/sugar/water/baking soda mix for about 5-10 minutes. Here's how the whole thing looks today, post-disaster and after a little rearranging. I broke up the bunch of HM at the front and scattered the individual plantlets. Hopefully it will fill in a bit. Also relocated the Lago, but I'm not sure I like it there. Last, I just got a glass diffuser and installed that in place of the ladder. Much more attractive, and it added room. Suggestions and feedback are welcome! Thanksw, all!