Earthdate: 09.24.08
Subject: It Grows
This is my first truly planted aquarium. After my last goldfish died in May, I decided, it was time for a change. Time for something different and time for something I had always wanted to do.
The Planted Aquarium.
I have learned more in a course of five months more than I had learned in a lifetime of having fish. Perhaps this time I decided I would sit down and take the time to learn about everything that went into my tank. I know there is much room for improvement in my system, but right now, this is the best I have ever had in an aquarium.
This learning curve has not been without hassle though. I think I have had every type of algae in my tank and I am currently seeing BBA. Which does not impress me. I have a thai flying fox, but I may have to locate a true SAE.
My current substrate is inert. It's pea-gravel. Some from a local playground, and a couple bags of white and light brown stuff. I wish I had the $$ at the start to get fluorite or eco-complete. If the necessity of a re-scape occurs, I will then get the right rocks for the job.
I realise it is perhaps over planted. Too many types of plants all in one tank, but for me, living in an apartment, this is as close to a garden as I will have. For now, this is my tank and I am quite pleased with the fact it's actually grown.
System Specs:
25 Gallon
55Watts of light total:
20Watts Flora-glo
20 Watts Sun-glo
15 Watts compact fluorescent spiral
Two DIY co2 Yeast bottles, changed alternating weeks.
1 Aquaclear 50 HOB filter
1 UGF with a Powerhead
Heater
Plant species:
"Coffee Leaf" Anubias (Anubias barteri 'coffeefolia' ) (may be incorrect)
American Val (Vallisneria Americana)
Amazon Sword (Echinodorus amazonicus)
Tiger Lotus (Nymphaea Lotus (Zenkeri) 'RED' )
Sunset Hygro (Hygrophila polysperma 'Rosanervig' )
Glossostigma (Glossostigma elatinoides)
Dwarf Sagittaria (Sagittaria subulata)
Chinese Ivy (Cardamine Lyrata)
Java Moss (Vesicularia dubyana)
Weeping Moss (Vesicularia ferriei)
Pellia (Monosolenium Tenerum)
Riccia (Riccia fluitans)
Java Fern (Microsorum pteropus)
Windelove fern (Microsorum pteropus 'Windelov' )
Cryptocoryne (Possibly: wendtii 'Green Gecko' )
Cryptocoryne (Cryptocoryne cordata var. blassii)
Aponogeton ???
Water Lettuce (Pistia stratiotes)
Amazon frogbit (Limnobium laevigatum)
I am not sure if I have Brazilian micro sword or pygmy chain sword.
My animals are:
Fish:
Sunburst Wag Platy and offspring
Rainbow Platy and offspring
Zebra Danio and offspring
Thai Flying Fox
Two Mollies
Inverts:
Cherry Shrimp and offspring
Orange bee and/or Sunkist Orange
Zebra Nerite Snail x 2
Malaysian Trumpet Snails.
Problems the tank has had, almost a weekly event. The problem of the week sort of thing:
Fertiliser tabs "exploded" into the water column. Several water changes later....
Brown Algae,
Blue-green Algae (I got video of it growing under a microscope...)
Staghorn Algae
Blackbeard Algae
Spot Algae (need I continue?)
Planaria
Hydra (killed them off YAY!)
Main driftwood log came adrift.
Located shrimps living in my filter...argh!!! scared me silly.
Macrobrachium Pilimanus (long armed chameleon shrimp) nibbling on my Danio's fins. She's got her own tank now.
Okay, to start, I want to show a picture of my tank to start and then a couple in between and finally the now, shots.
July 31:
Which is my earliest pic.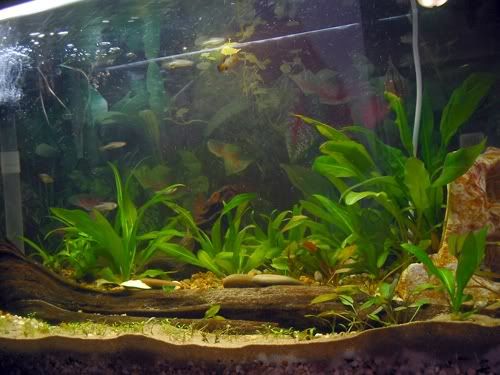 August 7th:
Added the driftwood branch and tied it down, moss, most other plants and val. Note the sand which has, more or less been removed during the bout of BGA.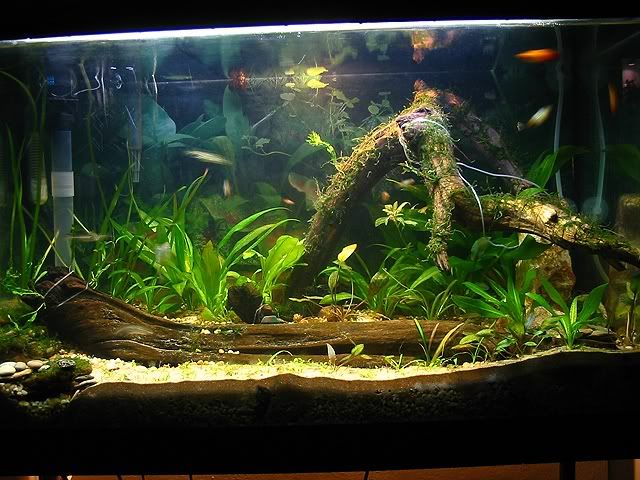 Tank Side Shots:
(A week or two ago)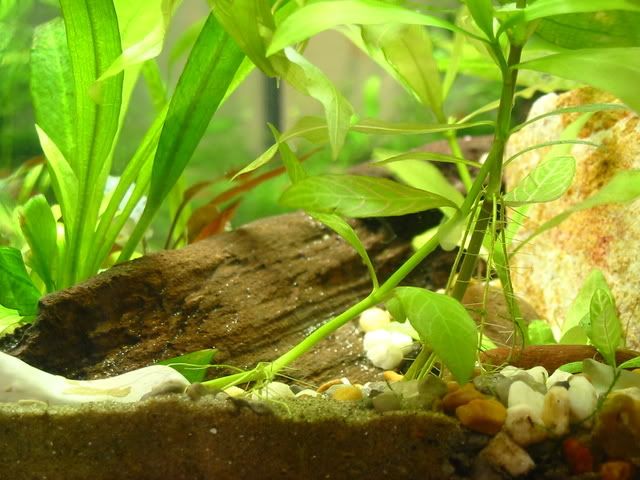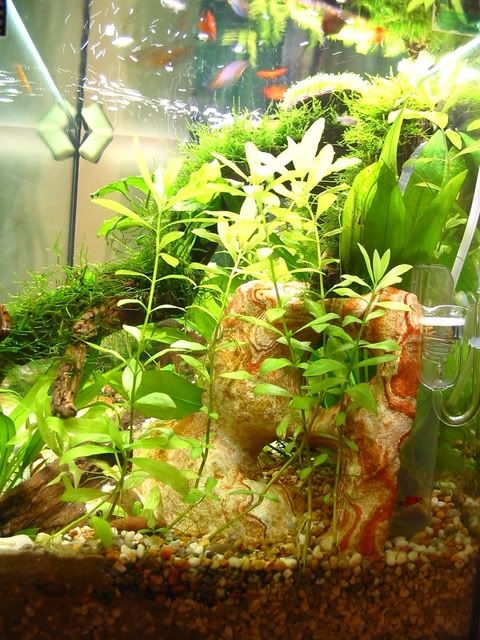 Today: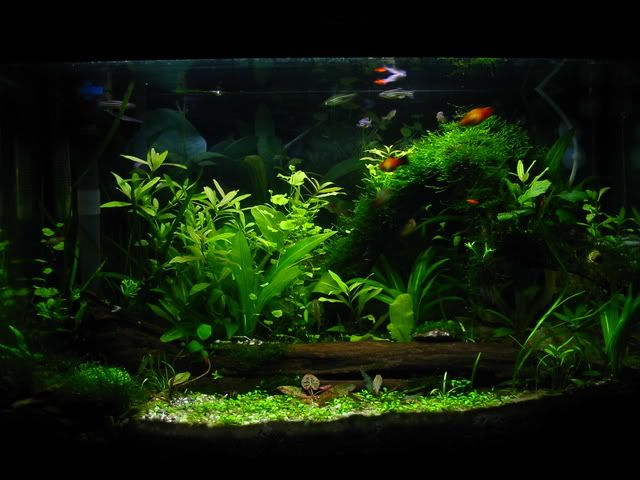 My lotus, that was moved from the back to the front after the gravel settled. Glosso taking off well.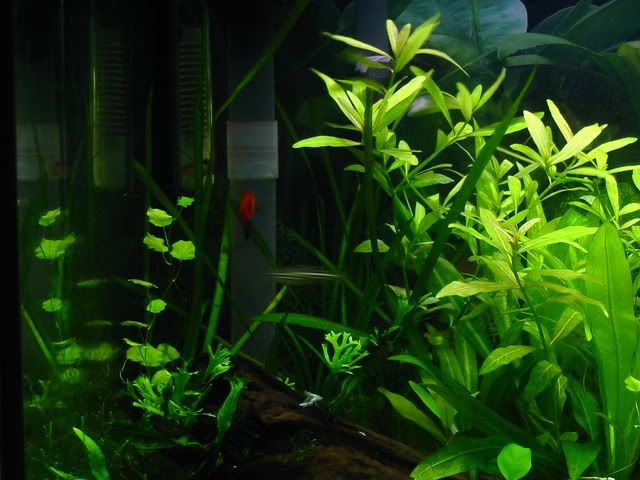 Yay, wendelov!