Discussion Starter
·
#1
·
Hello!
Will right off the bat say I am new to using forums in general, so if I do something which is against the forum rules or general conduct/manners, please let me know!
Now for the fun stuff, I have a Paludarium which is a few months old and am looking to re-build it. Almost all of the plants are growing out of the water. The bottom holds 6 Gal and has organic soil covered in sand, so far so good. For the construction, I will be using "great stuff" to build the shapes and a waterfall, then will be using polyester felt to cover it and form a hydroponic system for the plants. Pockets will be made with the felt which the plants sit in, water from the bottom is pumped to the top and feeds the plants (most likely will use a timer vs continuous flow). Moss will then cover all the felt. This felt pocket design has been used successfully in large hydroponic walls, but so far I haven't seen anything small scale. My goal is dense, well manicured plant coverage.
Here is my Paludarium from week 0 to week 7. It looks a little rough now, I went out of town for the weekend and all hell broke loose while I was gone, but has recovered some since.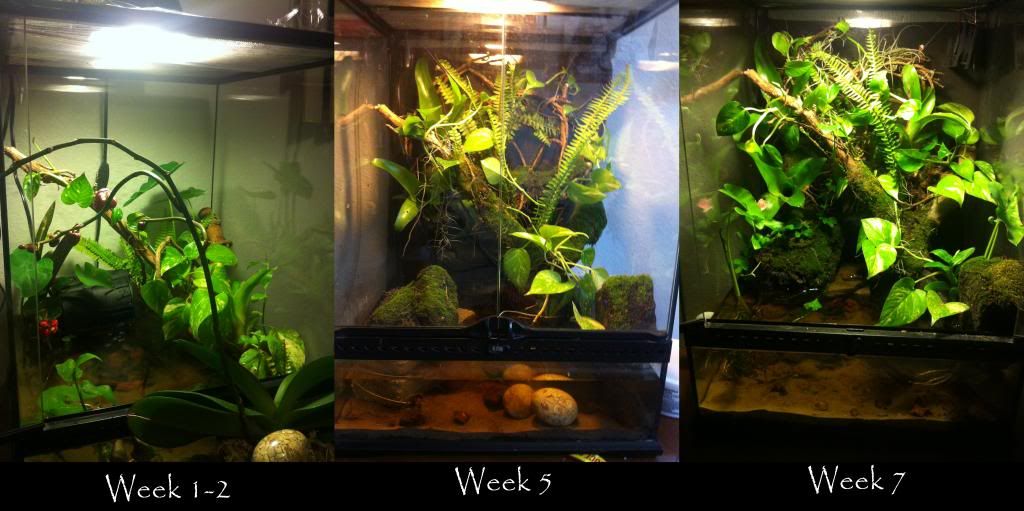 It is currently stocked with 2 blue dwarf gouramis, many non-fancy guppies, and some sort of sucker fish. I plan on putting a small vine snake or tree snake in there when complete. As far as plants go, in the water I have water lillies, Anacharis-like plants, on the top portion I have two types of bromiliads, ferns, two vine species (Florida native, species currently unknown), moss, and finally, a Phaleanopsis Orchid! (the Orchid did NOT like it's repotting, flowers are lost but it will re-bloom once it adjusts)
Any input as far as design, construction, and stock is greatly appreciated! I am beginning work on it today and this thread will be updated regularly, this is my hobby, not a project.