Discussion Starter
·
#1
·
Hi all,
I joined this forum because I am on a mission to make a nice display tank for my favorite fish on earth, the Congo puffer. I don't have it yet...that will be a challenge all it's own.
I am an avid plant guy, keeping Polyscia, Pachira, Hoyas, and Ficus in the house, and a multitude of tropicals in my vivariums...below is my Phyllobates terribilus viv.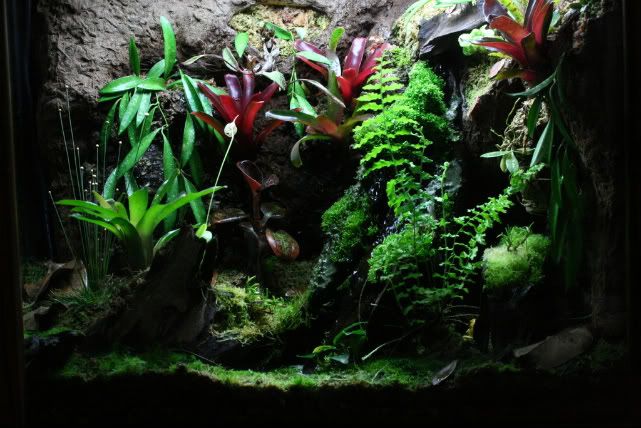 No problems here...I be lovin me some plants. BUT...I have yet to have luck in an aquarium, and I guess it is no surprise to you folks that no added CO2 has probably been the issue. I have tried a couple times, with little luck, except for one flowering A. nana a few years ago...big whoop. I have a 38 gallon tank that just cycled, and yes...I am using PLASTIC. I hate it...and it has to stop. I hope (I know) you guys/girls can help me. It is the only aquarium I have going. I am more of an amphibian guy...but I want to do this fish justice.
Because the Congo puffer (Tetraodon miurus) is a burrower that explodes out of the gravel to inhale the hapless passer by, I plan to put no plants in the substrate. I just bought an amazing large piece of african driftwood that will make a great centerpiece, and I just want to plant it up...a sort of aquatic Pride Rock, if you will. The plants don't even have to be special...Anubias, Java fern and Riccia would make me happy, for Pete's sake. I have Riccia on the flow log of my waterfall in the above viv and a smaller one.
There is a double strip light on the tank, and I am filtering it with an Aquaclear 70. I am guessing, using T8 bulbs, that I'll have the equivalent of about 2 watts per gallon.
I just read the article by Ben Belton, and it was sweet, but I have to be honest...it got somewhat technical when it came to CO2, and I glassed over a little. In the article he mentioned Flourish by Seachem being used in small to medium tanks to add CO2. Would my tank qualify for this, if I stuck to hardy plants? I really hope to keep my CO2 addition method as simple as possible.
The puffer will be the only fish in the tank, and will grow to about six inches. His eating habits will not be orderly, and I do not know if the "fallout" from his carnage will help or hurt the plants.
Any thoughts or plant suggestions would be greatly appreciated.
Thank you very much.