Discussion Starter
·
#1
·
So, I've had half attempts in the past, gave up the hobby for a few years due to work and life commitments, but now am giving it a go. Appreciate any and all comments, advice or criticisms.
The equipment:
Cade CB900 - 90 x 50 x 50
Eheim Pro 2073
Hydor Inline Heater 300W
Cal Aqua Lily pipes
Lighting
Cade Lighting Stand/hanging kit
EcoTech Radeon XR15 x 2
Ecotech Radeon Rail Kit - Long
Substrate
ADA Amazonia Soil
ADA Amazonia Powder
ADA La Plata Sand
Hardscape
Seiryu Stone - like a tonne!
Co2
Co2 Pro tank from my attempt 4 years ago
AquaMedic Solenoid
Tunze regulator
Inspiration after months of following the work of a few forum members from various forums, and the result will be combination of quite a few, plus Amano etc etc.
Questions:
1 - have already had Amazonia in the tank running for a week, and will be using the LA Plata Sand in the next few days. I notice quite alot of clouding, does any one else have this experience and will it stop with planting? it just keep recurring on each refill despite precautions not to disturb it.
2 - Do i need to use plastic card to separate the sand and soil?
Setup initially a week ago: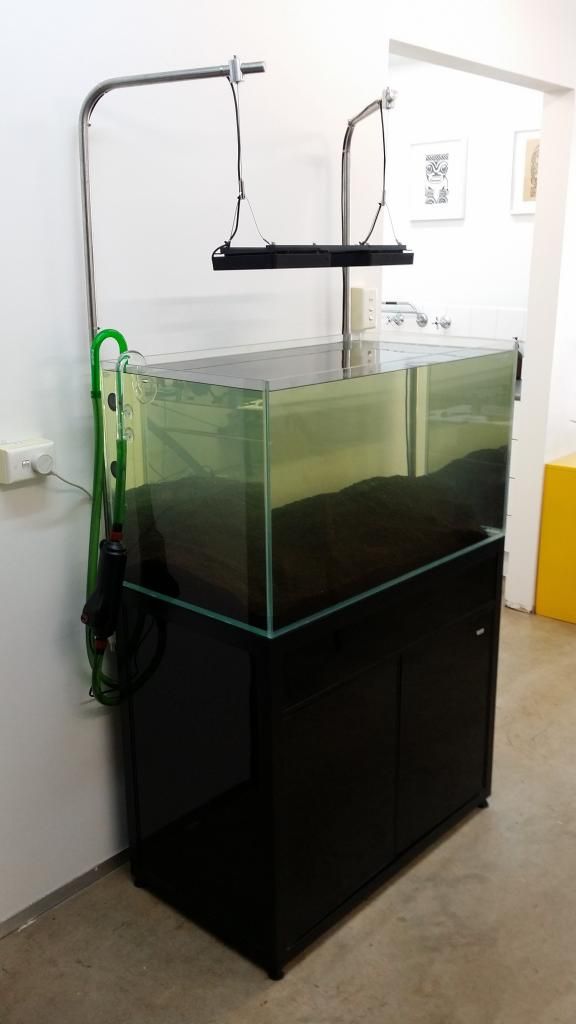 Tried working on scapes using a towel that fit the dimensions of the base.
great in theory... very different when in the tank and working with Amazoinia soil. lets just say it was a long night!!