Discussion Starter
·
#1
·
Hi there. Here is the scaoe that I am currently working on.
Technical data:
Aquarium:
60/30/36cm
Lighting:
HQI 70W 5200K
Filtration:
Eheim 2213 - sponge, Substrat Pro
Substrate:
ADA: Penac P, Penac W, Power Sand Special S, Aqua Soil Amazonia
Hardscape:
Seiryu Stones, driftwood
CO2:
pressurized 1,5kg
Ferts:
ADA: Green Bacter, Green Gain, Phyton Git. PG: Classic, Makro KHCO3, MgSO4x7H2O, K2SO4
Plants:
Bacopa australis, Eleocharis parvula, Hemianthus micranthemoides, Ludwigia arcuata, Micranthemum umbrosum, Pogostemon helferi, Proserpinaca palustris, Riccia fluitans, Rotala sp. Green, Rotala macrandra "Narrow", Christmas Moss, Pistia stratiotes
Animals:
Nannostomus marginatus, Crossocheilus siamensis, Red Cherry shrimps
A few photos from the set-up:
Initial hardscape:
Hemianthus micranthemoides:
Slowly filling with the water:
First day:
After one week. The plants are growing nicely, I planted Glossostigma and Eleocharis in the foreground.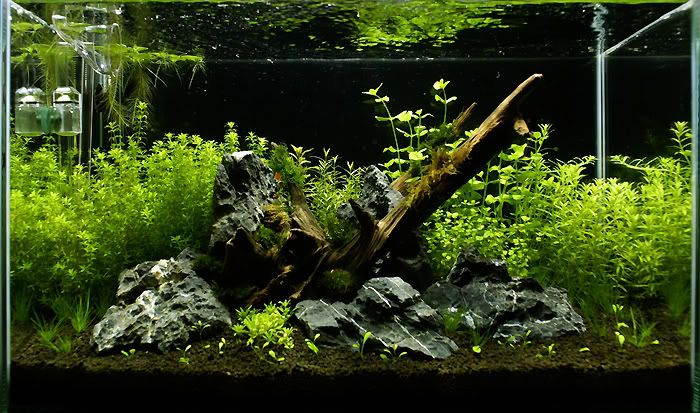 16 days after set-up. I will have to make a trimming soon. Glossostigma wasn't the best choice, I am seriously considering moss foreground.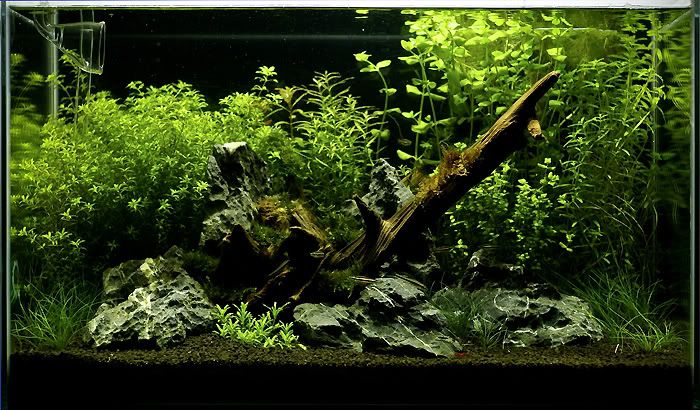 More to come soon, hopefuly. All comments welcome!