Discussion Starter
·
#1
·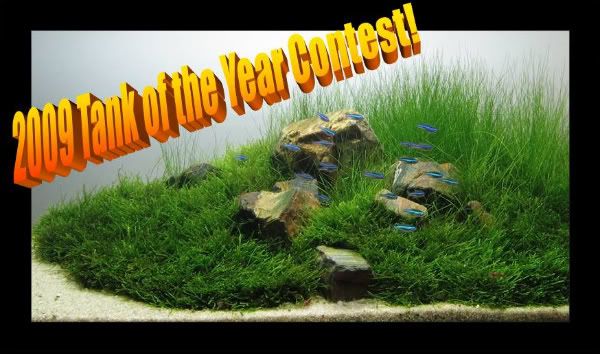 Aquatic Plant Central is pleased to announce the first annual Tank of the Year Aquascaping Contest 2009, inspired by our ever popular Tank of the Month feature. This is a great opportunity to hone your aquascaping skills, share them with the APC community and have them critiqued by an expert panel of judges.
Categories:
This will be a general aquascaping contest open to the Aquatic Plant Central membership. Any style, size, or tank shape can be entered.
Prizes:
We would like to thank our new owners, Crowd Gather, for generously offering to donate the prize money for the winners.
First Place: $350.00 USD
Second Place: $150.00 USD
Third Place: $50.00 USD
Deadline:
January 31, 2009
Contest Rules:
1. All entrants must be registered members of Aquatic Plant Central.
2. Only one entry per person.
3. All photographs submitted must have been taken between August 1st, 2008 and January 31, 2009.
4. APC requests right of first publication. Your work should not be published elsewhere or submitted to another contest before the close of the contest period.
5. APC retains the right to display submitted photographs for contest purposes, on APC's website, or for promotional merchandise.
Photo Requirements:
You may not post-process your entry to include elements of multiple images, multiple exposures, clip art, computer-rendered images, or elements from other photographs (even those taken during the contest). Entries submitted to previous contests, even those not administrated by APC will not be accepted. Duplicate photos will be disqualified.
Contestants are required to submit one full tank shot of the front of the aquascape. This photograph should be submitted in jpeg format and is limited to 72 dpi and 1100 x 800 pixels maximum.
Though not required for participation, contestants are highly encouraged to submit up to 3 additional images. These might showcase specific design elements, unusual features, progression of the tank over time, or a map of the particular plant species within the aquascape. These photographs should be submitted in jpeg format and are limited to 72 dpi and 600 x 400 pixels maximum.
Titles, dates, the name of the entrant, and other text must not appear in the images.
APC reserves the right to disqualify any entrant for content or behavior deemed to be offensive, inappropriate, or untrue to the spirit of advancing the hobby.
Photo Editing Rules:
* Selective Editing: Adjustments can be made selectively to your photo. Cloning, dodging, burning, etc. to improve your photo or remove imperfections or minor distracting elements is acceptable. However, using editing tools to duplicate, create, or move major elements of your photograph is not permitted.
* Layers: You may use layers, layer masks and alternative layer modes to assist in your selective editing.
* Filters: At your discretion, you may apply filters to your photo, in whole or part. Be aware that extensively altering the "look" of your photograph with an "effects" filter is often not well received by voters.
* Borders: It is suggested that if you decide to use a border, you should only use one or two solid colors around the outside of your photo. However, alternative borders are allowed, as long as they do not contain any text, clip art, photographs, or other artwork.
Any modification done inside the digital camera itself is considered acceptable for challenge submission.
You are highly encouraged to list all of your post-shot editing steps in the "Description" section or as a comment when submitting your photo.
Contest Judging:
• The winners will be determined by an impartial panel of qualified judges. These will be experienced aquascapers outside of APC's staff. The selected panel will be announced before the close of the contest period. They will base their review on the following criteria.
25 points for Originality. How original and creative is the aquascape?
25 points for Cleanliness. Do the plants and animals appear healthy? How clear is the water? Is there any algae present? Is there equipment showing in the photograph?
25 points for Composition. How well are the plants and hardscape composed? Are the fish an appropriate choice for the aquascape? Do all of the elements of the aquascape work well together?
25 points for Difficulty. How challenging was it to achieve the aquascape? How easy is the aquascape to maintain in the condition it is in?
• A popular vote will also be determined by the APC membership. The top ten popular entries will receive from 1 to 10 bonus points, according to their popular rank.
• All entries will be assigned a random number to keep them anonymous from the judges.