I have the AquaMedic Planta and love them. I have an inside source, who told me that AquaMedic purchases the bulbs from Giesemann and relabels them under their brand. Basically, they are the same bulbs, just priced differently.
I doubt this as they dont even have the same spectral output.
Giesmann Aquaflora: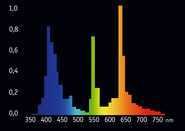 AquaMedic Planta:
The Planta has a much smaller green spike and the red is quite a bit higher in the nanometer scale - a true red vs the orange of the Aquaflora. Personally, I think the Planta is a better bulb for plants based on the graphs.