Definitely go w/ a set of C.A.L.
I have a couple of sets and I'm not gentle w/ them @ times
and they hold up nicely.
http://www.calaqualabs.com/Filtration.html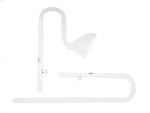 Set A nano: 13mm pipes for small aquariums price: $65 USD + FREE SHIPPING
Set B: 13mm pipes for aquariums 20+ gallons $90 USD + FREE air shipping
can't go wrong
or get some really cheap lilys off of ebay, don't know about quality though...