Discussion Starter
·
#1
·
There are enough leaves on my single plant of C. elliptica to try my hand at propagating this species. This is the only known species of cryptocoryne that is known to be able to propagate via leaf cutting - or IS it? Read on!
The mother plant...
So the first step was to harvest some of the leaves. With a new razor blade, I cut off one of the older leaves. It was a little tricky to get that leaf cut without damaging the rest of the plant, so I decided the pull off the next leaf. To my surprise, the leaf came off with a tiny plantlet at its base. A little annoyed at myself for not noticing the plantlet earlier, I pulled off another leaf. Woah! What's that? Another 'bud' at the base of this leaf too. I pulled off a total of 5 leaves, and almost all of them have a very noticable little bud a their base.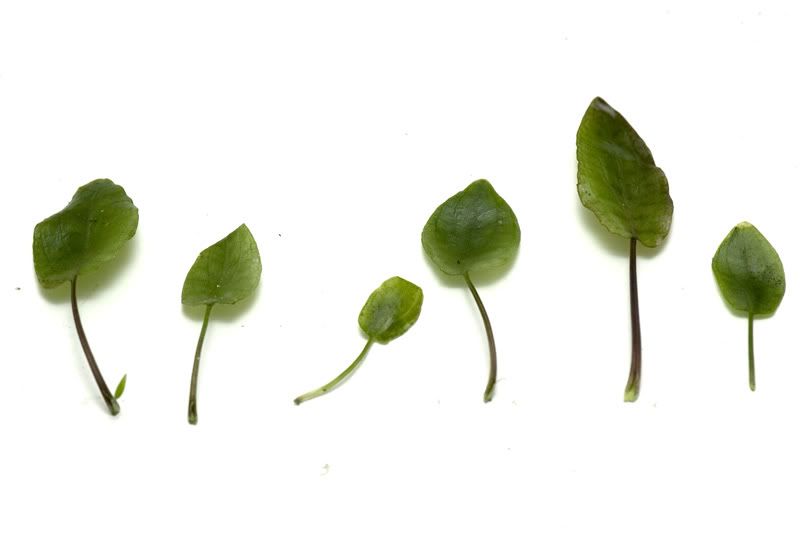 You'll notice that in some cases, the bud is fairly well developed. In other cases, its just a little bump at the base of the petiole. The last leaf in the picture (bottom right) is the only one I cut off with a razor. All the rest were pulled off.
I potted up the leaves in 100% Amazonia and drizzled a little rooting hormone around each leaf.
So, the question now is - Does C. elliptica really have the capability to grow a new plant from just the leaf, like African Violets, or is it this little bud the the base of the petiole really the reason behind it all? The leaf in the middle of the pot is the only one that was cut - it doesn't have a 'bud'. I'll bet that little bud is the real reason why elliptica can propagate from a leaf. It also explains why Aaron Talbot's attempts at this failed - he was cutting the petiole. Take a closer look at pictures available online of others who've grown elliptica from leaf cuttings (Google) and you'll notice that the plantlet always grows from the same 'bud spot'. In anycase, I'll post some pictures in a week or two of any success or failure.