Due to the washing up liquid incident (3 year old son, washing up liquid and aquarium - fill in the gaps) I will now have to replace all the fish and this has burnt a big hole in the budget for this scape therefore the gravel and fresh Tropica has now gone out the window!!!!
However I have decided that I am going to crack on with this tonight.yippee.
I have 2 new pieces of wood (pictures below) yes it is redmoor and yes I always moan about samey samey copycats and how boring it is seing redmoor wood etc BUT with my tank being tall (20") and this wood being quite low it should look different to the usual 'branchy' ones. These 2 pieces cost me £24 so I think they were a bargain and as you can see spread nicely across my tank.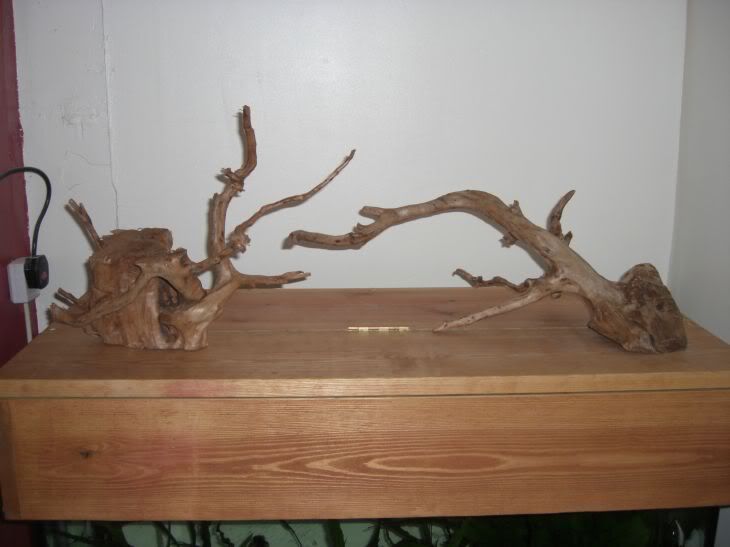 I'm going to remove all the current hardscape & plants (trying to get all the roots out too) then I shall remove all the anubias and narrow fern from the current Mopani. Then reattach it to the new wood (spraying it to keep it moist.)
Then I'm going to replace the huge Java Fern (on same bit of bogwood as it is now) which is similar in size to George's specimen that moves from tank to tank. lol Add in the 2 pieces of wood and finally plant up the Crypts.
No Blyxia or Nympheae/Nuphar in this scape. Just Crypts, Ferns and Anubias.
I have got the Tetratec working again (hit and miss when closing the lids on these filters wether you get a seal or not!!!.) Due to me noticing my Fluval3+ which was in for 4 days gave much more flow even though it is rated 700lph same as the Tetratec I have added my Maxijet MP400 powerhead to the left of the tank aiming at the stream of CO2 bubbles. It doesn't alter the direction of the current as it is directed in the same line. Just gives it a second push in the same direction.
Looking forward to doing this now. No plan for the plants, I'll just lay them out on the table and stick them in where I see fit. More structured this time tall at the back, small at the front.
I have decided on the fish being 4 x Otos (maybe Zebra Otos if I can get them), 8 x black corys and 10+ Thick Band Zebra Rasbora (Microrasbora erythromicron) These will be the stars of the show and are similar in size to galaxys (if I can find them) pic below
I will add the fish in July/August as and when I spot them so this scape can be blasted with CO2 from now until then allowing for all the current crypts to 'bush up' a little.
Will add some completed pictures tomorrow.
Andy