Discussion Starter
·
#1
·
I was asked a few times if I would post a DIY about a canister filter I made for a 2.5 gallon. So here I am finally getting around to showing how I made it.
First off I started with a sterilight 12 cup air and water tight canister.
http://www.sterilite.com/Category.html?Section=Kitchenware&ProductCategory=163#
I forgot to take a photograph of the one I have...but it it the 12 cup square on the website.
I have surprisingly little amounts of full shots depicting what it looks like so bare with me...
this is the outflow.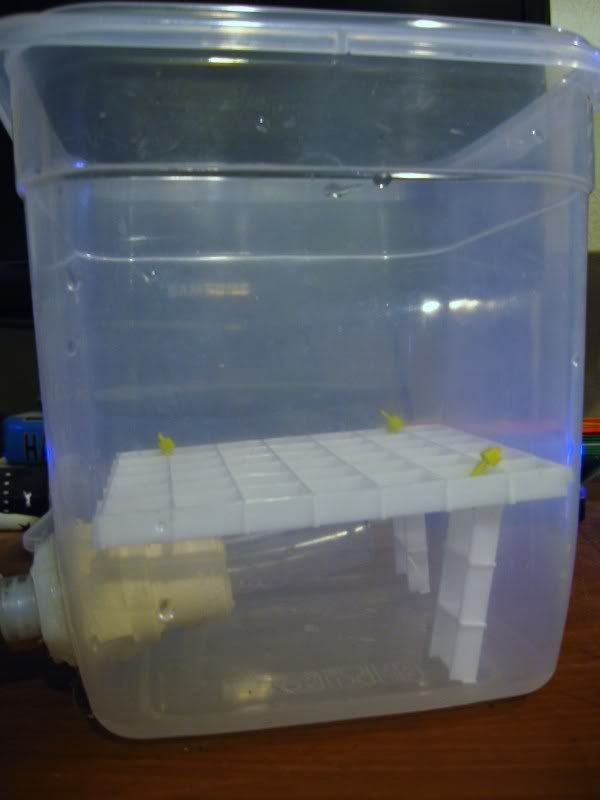 I have the pump outlet shoved into a clear tube going into the fitting. however now it is slightly different. now I have an elbow 3/4" female threaded to 1/2 slip with a rubber seal, silicone and teflon tape on the threads.
this is the inflow.
(the only photograph I had of it...I never had problems with it so never needed to take a picture of it...)
This has the same elbow as the outflow. 3/4" female thread to 1/2" slip. (these were hard to find) along with the teflon tape rubber seal, and silicone.
This is the only way the electrical cord would be sealed 100%.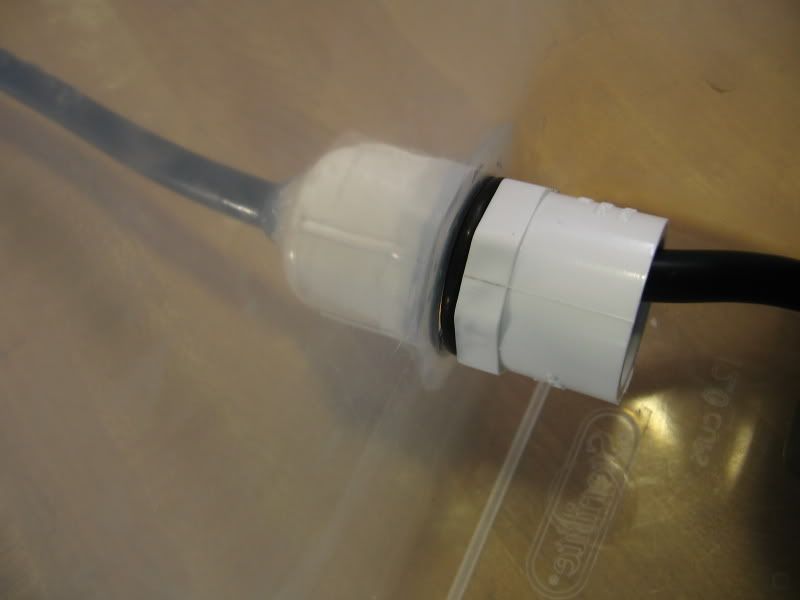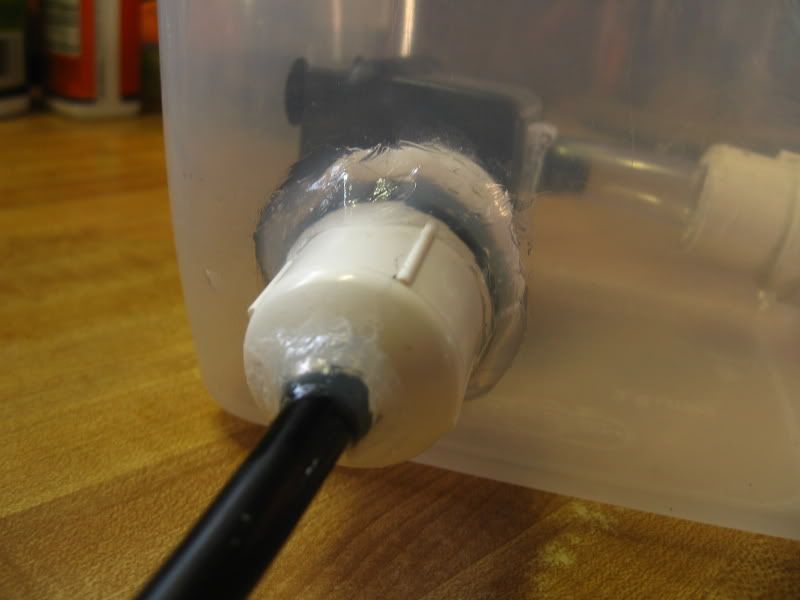 I used a 1/2 slip to 1/2 male thread with a female threaded endcap drilled to the diameter of the cord. both fittings are full of silicone. on the threads I have teflon tape, and between the plastic and the PVC I have a rubber seal with silicone.
The container it's self is not 100% airtight out of the assembly line so I did a bit of modification...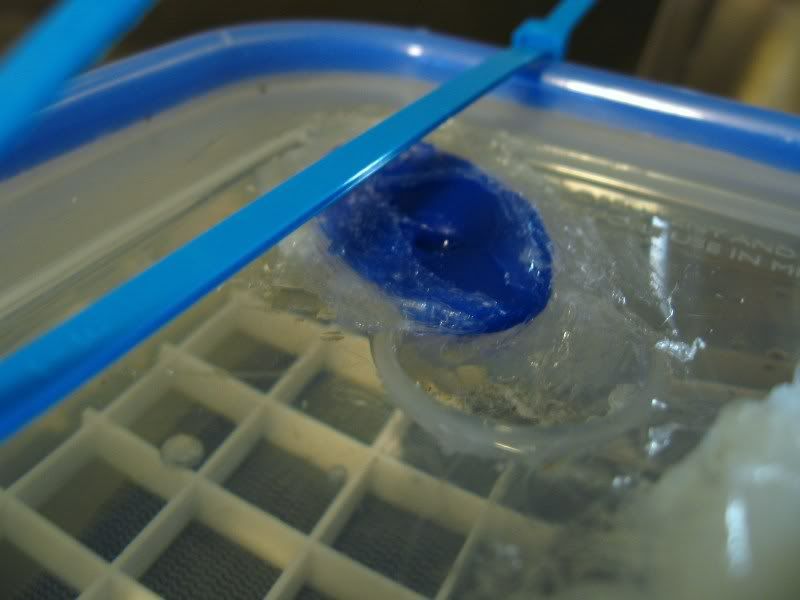 The tab that is used to release steam with microwaving food was not airtight so I added a bunch of silicone to it and fixed that problem.
Oh, and at first this may seem like the best place to put the electrical cord, but is not...trust me.
This is the intake I made out of old siphoning tubing.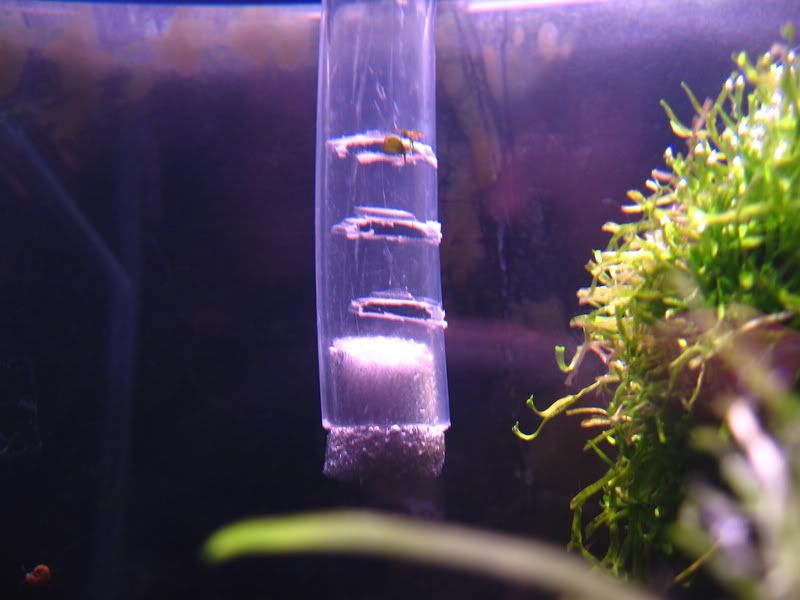 I just used the trusty dremal tool's cutting wheel and cut three slices into the tubing. Then used a piece of foam (I am unsure what kind it is, I just found it in the garage not in a bag) and put a bead of silicone around it to insure it would stay in place. A rubber cork would work better.
this is another full shot of the filter. and gate valve I used for outflow regulation.
I would advise buying one of brass valves over the plastic valves...so much easier to work with...trust me on this as well. (make sure you do not buy copper if you have shrimp!)
For filter media I am using carbon bags, water polishing pads, pot scrubbers (sold in a 6 pack for .99 at the dollar store. you only need 4 for this size) and I had a bio-bag of ceramic cylinders laying around so I put that in there as well.
The filter has been up and running since early December without any problems and I plan on making more for other aquariums in the near future.
Hopefully this was helpful and I hope you enjoyed reading!
Please let me know if you have any questions, I'll be more than happy to answer them to the best of my knowledge.