Discussion Starter
·
#1
·
As the title implies I have had a small outbreak of GSA recently.
The tank is a 34 gallon with DIY light fixture made of 6500K screw in CFL's on for 8 hours and Pressurized CO2 injection 18 hours a day = constant 30ppm.
You can see it here:
http://www.aquaticplantcentral.com/forumapc/journals/51372-logan-s-daddy-s-34-gallon.html
Nitrates have always been a little high so to maintain around 20 ppm I've cut the KNO3 dosing to half the "suggested" amount. I've also always had some problem with GSA on the older leaves and at this point I dose twice the "recommended" KH2PO4. This has been working for some time, but recently I've noticed a LOT of gsa on the leaves near the surface.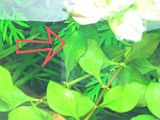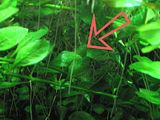 The leaves in the photo are only about a week old, also, it has almost completely covered most of my Ludwiga Glandulosa, even the new growth.
I'm really not sure what's causing it, Should I crank up the CO2? Add even more KH2PO4? Replace the Lightbulbs?
HELP!!