Discussion Starter
·
#1
·
Well I began, with an idea in my head. A tree with moss for leaves, and surrounded by fields of green with a school of my favorite fish, ember tetra. Well....
Here's the first pick of it. I grabbed two bags of Onyx Sand from Seachem from my LFS (The Hidden Reef in Levvitttown PA, best place everrr), cleaned them rather well, and started doing my driftwood tango (process of cleaning driftwood by boiling then soaking to get rid of tannis) and let it all sit for a few days. The once the wood was thoroughly dried out, began the process of tying peices of wood for branches and then finishing it all off with a coat of sealent.
Then I ordered my dwarf hairgrass from Aquabotanic.com (love that place too) only cost me 14 bucks and some change. Took my HC from my 7g (which i took apart to do said aquascape), the christmas moss from the same tank (originally from davemonkey, who is the man
) then grabbed some fast growing stem plants form my 29g bowfront and moved it all into my new tank. Tied the christmass moss on top of the tree over a sheet of netting between the branches. finished the hardscape and let it all sit for a few days until the dwarf hairgrass comes. Called up Hidden Reef and see if that could order me some ember tetras (which they did at no cost to me since that just put them in thier stock)
I found (finally) my eight ember tetras from my 29g bowfront and moved them into the tank for a little cycling action. Grabbed one of the rocks covered in flame moss and dropped that in as well. Took the wood from 7g and dropped that in the back left corner. Poped the Anubias Nana from the 7g as well and planted it at the base of said tree (so to not gain so much light and attract algae). Placed my blue glass wall in around the HC to act as a fence.
Today the dwarf hairgrass arrived so i planted that as well and headed over to Hidden reef, grabbed 20 ember tetras (i love the way they school) for 17 bucks. (Yes i said 17, i love Hidden Reef) (no i dont work thier nor do i have any affiliation, just love thier stuff). And acclimated them and popped them in the now cycled tank one every fine minutes. (By the way, the filter i'm currently using i was using for my 7g as well so it was already pre-cycled, as was most of the water)
Flora-
Dwarf Hairgrass
HC
Anubias nana
Moneywort
Christmas Moss
Flame Moss
Fauna-
Oto x2
Baby Creamscicle Molly x2
Julii Cory (soon to be 3)
Ember Tetra x28
Co2 DIY
Hagen Aquaclear Filter (for 30g) Soon to either be upgraded to an Ehiem 2213, or a larger Hagen
54 Watts of CF lighting, 6700k
And here I am, with pictures to show and a video of my ember tetras at work.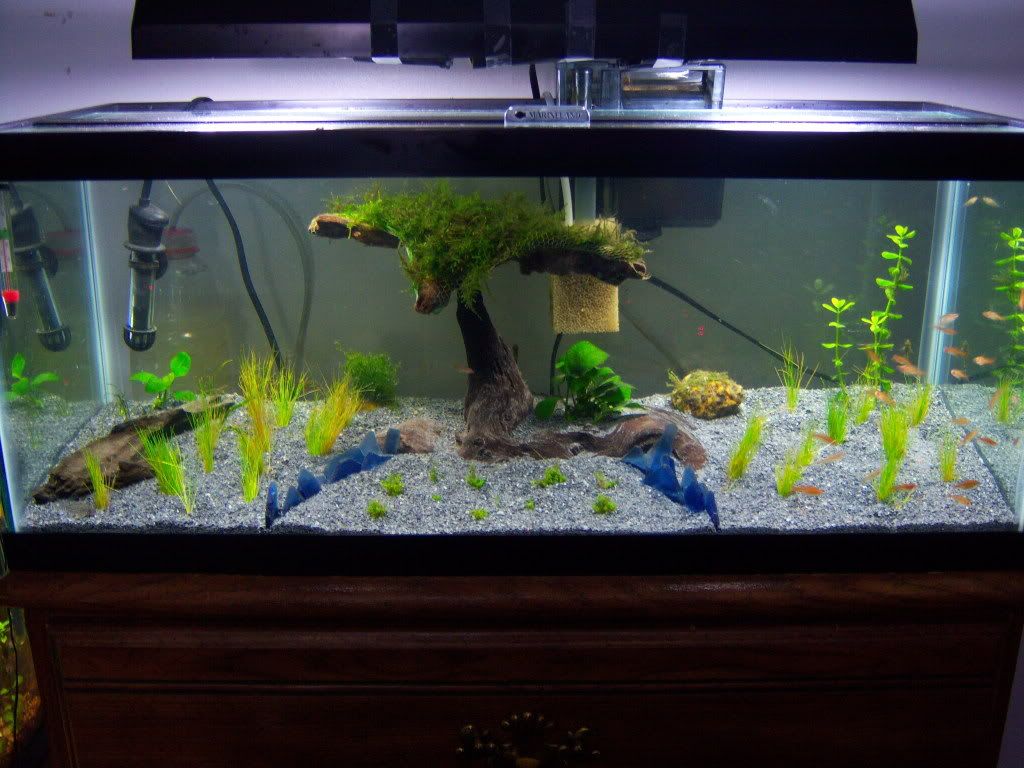 Left side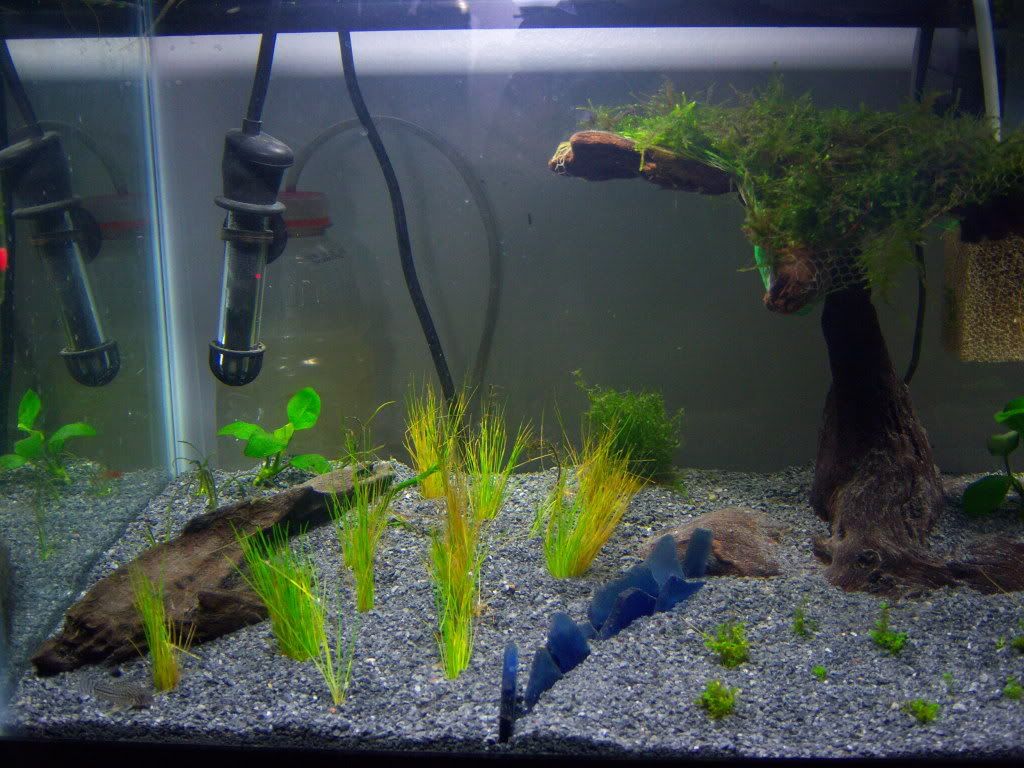 Middle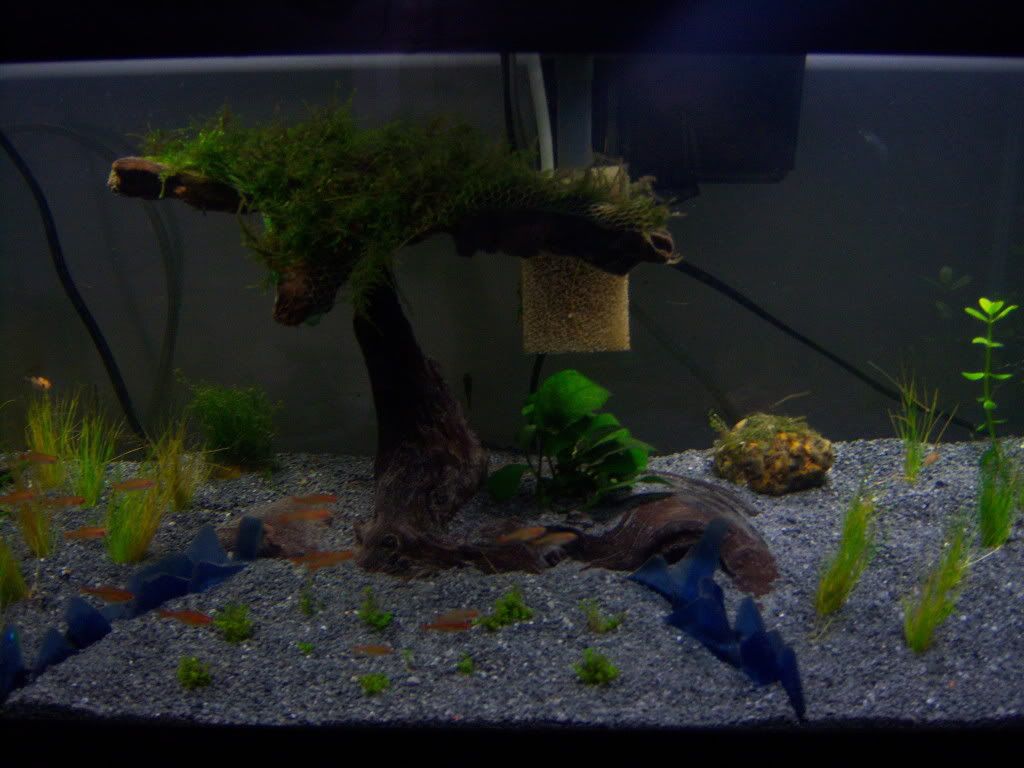 Right side