It's been a while since I've been active on the forums because of my other commitments, but I wanted to share a project that I finally got around to starting at the beginning of this summer. Anubias are one of my favorite genus of plants and I've always meant to have an emersed setup just for them. Here is a thread by a fellow APC member that inspired me to make such a setup when I read through it a couple years ago (
http://www.aquaticplantcentral.com/forumapc/photography/69991-my-collection-anubias.html
) and here's a link that gives a general overview of the different anubias species
http://toptropicals.com/html/toptropicals/articles/aqua/anubias_en.htm
Either way the plan is to eventually cross pollinate these guys and hopefully create some hybrids.
The basic setup:
-tote that I picked up from ACE hardware
-6500k 5050 SMD LED strips powered with 12VDC power supply
-hydroton substrate
-general hydroponic fertilizer
Current species list
A. nana
A. petite
A. micro
A. frazeri
A. coffeefolia
A. "gabon" (Was sold to me as gabon but it may not be... will purchase another gabon from a different source and compare)
A. gasser
A. pynaertii
A. barteri (definitely a barteri of some kind, don't know the different between barteri x barteri and regular barteri, could be barteri 'broadleaf' as well... who knows?)
A. stardust (Has not been put in yet, still in shrimp tank)
Also have a few other random species that I threw in to see how they'd do in a hydroponic setup, debating what to do with them still. Definitely going to keep the schismatoglottis and the lagenandra in there since I do love all aroids. Planning on getting a few more species of lagenandra, so I might set up another bin for them as well.
Schismatoglottis roseospatha
Micranthemum tweedie 'monte carlo'
Echinodorus 'Aflame'
Elatine hydropiper
lagenandra meeboldii 'pink'
Eleocharis 'belem'
Marsilea minuta
Anyhow, without further ado quick pictures before I retire for the night.
top view of the bin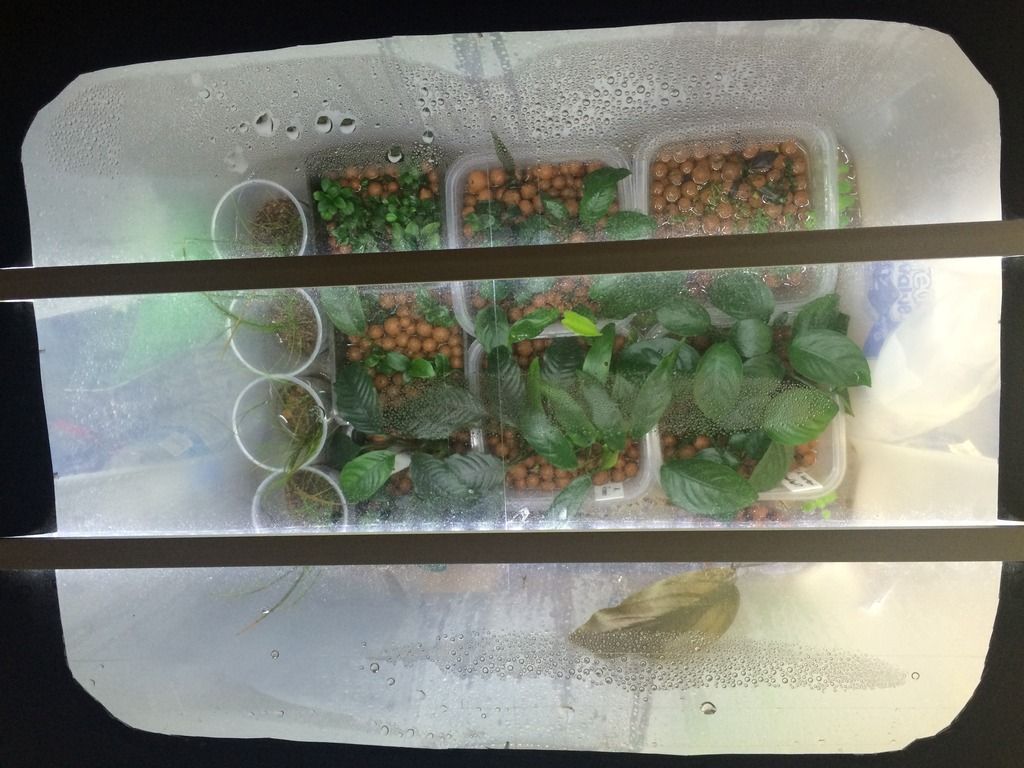 Lower left tub just has a thin layer of floating hydroton to provide support to the random plants i have in there.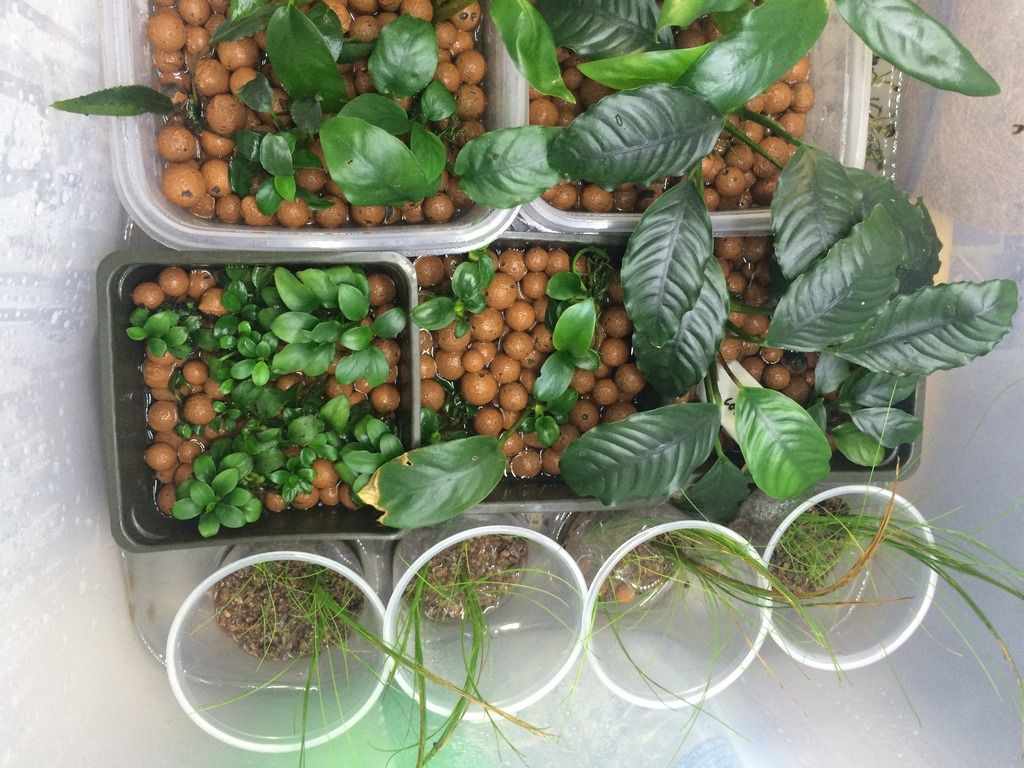 the supposed A. 'gabon', I got the rhizomes in poor condition but they've recovered and are now putting out new leaves. We'll see what the full leaves look like in a few months.
A mix of anubias petite and anubias micro, petite has larger leaves (about the size of a dime) and micro has much smaller leaves (about the size of marsilea sp.) The difference is very obvious side to side especially in submersed growth
I also have a hydroponic flat with a thin layer of hydroton, the same hydroponic fertilizer, and a single 5050 smd led strip on top. I have a few of the anubias barteri sp? in here growing quite well. Really want to find out exactly what species they are, the guy I bought them from says he's not sure other than that he's had them for a long time in low light conditions. I reasoned that it must be some common species he picked up at a lfs or something. Any help would be appreciated. They're quite large actually, but I've noticed that the new leaves aren't as big so perhaps the larger submersed leaves were because they were grown in lowlight? But then again emergent anubias leaves tend to be smaller. Also have an A. coffeefolia in here.
I'm really just using hydroton here to give the rhizomes more support and allow the roots to form networks.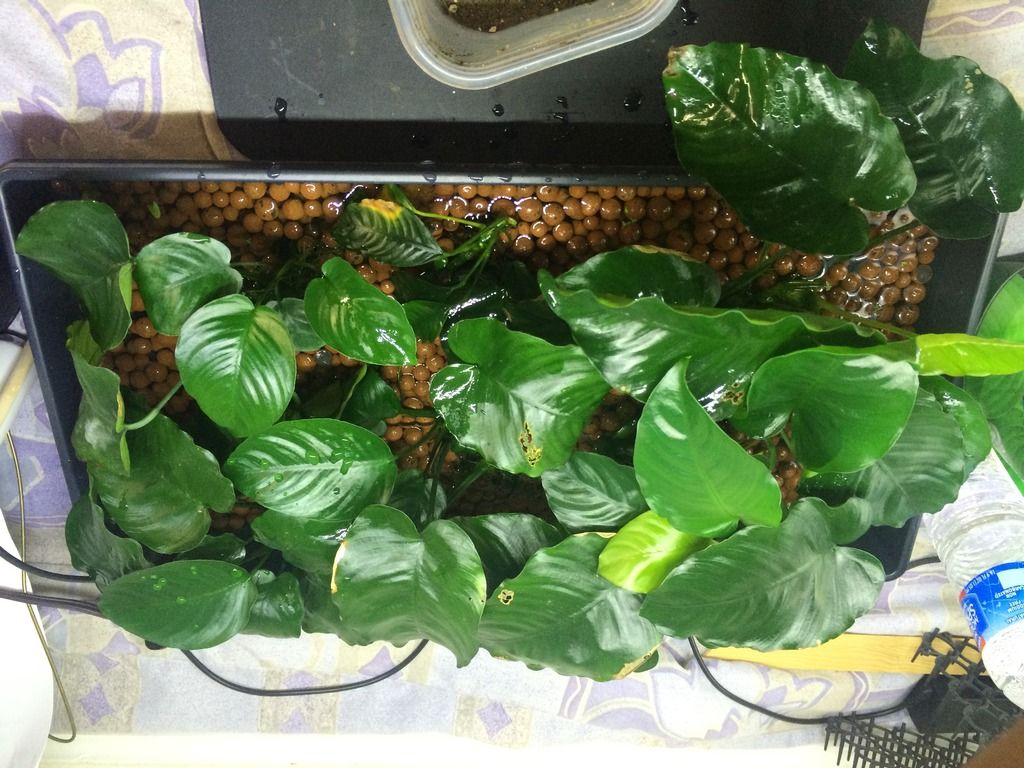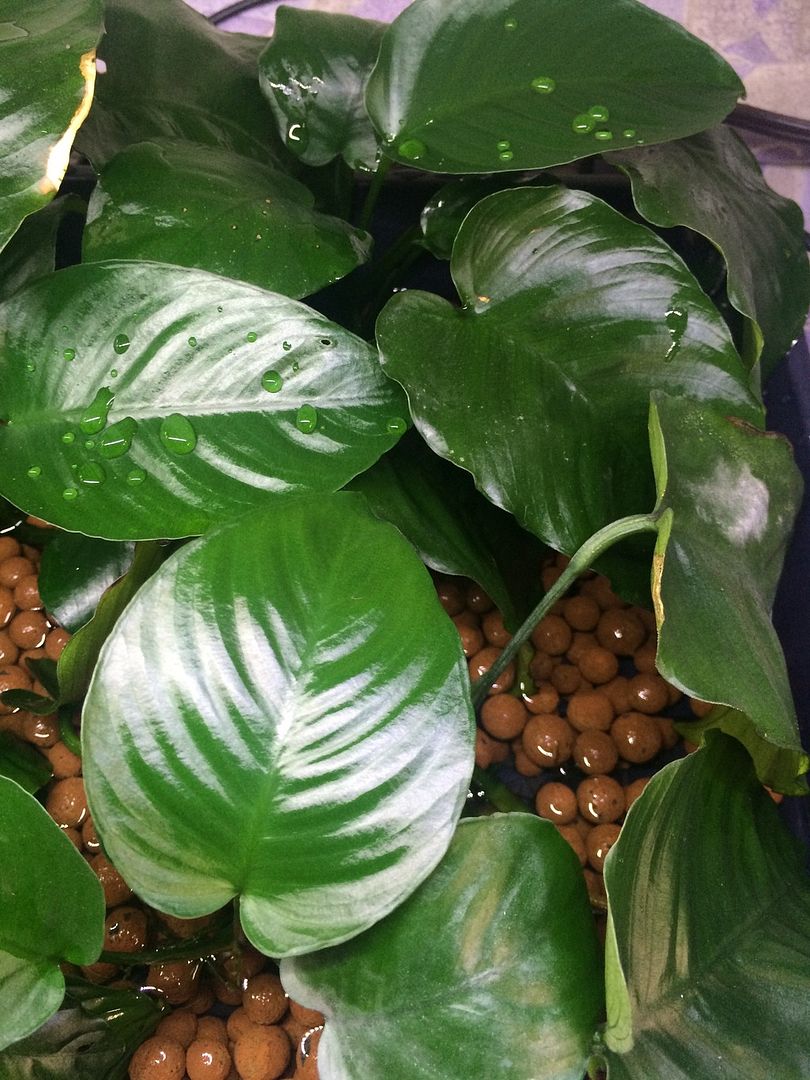 new leaf!
hydroponic flat sans all the condensation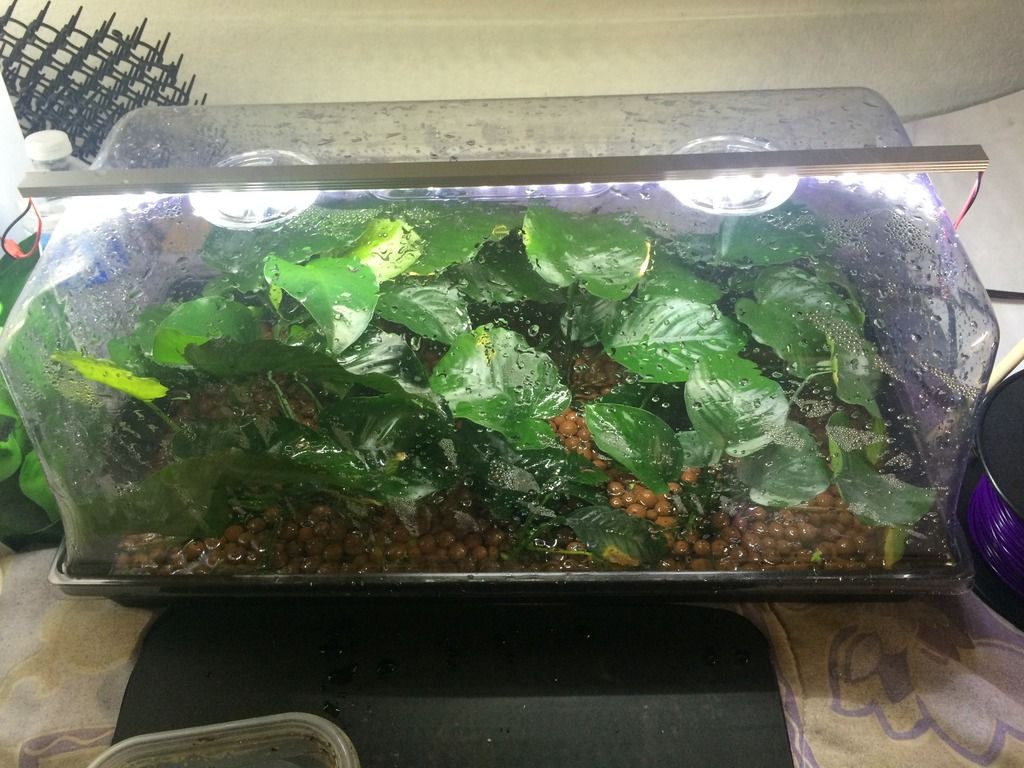 Will upload pictures of the pynaertii tomorrow and keep this thread updated.