Hi Folks!
Well, after several years of keeping NPTs I was finally able to set up a big one, my 125! I had this set up originally as a Tanganyikan tank, but tore it down because I wasn't happy with it. I then tore down my 30 gal and repotted all the plants from there into this tank. (I turned the 30 gal into a julie tank (much more managable and without the shell dwellers, hopefully they'll breed for me)). I just finished planting it today with some more plants that I got from a friend of mine. I'm quite pleased with the outcome and am actually about to sit in front of it for a while! But first here's the tank...
Hardware:
Jebo 300W heater
Jebo 838 canister filter
3x 96W AH Supply power compacts (retrofitted into old fixtures)
72 x 18 x 24 custom aquarium w/ custom-made stand
Flora (too much to remember all, but I'll give it a try):
Vallisneria americana (or spiralis, don't remember!)
Echinodorus bleheri
E. cordifolius
E. "ozelot" (?)
E. tenellus
Rotala indica
Cryptocoryne wendtii "bronze" and "red"
C. sp. (unsure which one)
Aponogenton sp. (crispus, I think)
Eleocharis parvula
Microsorum pteropus
M. pteropus "windelov"
Vesicularia dubyana
V. sp. "Christmas"
Riccia fluitans
Fauna:
Xiphophorus helleri (2 green (M/F) 2 orange (M/F) and too many fry!)
Ancistrus sp.
With only a little over 2WPG the riccia won't do well, if I plant it so it's currently on the surface, lightly pinched between the outflow tube and heater line. I'm gonna see what happens if I grow it slightly emerged. There's another plant that I can't ID. I'll post a pic of it later, for now, here's how the tank looks...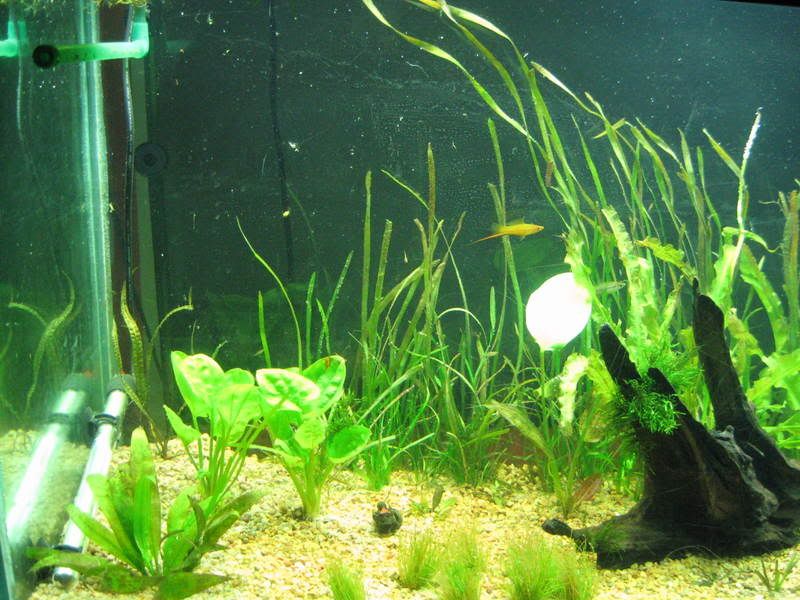 Here're the swordtails, orange male and fry and a green female...
Orange male again...
fry! (from my first batch, now about .5 - .75")