Spent the better part of the day rescaping my 55 gallon, lots of plants to offer you folks, some real nice stuff!
Cryptocoryne cordata 'Rosanervig'~amazing rare crypt, will get amazing pink veins in a leaner lower light tank, this plant is not showing much pink veigning as it was in a high light tank. AMAZING. 1 small plantlet~20.00~SOLD
Here is what it can look like
Anubias nana~about 12 plants, average about 8 leaves per plant, some more, some less, Ill include a mix of sizes. All real healthy, maybe a little green spot on some older leaves, very little if any. 3.00 each minimum order of 3 plants
Here is a photo of ones I have sold before, these plants look just like themSOLD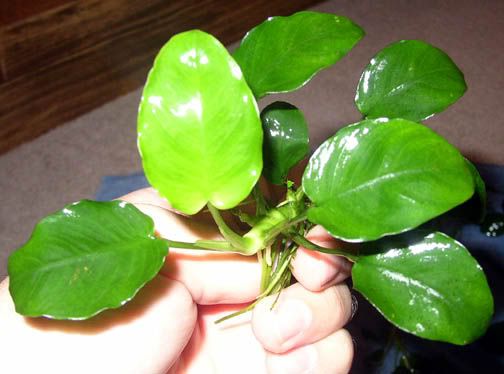 Anubias nana 'golden'~very interesting color!~ 2 medium plants~5-6 leaves each and 1 small plant 3-4 leaves
One of the medium plants has been cut on both ends, little green spot algae on some leaves. 15.00 for all the 'golden'~SOLD
Hygro 'Low grow'~tends to creep and send up side shoots~makes a great mid ground in medium to large tanks~ real nice plant!~8 stems~7.00 each portion~2 portions available
Blyxa aubertii~excellent background plants, tends to only grow to the top of the tank and then stops~1 large plant~4.00~Pending
Crypt parva~Cool little plant! Great foreground~3 small plants~9.00 for all~SOLD
Eriocaulaceae type 2
~Will do better in soft water~Great plant, forms a nice bush~Much easier to grow then other erios.~8 stems~7.00 each portion~2 portions available~SOLD
Downoi~3 small stems and about 6 small side shoots~8.00 for all
Also you can add any of these tools to your order and shipping stays the same!
http://www.aquaticplantcentral.com/forumapc/sale-trade/52911-fs-perfect-tweezers-scissors.html
Keep your local weather in mind, dont let plants sit outside all day in a hot mailbox
Shipping is 6.00 for any of the above. All shipping to the US only
Payment by paypal ONLY, if credit card you pay the fees.