Cryptocoryne cordata 'Rosanervig'~amazing crypt, will get pink veins in leaner, lower light tank, I run high light so the veining is green~small plant 25.00~SOLD
Here is photo of its potential
Hygro 'Low grow'~tends to creep and send up side shoots~makes a great mid ground in medium to large tanks~ real nice plant!~7 stems~6.00
Blyxa japonica~small plants approx 10 stems~5.00
Fissidens fontanus~Approx. golfball portion 11.00 each portion (2 portions for sale)
Pogostemon sp. (formerly Rotala verticillaris)~11 stems~7.00 each portion (2 portions for sale)
Java fern 'Trident'~ the most radical java fern of them all and highly sought after!
2 rhizomes that are approx. .5-1.5" long, they have 1-2 leaves and about 6 plantlets, nice starter portions~22.00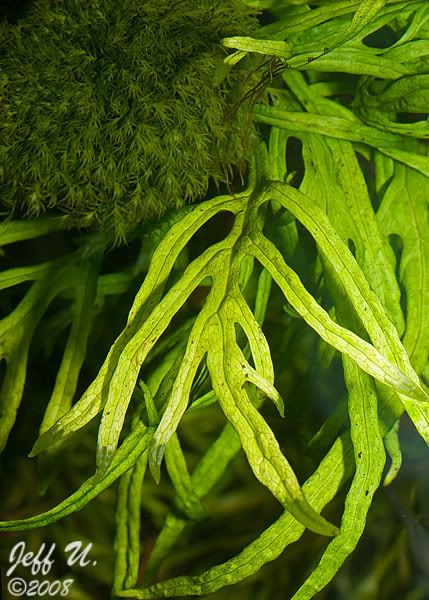 Anubias nana 'petite'~Approx 1.5-" rhizome about 5-6 leave per plant~5.00 each 2 plants available
Hygrophila sp. 'Bold'~4 stems~5.00
Rotala macrandra 'Narrow Leaf'~This plant has become one of my favorite plants, easier to grow then regular macrandra and stays bright red for me. 9 stems~6.00 each portion~2 portions available
And the newest and hottest foreground/midground plant on Earth!
Elatine americana~I need to get a photo of this plant but its real nice. Thin stem, fine light green, narrow leaves, forms a real nice bush. Going to be a nice scape plant! ALL SOLD
Shipping is 6.00
Payment is paypal only, if credit card you pay the fees. Please let me know how you are paying in a PM so I can send address and total if any cc fees are involved. Shipping will start on Monday of this week. I dont have heat packs, never had the need for them.