Discussion Starter
·
#1
·
I've had my Pogo. helferi for a couple of months now and it's been growing nicely. About four or so weeks ago, the very tips of the older leaves became raggered, the tips turned yellow and then they dropped off. The new leaves were unaffected until now. I had a chat on my local Australian plant forum and it was suggested i try burying the nude stem in the hope some of the nodes may sprout new life. I also added another root tab. Alas, a week or so later my plant looks even closer to death. If anyone has suggestions I'd be most grateful. I've basically resigned myself to loosing it.
The ONLY thing that has changed in the last month or so is the temp of the tank - summer now sees it at 30 oC but the book I have says P. helferi has a temp range of 20 - 30 oC. Can anyone help? Have you grown it successfully at this higher temp? I've included some dodgy pics to try and show what's going on [I dose with potassium, iron, traces, nitrates, a little phosphate, some excel, run CO2 and have T5 lighting. Have soft water, pH around 6.8, kH around 4,k and the plant has root tabs under it]
A week ago: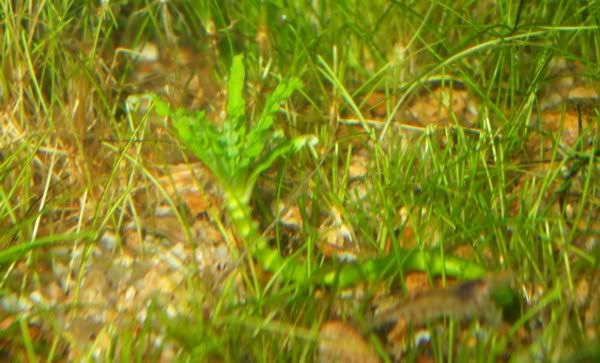 Added extra root tab and tried burying part of stem in hope other node may grow. Current state:
A big thanks to anyone with ideas!