Discussion Starter
·
#1
·
I've been working on this tank for 5 months now, and figured I might as well throw some pictures up and get some input. Tank started in July 08, looking like this: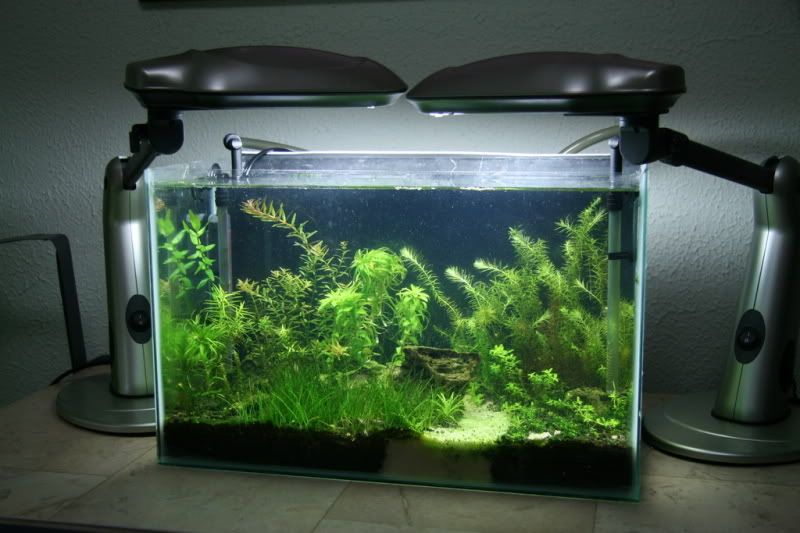 Using 2x 27 watt desktop lights, a sand "river", Eco-complete and a zoomed 501 with co2 injecting into the filter.
This quickly proved to be a "learning experience".(read:disaster)
The co2 and filter could not keep up with the light, and i was quickly overrun with algae. Name it, it was in there. The sand and eco-complete thoroughly mixed through sloppy re-planting, and the beautiful Toninas all melted due to the initially high KH. Thanks, Eco-Complete. :mad2:
Learning from my mistakes, I made the changes below, and while there is still some residual thread algae that is stubbornly hanging on, (less each week) the tank is looking pretty awesome.
Full Tank Shot: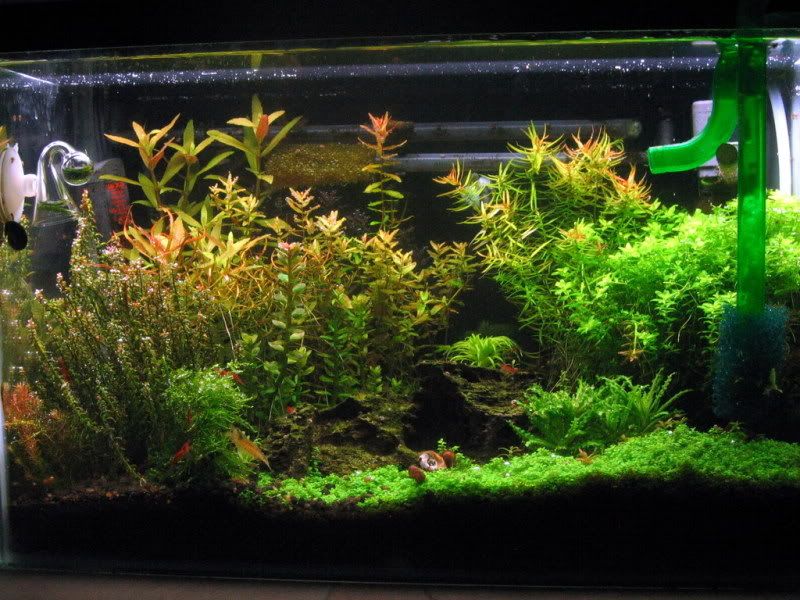 Ammannia sp. 'Bonsai', and the single, stubborn Tonina Belem to survive the KH spike:
Pogostemon Helferi and a stem of Rotala sp. 'Goias' that snaked out of the HM. I wish I could take credit for this, as I think the combination looks great, but it happened on it's own. :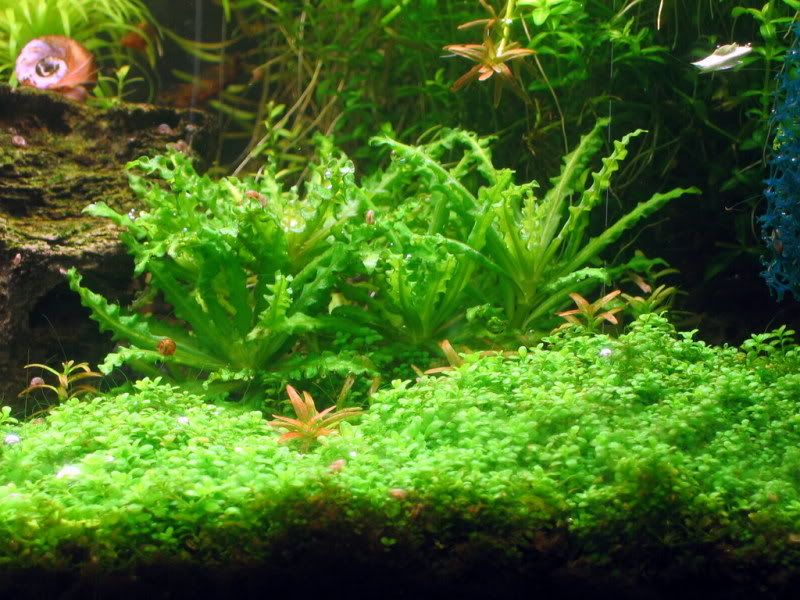 Specs:
Filter: Eheim Ecco 2232
Substrate: Eco-Complete
CO2: pressurized, DIY needle-wheel Rio 90 misting pump
Ferts: straight EI, Tropica Plant Nutrition, Flourish Excel occasionally.
Light: 1x24watt Curent Nova Extreme, with Giesemann Midday T5 bulb. 8.5 hrs/day.
Fauna: Ramshorn snails, Amano Shrimp, RCS, Zebra Nerite snails.
Flora: HM, HC, Rotala sp. 'Goias', Limnophila sp. 'Mini', Ammannia sp. 'Bonsai' Rotala sp. 'Mini Type II'
, Rotala Macrandra 'Green', Didiplis Diandra, Tonina Belem, Ludwigia sp. Arcuata, Pogostemon Helferi, Rotala Wallichi.
I still don't know what to do on the left foreground.(in front of Rotala mini.) I left a chunk of (unknown) moss in there that came with some shrimp, as the shrimp seem to like it. Is it possible to just stuff it into the substrate as a foreground cover, or will it infiltrate the Rotala mini grove? Any other ideas?