Discussion Starter
·
#1
·
I enjoyed last week's responses so much that I decided to make this a weekly event. I also got a lot of positive responses from those who did not post on the thread, stating how helpful and informative it was. These layout threads will be archived at a certain point.
I've also decided to include member's layouts in the fray.
If you want your layout critiqued in the future, please PM me with the aquascape and any other information you deem important to the layout. The layouts will be screened for quality, as this isn't a "scape my tank for me" service. I'll also be taking ADA/Amano/AGA layout suggestions to post here. Just PM me on which tank you would like to see here.
Aquarium: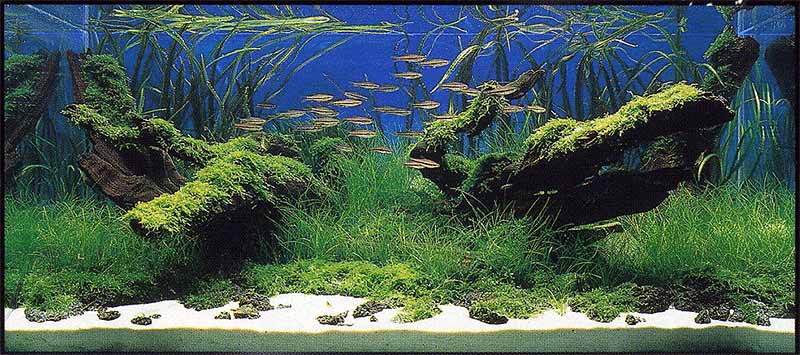 The summer of einthovenii
Grand Prize ADA 2002 entry by Takehiko Honoki
90x45x45cm (~50g)
Plants: Blyxa japonica, Cryptocoryne retrospiralis, Eleocharis acicularis, Fontinalis antipyretica
Fauna: Rasbora eithovenii, Cardina japonica
Questions an ADA judge would ask (taken from contest booklet...they judge on creativity, composition, fish choice, creation of natural atmosphere, aquarium condition, and viability):
1) Does the aquascape make an original creative impression to the viewers?
2) Is the aquascape composed well (is there compositional balance within the aquascape)?
3) Are the aquatic plants appropriately positioned within the aquascape? Does the balance exist in the colors and shapes of the plants used?
4) Do you feel harmony between the fish and the aquarium layout?
5) Is the aquascape laid out well making a natural looking atmosphere?
Some questions of my own:
1) What compositional rules does this layout follow? Which compositional rules does it break?
2) What are the main elements in this layout? How do they work together harmoniously (or unharmoniously)?
3) What type of atmosphere/impression does this layout seem to create for the viewer?
Just questions to help aid discussion. However, discussion can head in directions that have nothing to do with the above questions (but still relate to the above aquascape).
Carlos