Avoid "Actinic" light. That's for reef tanks and doesn't do much for plants.
Then, you have to look at spectrum. Ideally, you want a spectrum that plants can use (the right wave lengths in red and blue), but from what I understand (and I may be wrong) most lights within the 5500-10000 K will have at least SOME of that.
This is a bit confusing, you say avoid Actinic light but if you look at the spectrum chart plants use 420nm light the most effectively which btw is what most Actinic bulbs are,Pure Blue Light.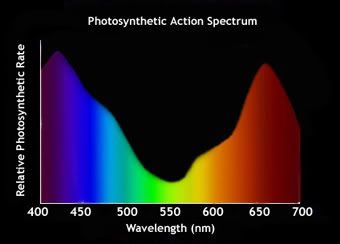 If this chart is right plants should in theory grow the best under Pure Actinic and Red Spectrum Lights, But i have yet to find a place that sells Pure red light spectrum bulbs.
By the chart, the ideal bulbs would be 400 to 420nm and 620 to 675nm in combination. The 420nm bulbs are easy to find, Pure actinic bulbs but has anyone ever seen 620 to 675nm bulbs?
Mind you all this is assuming that the chart is right, which it was giving to me on another forum in a thread i posted so im not sure on the validity of it.