Discussion Starter
·
#1
·
Hi all,
I started my first planted tank back in August. Things are going well so far, but I am wondering if there are some easy improvements that I can make. Below is a complete description of my setup. Let me know what you think along with tips for seeing better growth. Thanks for looking!
Tank: 29 gallon
Lighting: 54w compact fluorescent, 24w compact fluorescent @ 10hrs/day
Filtration: Penguin 350 hob, Whisper hob, Koralia Nano
Substrate: 3in deep pea sized gravel
Ferts: Seachem Line (Excel, Iron, Flouish, Potassium, and Trace) and Seachem root tabs
- I dose ferts based on the Seachem Daily Dosing Chart on this site
http://www.aquaticplantcentral.com/forumapc/showthread.php?t=45119
Maintenance: 50% WC weekly
Plants:
- Red rubin
- Ruffled Sword
- Subulata
- Crypt petchii
- Anubias congensis
- Aquarium Lily
- Crypt spiralis
- Crispus
- Rotala
- Baby Tears
Fish:
- 2 angelfish
- 3 yoyo loaches
- 7 neon tetras
- 8 harlequin rasporras
- 1 otto
Front Views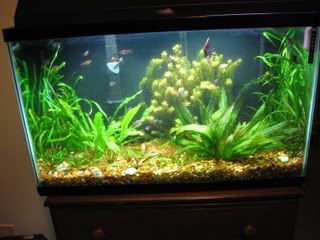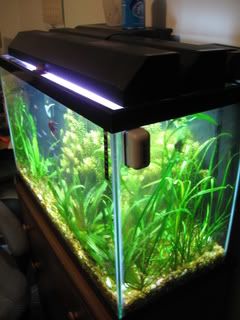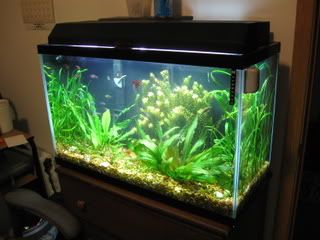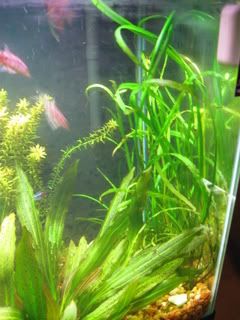 Left Side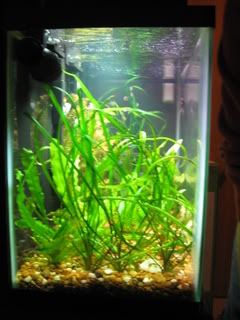 My hair algae problem is pretty much gone, but I still have some other growth going on that I can't id. Any help??? Below are some fuzzy pics...