Discussion Starter
·
#1
·
This tank was setup to replicate the edge of a blackwater river or stream in South America and the life among the riparian vegetation. The specific location and waterway hasn't been decided yet because there are two things in there that prevent it from being 'accurate.' But I may not worry about that for a little while, if at all. Here are some stats:
Tank:
90 gal
Lighting:
two 80 watt shoplights.
Filtration:
Duetto 100 and 50 for circulation.
Wood:
(mostly) dead red osier dogwood collected from local waterways.
Substrate:
Sand collected from a local riverbed. Underneath, in the back left corner, is a couple handfuls worth of topsoil/peat for the plants. The leaf litter could probably be considered part of the substrate as well. It consists of boiled magnolia leaves from a neighbor's yard, and was recently innoculated with freshwater amphipods and larvea collected from a local pond. This was to help supplement the diet of the fish and provide some organisms that would aid in breaking down uneaten food and detritus among the litter.
Plants:
H. zosterifolia (stargrass)
Fish:
(3) Pterophyllum scalare, (3) Nannostomus harrisoni (which I plan to increase), (3) Otocinclus sp.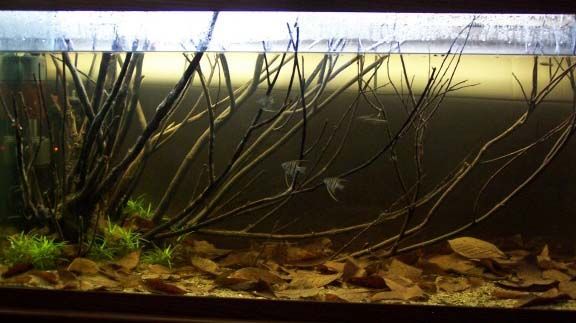 I'm going a bit away from convention on this tank and trying something a bit uncommon. One of the biggest things that I felt compelled to change about this setup from normal ones is that of traditional forms of filtration--I pretty much chose not to have any. The Duetto 100 has the small sponge in it, but I'm not sure that it will have a significant impact. I am relying on bacterial populations and biofilms within the tank (leaf litter, wood, plants, algae, etc.) to take care of the nitrogen process, as well as the microfauna that will hopefully begin to establish itself and repopulate.
I'm not sure why I felt compelled to try this, other than my interest and research in vivaria got me thinking about how bacteria, fungi, etc. are actually ENCOURAGED in those systems to help aid in various processes...and was curious about how that would play out in an aquatic environment. That, and I hate the look of HOB filters, can't stand the bubbles from sponge filters, and can't afford a decent canister. A combination of factors, really.
Anyway, comments or thoughts on this are welcome!