Discussion Starter
·
#1
·
I'm not sure if I'm happy with this or not. As most of you know, I'm into a pretty natural look when it comes to aquascaping. This tank is an 80 gal (48x18x23.5) that I'll be putting in my office to replace the current 30 gal. It will house a few scalare angels, a school of pencilfish, and probably a group of hatchets as well (going for stream or river edge in Guyana). Anyway, I collecte some wood this morning. I want to give the illusion of where some shrubs have grown out into the river/stream a bit. Here's what I currently have (in the finished product, the substrate would be a bit deeper, so the wood would'nt be so high off the substrate):
Here is a shot from above, so you can get an idea of what parts of the tank the wood takes up: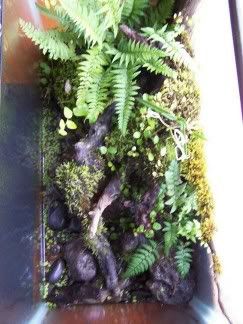 Most of the planting would be in the back left area of the tank, and allowing it to spread around a bit in front of the wood and a little toward the right. I like providing a lot of structure for the fish to interact with, hide among, hunt around, etc. and this is what I observe in the native waterways that I've snorkled in: fish tend to congregate in large numbers around cover, etc.
Anyway, I'm not sure I'm happy with it...but I am interested in your thoughts.