Discussion Starter
·
#1
·
Hey there,
My wife and I have been keeping fish for about 20 years, but have never been to serious about it. I just got rid of a school of Mono's and a Datinoid that I've probably had for about 7 years. They were in my big 135 Gallon (7') tank that I had set up for brackish water. The reason is that we had a failure in a check valve that flooded the air pump and shorted out one of the canister filters during a power outage. Plus, we have been getting tired of keeping a second tank for feeder fish, and the high cost of keeping carnivorous fish in general.
Anyway, I've always liked the thought of keeping a planted tank with a variety of small colorful fish. I even went so far as to purchase a 15lb CO2 tank about 10 years ago, but I never got around to setting anything up. So, here I am. I've got big plans, but I really have a lot of questions that I'm hoping to get some help with.
Here is my current setup: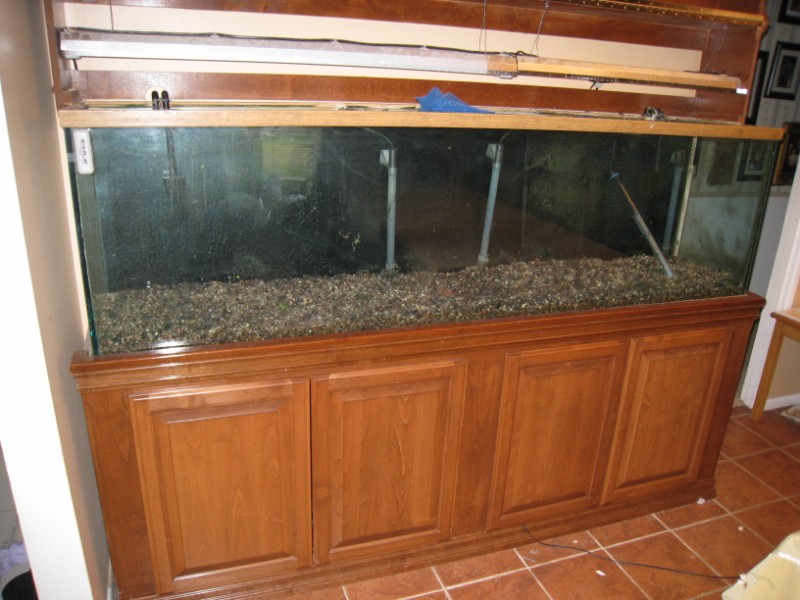 And here's a shot with the lid closed: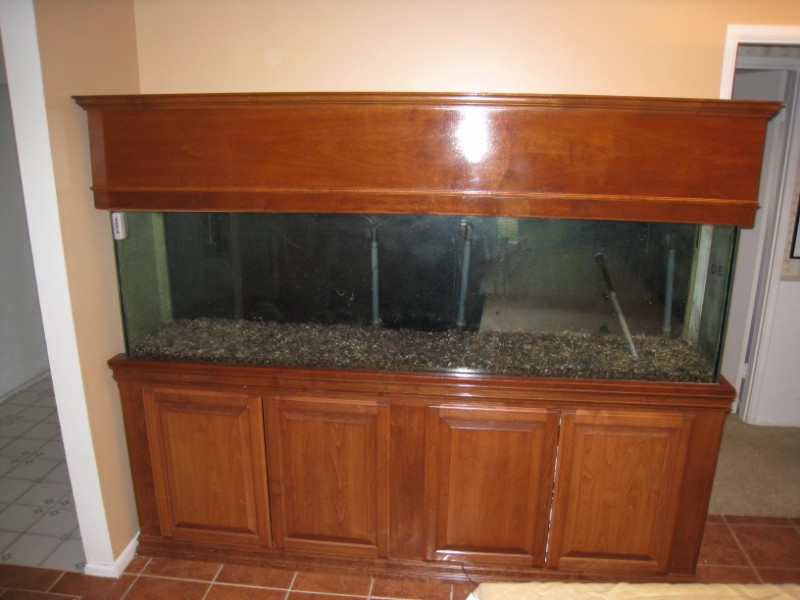 As you can see, the tank needs a good cleaning and some upgrades. Everything on this tank is at least 7 or 8 years old at this point. The one thing I don't want to upgrade is the lighting. Its a dual 36" and a dual 48" T-12 module with fast start marine ballasts. I know the T-12's are getting harder to find, but the cost of upgrading everything is pretty high, and I would rather supplement what I've got rather than rip and replace. Now, I've seen a lot of recommendations on watts per gallon, and I'm thinking of shooting for something around 2.5, which leaves me about 200 watts short.
So what I need are some recommendations on hardware and I'm hoping everyone can help me out . . .
Supplemental lighting totaling around 200 watts - I was originally thinking I would need metal halide, but from what I've been reading it sounds more like I could use some additional compact fluorescents instead. What does everyone think?
CO2 Systems - I'm totally new to this, and I was hoping to be able to use my 15lb bottle here, but I don't even know if the valve will work with any of the available systems. I also have a bunch of older paintball bottles lying around, and I think those would work with any of the systems that say "paint ball adapter," but I don't know how much life I would get out of a 12 or 20oz bottle (and I don't want to be swaping it out every week)
Filtration - I was originally just going to stick with a pair of Magnum 350's that I have, but it sounds like less is more here. What would be recommended for a tank this size?
Anyway, hopefully everyone has some good advice and thanks in advance!
Jay