I hope you all don't mind me jumping into the conversation. I've been following the thread and it's all very interesting and really encouraging to see some "advanced" thinking ( for lack of a better term ) concerning the hobby.

To follow up Yo-han's comment. I recall Tom Barr mentioning something similar when I asked him about limiting nutrient levels to control algae. He said that algae is never limited, their requirements are so low.
I hope you don't mind me guys jumping in as well but I've been reading with interest and all the information is very much appreciated.
Here is my story on BBA.
I have a tank that had a never ending BBA problem. The tank was dosed with Excel and micros/macros, overfiltered, very good flow. I tried everything written around the forums such positioning the outlets of the filters/powerhead to create circular flow, lowered the light(though the tank had run a year with no algae whatsoever with same lights), increased excel dosing to 3x at some stage, increased all ferts to EI doses(in not so densely planted tank), big weekly water changes, etc... but no luck whatsoever. If anything BBA was happier than the plants. At some stage people were saying the big water changes were the problem but I have another 4 tanks on which I did same large water changes and they had no BBA so I refused to believe(and still don't believe water changes cause fluctuations that trigger algae)
Then of course the advice was I need injected CO2......at which point I gave up as I wasn't going to.
One day after BBA destroyed my plants to the point I no longer cared about them(I have some massive anubias inside and it was the end for them) I gave up. I stopped dosing anything at all. Left it to fend for itself. The only thing I kept doing is 50% weekly water changes as I always used to do that on any tank.
Well, two months the most after that and BBA was gone completely. It died. However the plants suffered severe deficiencies too but free of algae on the leaves which were discoloured for lack of some sort of nutrients. That happened more than 6 months ago. I hadn't dosed anything since yet, but for the record the plants were getting worse as in colouration and quality of growth but still no BBA. So plants are way more resistant to lack of nutrients than BBA the least. At some stage due to laziness I didn't do water changes for a couple of months, still no BBA...Now I want to give the remaining plants a chance and start dosing again but I am afraid to even start in this tank.
I have been able to have deficient tanks with no algae whatsoever at least 3 times and it was always in a plain substrate tank. Dosing the water colum with excel and ferts has caused BBA in two tanks so far(maybe I was doing something wrong but stopping dosing of any kind has cured the BBA in both but would never advise anyone repeating that because the plants will suffer massively too).
Since I switched to soil substrates I have been keeping algae free tanks with very healthy plants with or without water changes, high organic loads, etc... The one thing in common they all have is being overfiltered if that matters, light was never on the low side. In fact the lowest lit tank was the BBA ridden one because I decreased to a minimum at some stage. It seems to me that low amount of ferts in the water colum but nutrients in the soil instead has worked best for me so far. I know the water column is deficient of nutrients because floaters such as salvinia and frogbit eventually refuse to look good and even completely die off but the planted plants have no issues whatsoever at the same time. Hence with anubias, my best results were when I plant the roots in the substrate with the rhizome above of course.
I happen to have a picture of my old nano tank(plain sand) which was on the border of nutritient deficiency although no algae(despite the window sunshine on top of a light period). It was very ugly so my point is not to show aquascaping skills here
But the deficiencies in my tanks show up like this and if I leave it, the plant will eventually suffer to the point the leaves will turn completely yellow/r develop big holes/ or fall apart literally/or die but without any algae issues to follow or precede. There's no way I can grow salvinia or frogbit when the tank is in this state, neither can I grow algae at the same time.
The picture below is not the worst scenario I've had of plant deficiencies but as someone else said we avoid taking pictures when tanks aren't at their best.
Mind you the tank was not waterchanged or cleaned for that picture. I took it just before taking the tank apart to put soil in it. The tank was never fertilised with anything at all.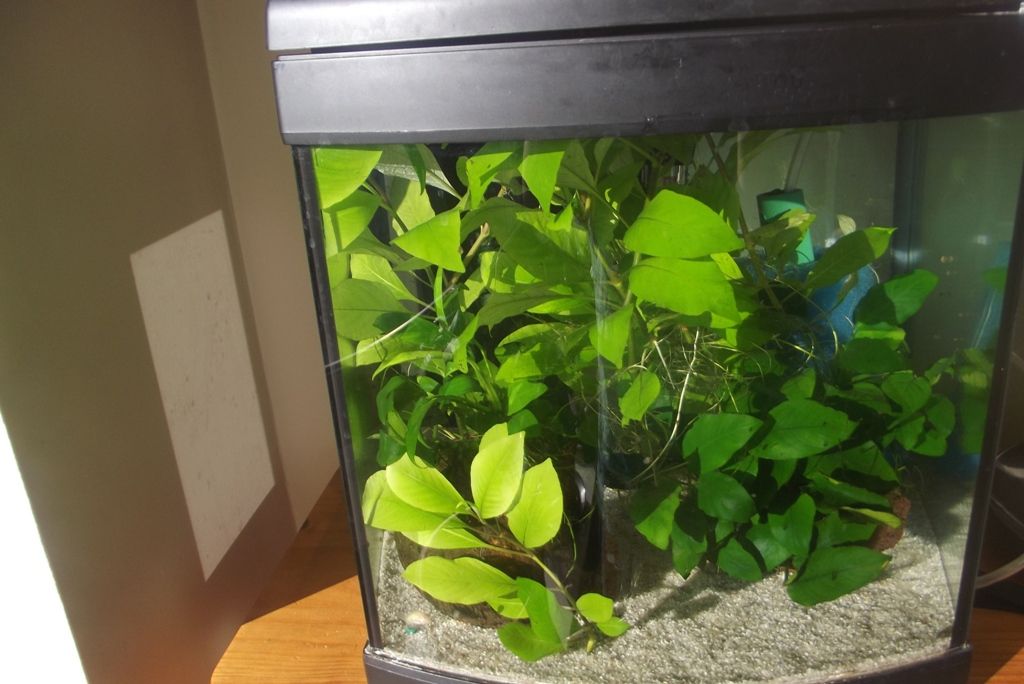 This below on the video is the tank now a year after but with soil substrate, no water changes at all(presuming it has higher organic load than before as I used to do weekly water changes before putting soil) , no fertilisers as usual, same light, same duration, same location of tank and no algae again but no deficient plants. Now I've never cleaned the glass either, so it has some sort of hazy biofilm which the snails and shrimp eat vigorously but it's nothing much for a year to be honest.
Macro shot of the ludwiga