Let me preface this thread by first saying, these pictures were not intended for this purpose, I just happened to take some pictures frequently enough to put this together. There are a few pictures 'missing' in the sequence. Use your imagination to fill in the blanks!
This picture was taken about 6 weeks after initial planting. The marselia has grown in very quickly, stem plants are growing in strong, but algae is rampant! I believe that atleast one pruning has already been done at the point this picture was taken. The bottoms were left in and the tops replanted to fill in empty spaces.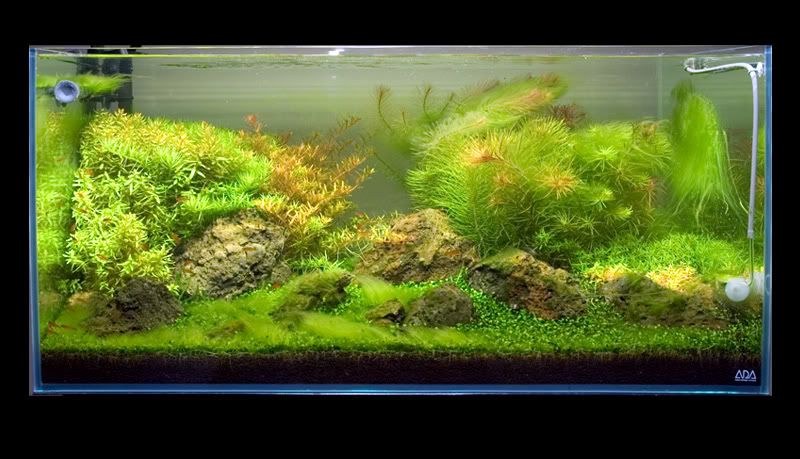 A few weeks later, algae is on its way out and the plants are growing in really well.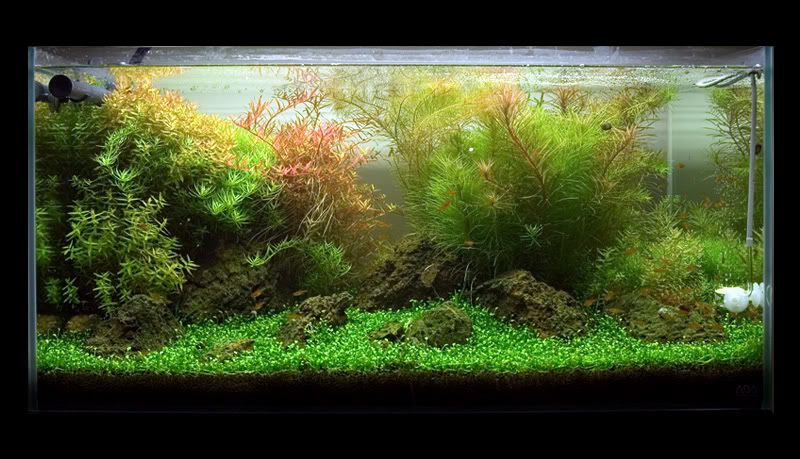 Heavy duty pruning is done. This pruning is done so that only 3-4 nodes are left above the substrate level. This is to encourage side shoots from each planted stem. A few tops were replanted, but most were discarded. Picture is missing. Imagine a BARE tank. With good ferts, plants bounce back quick.
A few weeks later...the plants are growing back with multiple shoots from each planted stem. However, they're all over the place when it comes to growth rates and sizes. Another pruning is in order - this time to give the plant groupings some shape and definition.
Several weeks later, taking into account growth rates of different plants, a severe pruning is done. This will be the final pruning before the 'money' shot. Growth resulting from this pruning will be lush, thick and the shapes will be well defined. Sean Murphy happened to drop by the day after this was done and I quote "What the #$#!! did you do in there!!!" I assured him I knew what I was doing here. Take note of the different heights and angles at which the plants were cut back. Tops were given away and not replanted - we want even growth rates (within each plant group) here - very important.
A few weeks later, the plants have grown back in. Things are looking NEAR optimal, though still not 100% perfect, however, this demonstrates some basic pruning techniques and the results thereof. Hope you get some insight from these pictures...