Discussion Starter
·
#1
·
Reached my limit of knowledge that is...
This is sort of a hybrid tank, but I classify it as NPT because I don't and don't intend to add Co2.
I figure I'm doing something right because the mystery snails are laying eggs and everything is spawning like there is no tomorrow....but,
29 gal, with 160 watts of light....got a reef light on special. the tank is 30 inches long and the light is 48, so i figure its only getting around 100-130 watts in actuality
I've been doing a water change every 3 to 5 days because of the amount of light and very heavy feeding(figuring the plants needed it with the extra light). The water sprite is key of course to keep some shaded areas...more below,
I did a water change 3 days ago and tested my water today.
Ph was 6.8
nitrates were 0
nitrites were 0
ammonia was .5 ppm
Don't remember the exact Kh and Gh numbers but both tested in very low ranges
The filter is a Duetto 200, which I'm very happy with btw. I run no carbon in the tank at all and push it down during the day while I have a light on so it does not disturb the surface and bring it up at night till I get a bit of a ripple...If I remember, I've never seen my fish gasp at the surface of this tank.
The tank has been running for over a year, maybe too, and it is very heavily planted even though very little reaches the surface for very long before I trim it.
since I added more light, the growth and colors have been explosive, going on about six weeks now, so I don't think adding Co2 is even needed, my problem is that even though the substrate consists of about 1/4 crushed coral, and I add some cuttle bone scrapings every few weeks, that my snails are getting thin pockmarked shells, and my penny wart and water sprite are getting holes.
this is the second time I've added water sprite to the tank, the first time the "colony" crashed and melted. and it seems to be on its way to doing it again, the growth is ok but its starting to disintegrate and get holes.
and I realize that normally some ammonia and no nitrates or nitrites would indicate an uncycled tank, but I have two sponges in the filter which I rinse in declorinated water on a weekly rotation cycle, so, that cant be it right?
several months ago when i tested the tank the Gh and Kg were high....
so I am thinking that my plant growth is sucking up calcium....and I don't know how to add it
and as a side note.....does anyone know what the large leaved, bright green plant on the right had side is?
another side note: I'm aware of the coating of algae on many of the leaves, this was there before the added light, the only algae that the light has seemed to increase was green spot algea on the glass.
right side: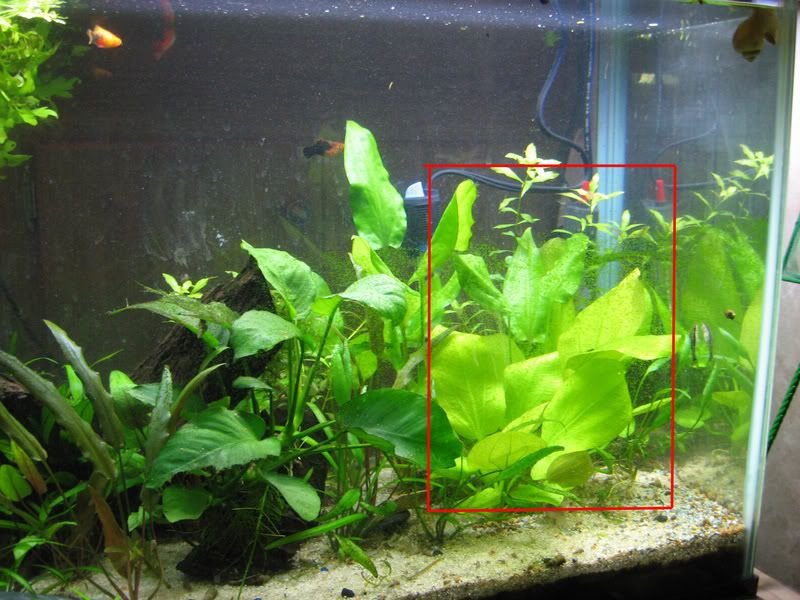 full tank: