Discussion Starter
·
#1
·
Well i'm new here but I figure'd i'd share some pics of my tank. It's always a work in progress, and i'm still not happy with it
please give me all the suggestions you guys can come up with, becuase i'm still a newbie with alot of this stuff!
Specs:
29 gallon
2 T-5 lights, 2.7 WPG (made for $5, im a poor college student
) on 10 hours/day
DIY CO2 w/glass diffuser
Whisper 60 filter and an additional powerhead to spread CO2
Daily Seachem dosing (Flourish, Excel, Trace, Potassium, Iron, etc..)
Fish: Pair of German Blue Rams, Peppered Cory Cats, Kuhli Loaches, Black Skirt tetras, Ottos, neon/cardinal tetras, Amano Shrimp.
How it currently sits minus the wood (more pics to come):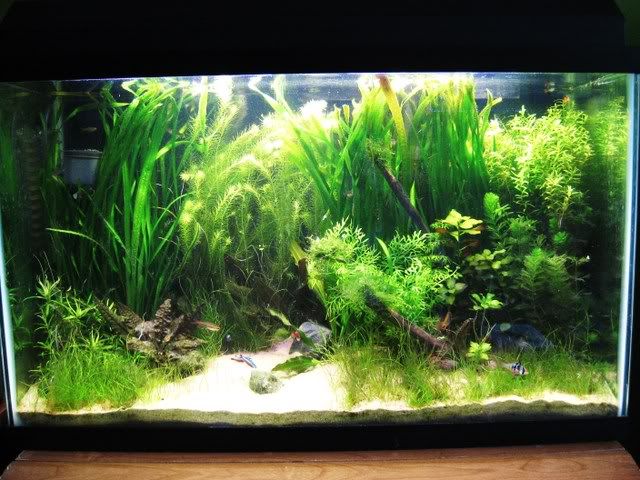 I just upgraded my filter because my old one gave no cicrulation. My current plans are to get rid of the Neons/Cardinals and adding more ottos, Amano shrimp and small shoal of something, not sure yet though. I am also still fighting some plant problems. First off, no matter what my Vals manage to piss me off lol. They grow so fast that I have to trim 6+ inches off every week, and then they discolor at the tips. Also, my Dwarf Hairgrass is always fighting what I believe is BBA, but I'm not sure. It is the only plant that's still showing signs of an algae problem. I would love a lush carpet of hairgrass around the sides and then use Dwarf Baby Tears in the center. Can you guys make some suggestions?